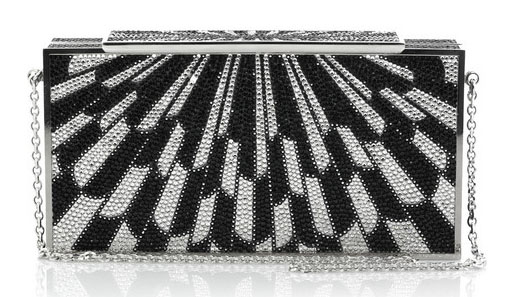 Some of my personal favorite handbags are ones that so accurately capture a bygone era that they could probably be passed off as really fantastic vintage finds. So much in fashion is predicated on what has been done in the past that a designer deftly recreating the mood of a time period can show a great deal of skill, if done correctly.
And with all the glitz and glitter that's popular for winter, I can't help but think that the Judith Leiber Sunburst Clutch is totally disco-tastic.
Can't you just see someone at Studio 54 wearing this with a super sleek Halston dress back in the day? I totally can. But I can also see a stylish woman carrying it today with a biker jacket over a minidress, tights and booties. And whether the piece is actually vintage or just vintage-inspired like this one, the test of how good it is if it can easily blend into looks from two different eras, and I think that this one accomplishes just that. Buy through Net-a-Porter for $2995.