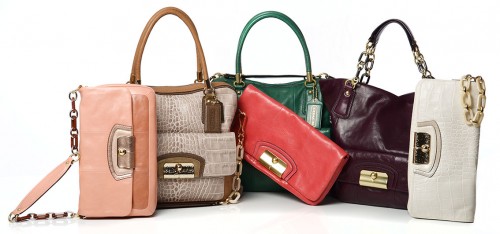 One of the most well-known brands in the handbag world is Coach. Both men and women recognize the Coach logo and millions continue to support Coach bags season after season. Established in 1941 as a family run workshop in Manhattan, Coach quickly became renown not only for their style but also quality. With an expanding company and product line, we continue to expect and be given innovative lines and multiple collections every season.
We were given the opportunity to review the upcoming Coach Kristin Collection which is set to launch online and in stores on November 1st, 2009. The Kristin line is clean and effortless, possessing many Coach qualities without having the Coach signature logo. The colors used for this line are soft and elegant, including shades of coral, pink, ivory, and burnished amber. Not just simple leather, the bags are given different finishes for optimum dimension and appeal, including fresh color blocking, embossed exotics, and rich glazed leather.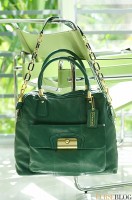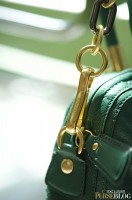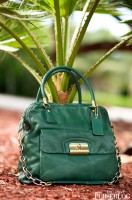 Along with the beautiful colors, the Kristin collection stands out with fashionable chain link straps, some alternating between pewter and gold and others with a tortoiseshell-like finish. Each of the handbags in the collection are amplified by a sleek turnlock closure that brings a focal point to the collection while also dressing it up. The collection is clearly a Coach collection but it broadens the expected spectrum of products and proves itself as "can't live without" items.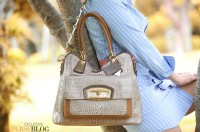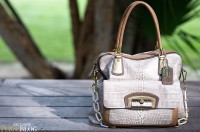 The Kristin Embossed Zip Top Tote stood out in my heart and mind. The embossed camel leather was vibrant yet subdued and the bag seemed to pop against vibrant greens and tonal browns. This is a carry-all bag, one that can be used day in and day out. The double top handles are accompanied by a chain-link strap and front pouch. Price will be $1000 for the embossed version, while price for the green zip top tote will be $698.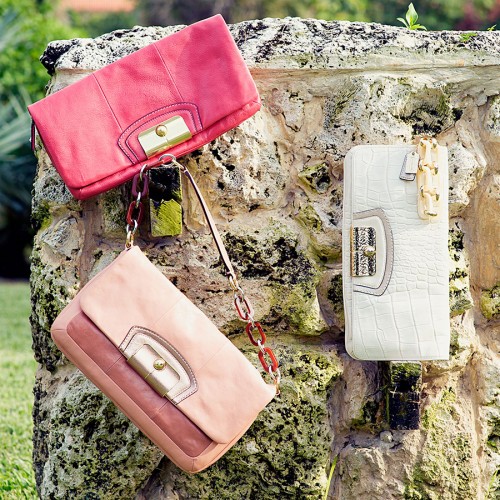 The clutches brought in a variety of feminine and soft colors with a fashionable touch. The Kristin Colorblock Shoulder Flap combined differing embossed skin details with a subtle palette of colors. Metallic, pink, and color accented with a tonal chain strap is just the right touch for this clutch to transform from day to night. The Kristin Darcy clutch will be available in embossed leather along with plain leather. The simple Darcy clutch is the perfect sized clutch in a hue of coral. The Embossed Darcy clutch stands out with an exotic embossed skin against an ivory body. The Colorblock Shoulder Flap will be $498, Embossed Darcy $458, and Darcy Clutch $298. Check back to Coach online for more information.
Interview with Raina Penchansky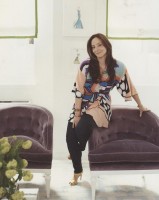 Not only did we have the chance to exclusively review the Coach Kristin line, but we also were able to ask Raina Penchansky, Vice President of Global Communications at Coach, a few questions. Raina oversees all marketing, events, and celebrity initiatives for the company worldwide. Both Mandy Moore and Kate Bosworth were booked by Raina to be featured in international campaigns. Raina spends much of her time working closely with company President and Executive Creative Director, Reed Krakoff, on society events and designer collaborations. Most recently, Raina was able to secure designers Eugenia Kim, Phillip Lim, and Miss Davenporte's Estee Stanley and Cristina Ehrlich to create capsule collections for the brand.
PB: We had the chance to review the Kristin line. Can you tell us a bit about it?
The Kristin Collection incorporates a chic and subdued color palette with glossy leather and irresistibly chic details, like the new slim clasp closure. My favorite pieces are those that incorporate mixed metal chain straps and pitch perfect shades of coral, soft metallic pink, and burnished amber.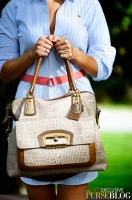 PB: Coach is constantly churning out new lines. How do you keep your ideas fresh?
We are always drawing inspiration from new sources, whether it's a funky fabric swatch or a piece of art. We always try to push the envelope even further with each new collection.
PB: Who is the 'Coach girl' you have in mind when designing?
The Coach girl is equal parts fresh and whimsical, sophisticated and refined, chic and feminine. She has a refreshing sense of style and loves to mix her accessories for a casually cool look.
PB: As the fan base of Coach has expanded, how do you try to incorporate designs for the younger crowd and older crowd?
We have always been known for fusing a classic mindset with modern interpretations, so appealing to a variety of women is easy when you have the right formula. We recently launched a new collection that appeals to a broader fan base, and especially our younger, more directional customer, and that's Poppy. It's spirited, youthful, vibrant, and a completely new look for us.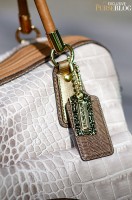 PB: How important is social media to the Coach brand?
The power of social media is undeniable and increasingly influential to our objectives. We have and will continue to engage our customers through organic programs, like growing our Facebook page and cultivate conversations with our customers, building relationships with bloggers, and developing interactive online campaigns like last year's "Design a Tote" program and the recently completed "Are You a Poppy Girl?"
PB: With the majority of people reading or writing blogs, how important is it to Coach to reach out to the blogosphere?
We take that world very seriously and treat bloggers just like traditional magazine editors. We hold press previews to show them our newest collections, co-host regional events with them, and even invite some to New York in order to get to us better and experience special events or launches first hand.
PB: What can we expect next from Coach?
You can expect to see refined and directional handbags and accessories, with lots of vivid and edgy details like tons of sequins, animal prints, and metallics. And you can always expect Coach to put our stamp on original and relevant projects in the future.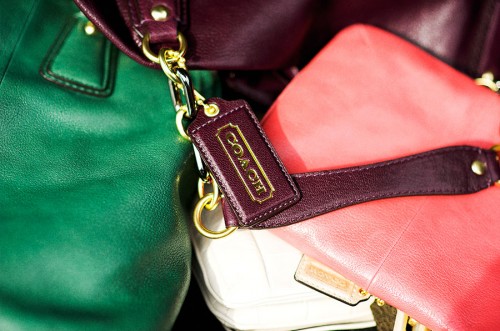 P.S. Please consider supporting our small, bag-loving team by clicking our links before shopping or checking out at your favorite online retailers like Amazon, Neiman Marcus, Nordstrom, or any of the listed partners on our shop page. We truly appreciate your support!