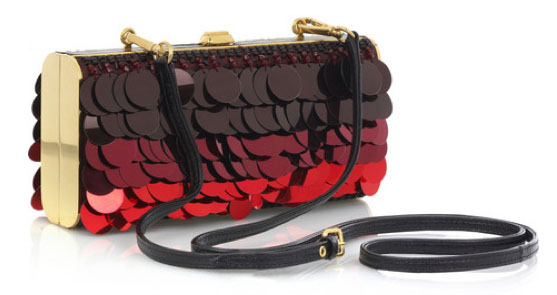 Ombré is, admittedly, a really difficult thing to pull off. It has to be the correct color transition, done in the correct shades, and with the correct depth of color. I'm not sure why the good people at Miu Miu thought that this would be a good thing to try and do with giant sequins on a tiny bag, then, but I can tell you that the Miu Miu Ombré Paillette-Embellished Clutch does not work out as well as they probably intended.
It's not that I don't see what they were trying to do here – I do. But on a super squat bag, three colors of sequins does not ombré make. It just makes six rows (two of each) of similarly colored paillettes. The effect is completely lost because there's no slow and gradual transition, and the paillettes themselves are all solid-colored. If they had had an ombré effect as well, things might have gone more smoothly.
Not only that, but the paillettes look rather sloppily attached and arranged. Forming a larger overall pattern with movable objects relies pretty heavily on the ability of the designer to keep them looking neat and organized, and that doesn't really happen here. Plus, when a sequin moves out of turn, it reflects light different than the rest and further hinders the ability of this clutch to look ombré in the least. Overall, this is not an evening bag I would actually pay money to own. Buy through Net-a-Porter for $950.