We've covered a lot of interesting bags on PurseBlog, but this Christian Louboutin Eden Vision Fur Ball Clutch takes what could be termed as an "interesting" bag and just makes it beautiful.
Of course, it's expensive for such a teeny bag, but it's mink and it's Christian Louboutin. The best thing about that, though, is that it looks amazing and subtle and understated. Most importantly, it doesn't look like this.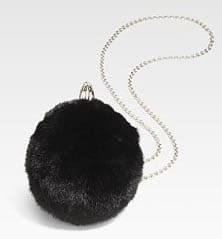 Of course, it isn't faux fur, but there are still many, many real-fur lovers out there. And for something so gorgeous and perfectly manicured, I don't blame them one bit. I mean, how gorgeous would this bag look with a crazy classic tulle ball gown? Buy through Saks for $1395.