I've always had a problem changing my bags as much as I should, sometimes sticking to a bag that I grow accustomed to and fall in love with, only to neglect my massive collection of bags waiting for me in my closet. Last year, my bags got the least amount of use of their (and my!) bag lifetime. I sometimes would only go to the store with a card case in my pocket in order to run errands with the least amount of additional items. I wasn't going anywhere for fun, and that changed my bag carrying habit drastically.
Our life is not back to the old normal, I don't know if it ever will be, but slowly we've been doing a bit more. We took the kids to breakfast this past weekend (outside with plenty of space between tables), we go for walks and bike rides, we see other kids at fields and playgrounds. The slow addition of 'normal' activities means I am bringing my bags out more, and I'll tell you what has come with this: I appreciate them more. I study them differently. I wear them with a bit more happiness and remember the joy they brought me and will continue to bring.
When I say my collection is large enough, I mean it. And my bags really did sit in my closet collecting dust last year (aside from when I brought them out for my #stayhomewithbags series on Instagram). Yet sometimes I run into a bag that I just want, and that happened to me today. I was doing one of my random afternoon perusing of Chanel.com and found this bag. I knew about these bags, and even knew they were out, but for some reason when I saw the rainbow hardware today, I got that flutter in my heart.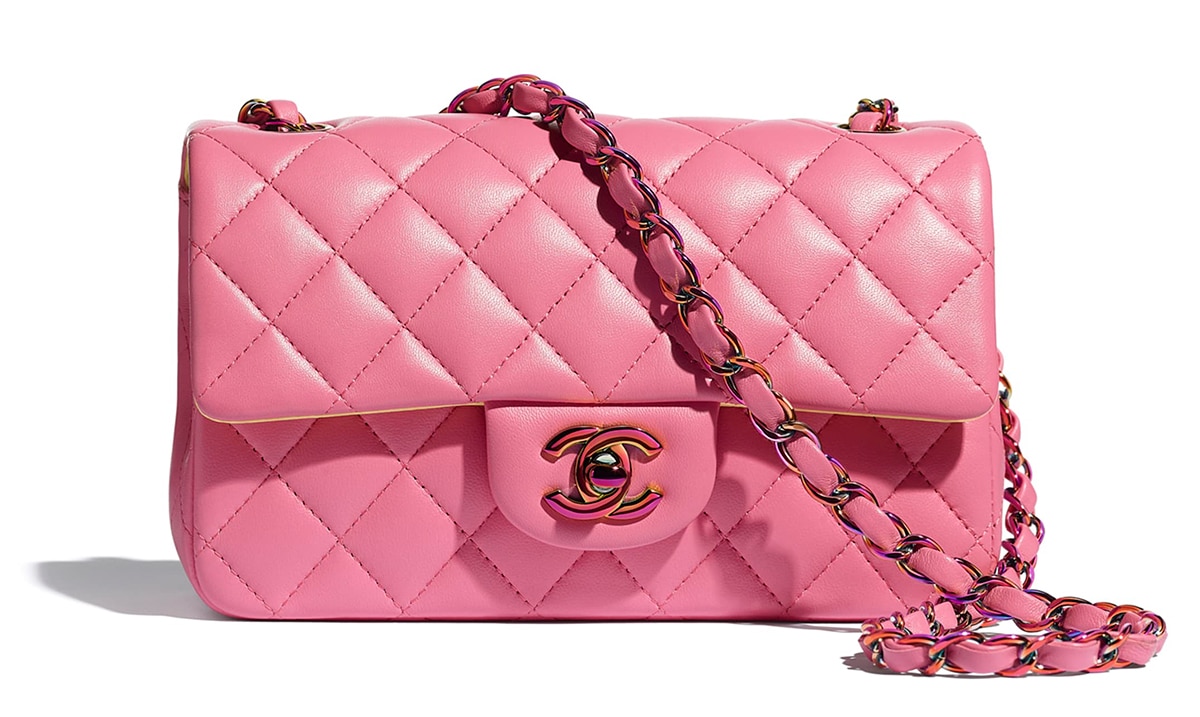 I don't need a bubblegum pink mini bag with rainbow hardware, but man, do I want it. I think it's the happiness that this color and hardware combo exudes that just puts a smile on my face. I really have fallen for the Chanel Rainbow Hardware Mini Flap Bag. The pink lambskin leather is one of those hues that Chanel does so well. It's not for everyone, and typically it's not even for me, but today it makes me smile. Another bright and happy aspect of this bag is that the interior is lined in a pastel yellow leather, which is both welcomed and unexpected.
I am always intrigued by Chanel's metallics – from leathers to hardware and I find the hardware to be perfectly suited to the pink lambskin leather. It's subtle yet noticeable, which makes this bag stand out from others. Maybe it's the blue skies outside or my happiness from getting out with the family for breakfast yesterday on a beautiful Miami morning, but this bag speaks to my soul right now, and I am finding myself needing to talk myself out of it. After all, I did get the Chanel Rainbow WOC a few months ago. Price for this beauty is $4,300.