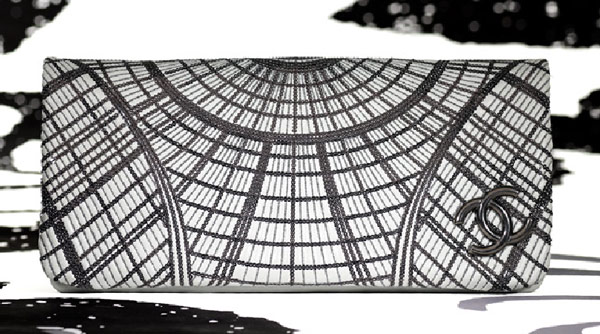 Since Chanel showed its diverse, covetable selection of Spring 2011 handbags in Paris back in October, I've been waiting patiently (ok, not-so-patiently) for detailed shots of the designs to hit the web. Now that they have, I feel confident saying that along with Pre-Spring 2011, Chanel Spring 2011 is some of the strongest work from the brand's accessories team in recent memory. There's a little something for everyone here, from the staunch Chanel traditionalist to the young woman who wants to mix neon and tweed.
I'm particularly excited to see that the fantastic leather-bound book clutch has made its way to retail, as well as some of the utterly feminine scarf-woven bags. What I loved but didn't expect to see was a slim black and white clutch detailing the ceiling of Paris' Grand Palais, where Chanel presents its collections every season. Not only is it beautiful and neutral enough to actually be used, but I could see it quickly becoming a collector's item among Chanel devotees.
Photos courtesy of Chanel. Pricing and availability information available at (800)550-0005.