25-year-old Lori Harvey has been on our radar for the last couple of years thanks to her growing (and increasingly enviable) collection of designer handbags. The model and skincare entrepreneur founded her own company, SKN by LH, in 2021. She's worked with a slew of fashion brands, appearing in campaigns for Michael Kors, Valentino, Burberry, and more. While her professional accomplishments are in a league of their own, some may know her for her personal life. She's the adopted daughter of comedian Steve Harvey, and she famously dated actor Michael B. Jordan from 2020 until earlier this year.
It was then that we noticed an influx of paparazzi photos of Ms. Harvey out shopping, working out, or dining with friends, all with her best bags in tow. Without further ado, let's take a step back in time to 2017 and get started!
Chanel, Bottega, Hermès and more
From the jump, Lori Harvey impresses. We're kicking it off with this ultra-rare furry Chanel bag from the brand's Paris Cosmopolite collection, which was Chanel's 2016/17 Métiers d'art collection. The stark white bag pairs well with her denim-on-denim look.
Next up, we've got the revival that was heard worldwide in the late 2010s, a Dior Saddle Bag. This one definitely looks like the revival and not a vintage version. While her outfit here is pretty basic overall, the addition of this cool coat she's wearing elevates her skinny jeans and sneakers.
Here we have the first of Lori Harvey's workout looks but certainly not the last. She carried a Prada Re-Edition 2005 bag sans the multiple parts and wore slides by he who shall not be named.
Back at it with another workout look and another rare Chanel bag. This Shearling Coco Belt bag was a pretty popular piece from the Coco Neige collection that year. Neige translates to snow in English, meaning the bags are usually extra cozy.
Some people say that leggings are not pants, but Lori Harvey begs to differ. To be honest, I almost missed this photo of her thanks to the mask she's wearing, but our photo service captioning assured me it was her (as do the unmentionable slides she's wearing again here). This bag is far more masculine than anything else we'll see from Ms. Harvey's closet, but it does work with her casual workout outfit.
If I didn't know otherwise, I would think Lori Harvey teaches Pilates. Here she carried a Shearling Chanel backpack to work out…or something like that.
You know what they say, go big or go home, and when Lori Harvey dresses up, she really dresses up! Here she carried Miu Miu's Miu Belle Clutch.
If there's one thing that Lori loves as much as she loves her leggings, it's most definitely soft fuzzy Chanel bags. This one is a bit more classic but still has that wintry edge. I like that she doesn't stick to the ordinary when it comes to Chanel. If I had all the money in the world, I'd have fun with it too.
You simply cannot go wrong with a limited-edition Louis Vuitton bag, and this isn't even the only one in Lori's rotation. This Stephen Sprouse Pochette is forever on many handbag lovers' lists. I hope she will let me know if she decides to sell it one day.
This might be my favorite look of the bunch. Of course, the Bottega Veneta Mini Jodie is always a perfect choice, but this printed matching set is really the show-stopper.
Architect Frank Gehry created this limited-edition bag as part of the brand's Monogram Iconoclasts Collection in 2014, and its resale value continues to skyrocket. While this dress is fun, and the bag is lust-worthy too, I'm not sure I like the two together.
Do you recognize this tiny, definitely not mighty, little mystery bag?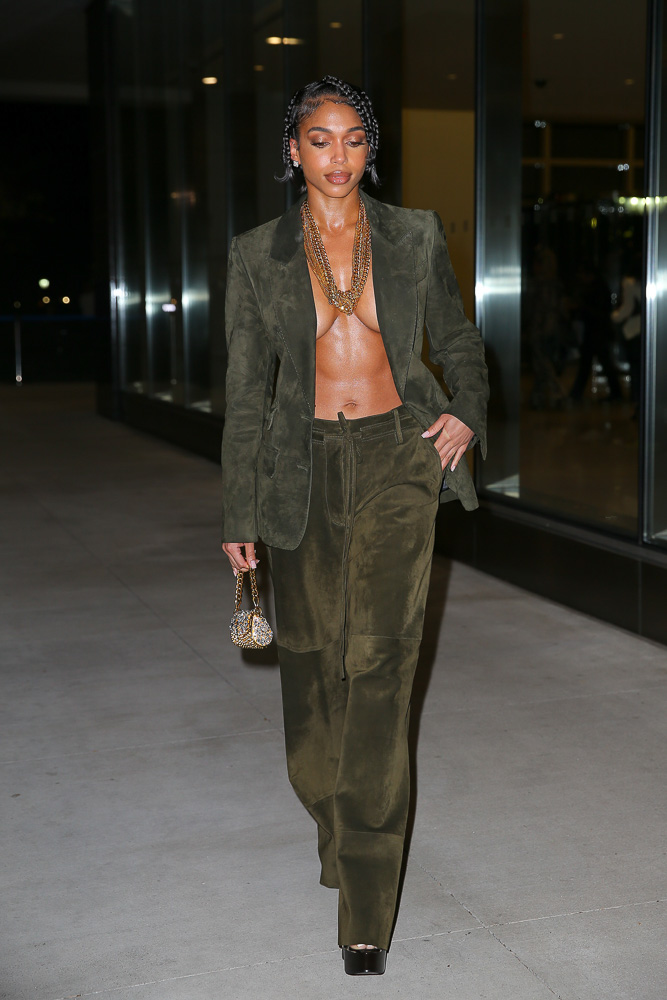 This Valentino Roman Stud Bag doesn't seem to fit the rest of her handbag choices, but transparency is key here. This bag was carried to a Valentino fashion show.
Lori Harvey was featured in Burberry's Winter 2021 campaign, so naturally, being an ambassador for Burberry gives her access to its bags. She was spotted carrying a variation of the brand's popular Lola bag on two occasions. It's not unlike Lori Harvey to have multiples of bags she likes, as you'll see…
Here's where things start to get interesting with a trading in of her Chanel's for a lovely little Kelly.
Earlier this year, Lori Harvey added a suede version of the Bottega Veneta Mini Jodie to her collection. Which, of course, was the perfect accessory to tote along to her workout class.
The leggings/Bottega Mini Jodie/baseball cap is a favorite outfit formula for this workout queen.
This little blue stunner debuted late in the year, leading us to get really, really excited to see what other bags Lori Harvey adds to her collection next year. We'll be on the lookout, that's for sure!
Lastly, we've got this gorgeous mocha-colored dress that Lori Harvey wore while out and about celebrating the holiday season earlier this month. Her tiny Chanel Box bag was the perfect accessory.