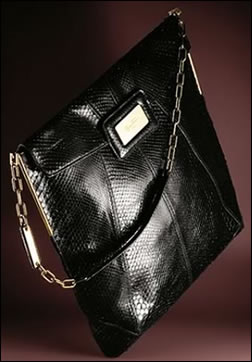 This is a first, the first time we have spoken about Roger Vivier. But Vivier, known as the "Fragonard of the shoe", has created some of the most important shoes of the 20th century, including in the 1950's when he invented the stiletto heel. Vivier passed in 1998 and Bruno Frisoni took over as the artistic director in 2002. Frisoni has continued to keep the brand growing, as the shoes have always spoken for themselves and now the handbags are seen on every top celebrity and socialite from Paris to New York.
One of the biggest fans of Roger Vivier is Katie Holmes, who has been seen in Vivier often.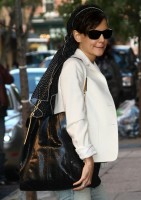 The latest acquisition for Katie Holmes is the stunning Roger Vivier Mikado Flat Bag in black python from the fall/winter 2008-2009 collection. While Katie wears her Vivier bag, her daughter Suri enjoys her very own pair of iconic Roger Vivier Buckle Flats. Jealous? Yes, I am as well. Suri is becoming a fashionista in her own right and Katie Holmes is stunningly dressed in Vivier accessories, including her sunglasses and new handbag.
Buy the Roger Vivier Mikado Flat Bag through Roger Vivier NYC for $2275 (large) and $1325 (small). Call 212-861-5371. Visit Roger Vivier online.
Image via Splash News