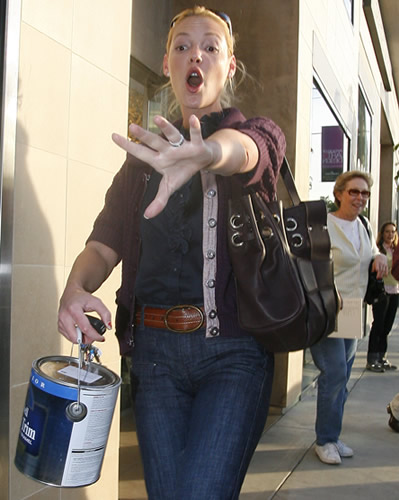 Katherine Heigl with her Jimmy Choo Ramona
The newlywed Katherine Heigl stepped out last week to buy some paint and supplies for her new house with musician husband, Josh Kelley. The paparazzi have been loving Katherine, who can not go out without a storm of photogs surrounding her. Typically she is all smiles and waves for the camera. But this photo taken last week shows something different from a smile or wave, she is intense!
Her bag of choice is the Jimmy Choo Ramona which has a huge following and has been done in many versions, such as the Jimmy Choo Crocodile Ramona. Katherine opted for the brown leather version of the Ramona. She also sported a pair of Tory Burch Reva Ballerina Leopard flats and a Marc Jacobs top. This is one happy and stylish newlywed!
Let's have some fun; Caption It!