As reality settles in and we face the fact that Nicolas Ghesquiere and Balenciaga have decided to part ways, we continue to mourn in the only way now: by celebrating the legendary handbags that Ghesquiere created for Balenciaga. The longevity of the Balenciaga Motorcycle Bag, in all its incarnations, is astounding; the design debuted in 2001 and ever since, it's been toting in a zillion different forms by everyone from the world's most prominent fashion editors to a full half of the PurseBlog company staff. (That's me, Megs and Hilary, for those of you who are counting.)
I've owned four Balenciaga bags over the years, and they're what fueled my initial foray into the world of premiere designer handbags in the first place. I became aware of them largely because of the design's huge celebrity following; when I was in college, you couldn't find a starlet without one. To this day, it seems as though practically every woman in Hollywood has a Balenciaga somewhere in her regular rotation. Doubt it? We'd like to offer a bevy of proof, which you'll find below.
We'll start where Balenciaga started: with the Balenciaga Le Dix Motorcycle Bag, known as a "flat brass" design for its low, smooth brass studs. These bags were produced starting in 2001; by 2003, Balenciaga switched to raised hardware for good, making the 2001 and 2002 bags collector's items. Kate Moss still carries her flat brass hobo quite regularly.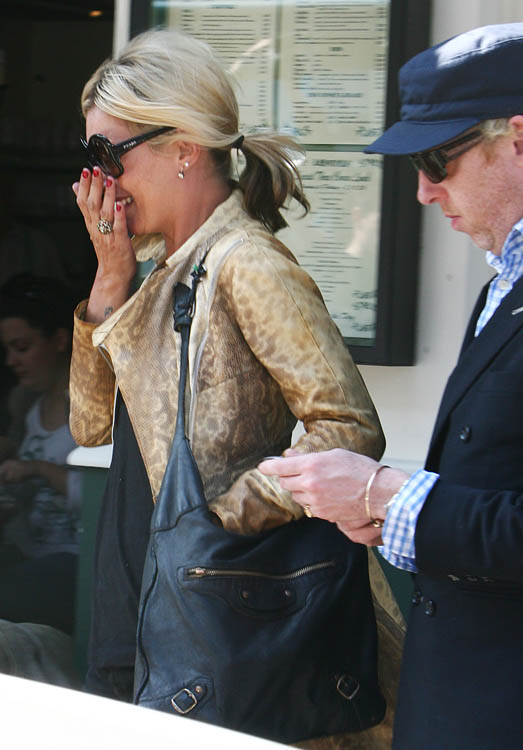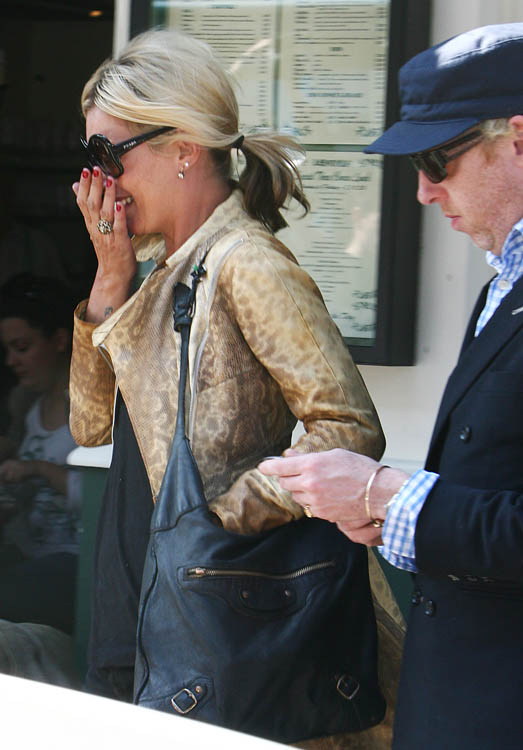 Naomi Watts is another high-profile fan of Balenciaga's very first motorcycle bags. As cute as her kid is, though, he needs to get his little Croc'd foot away from it!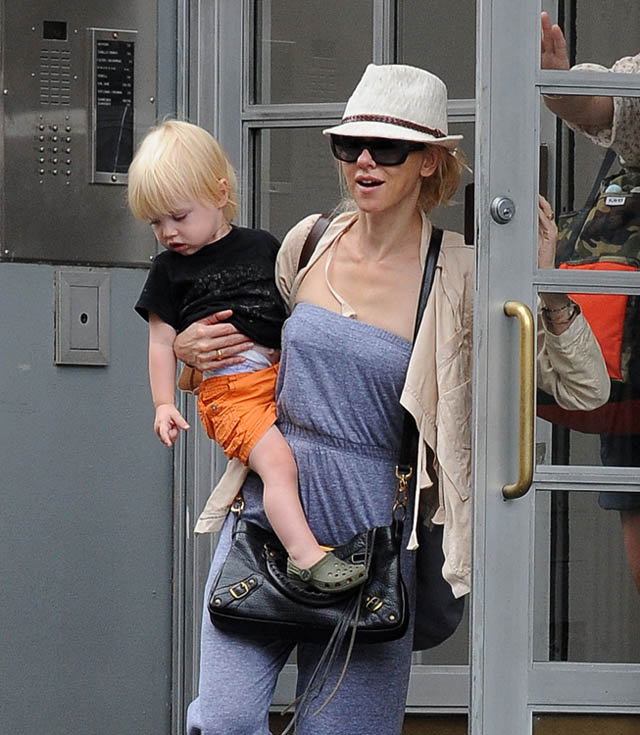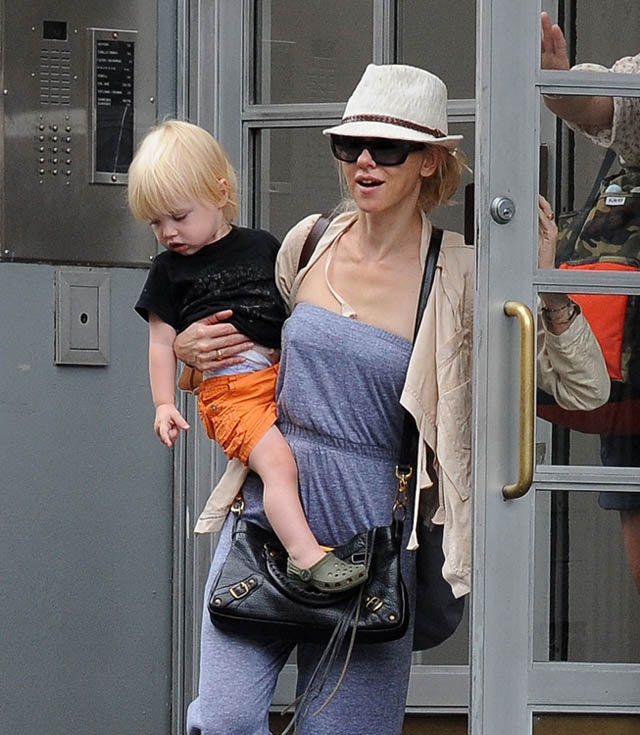 As you might have guessed from the surviving flat brass, black bags are among Balenciaga's most popular. The color works well with the hardware and gives the bags a tough, biker-y feel that can be absent from the company's much-lauded brights. Here, Rooney Mara demonstrates the basic black Balenciaga City Bag with classic hardware. You can pick up your own for $1545 via Neiman Marcus.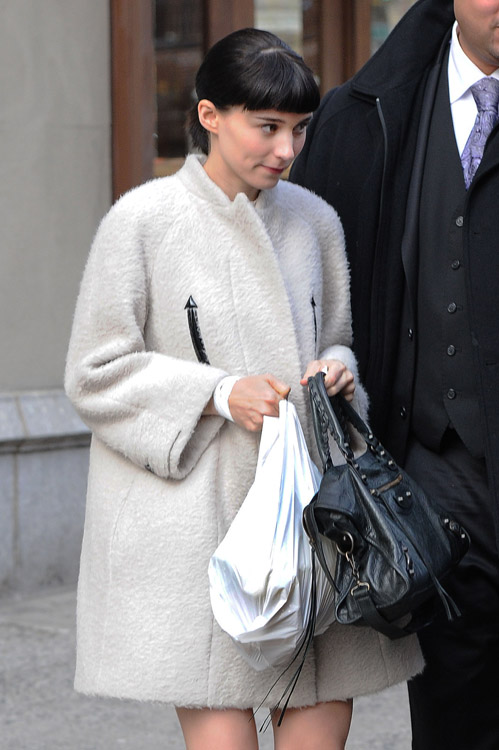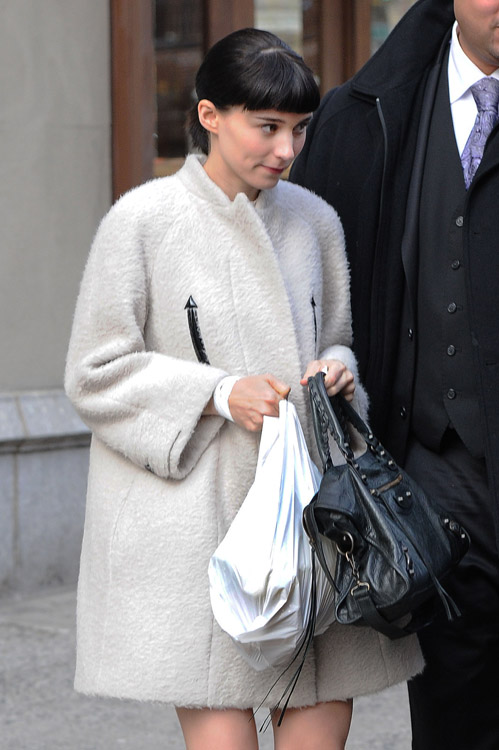 Think you might need a little more space in your black Bal bag? Tori Spelling has the next size up – the Balenciaga Work Bag with classic hardware. $1695 via Neiman Marcus.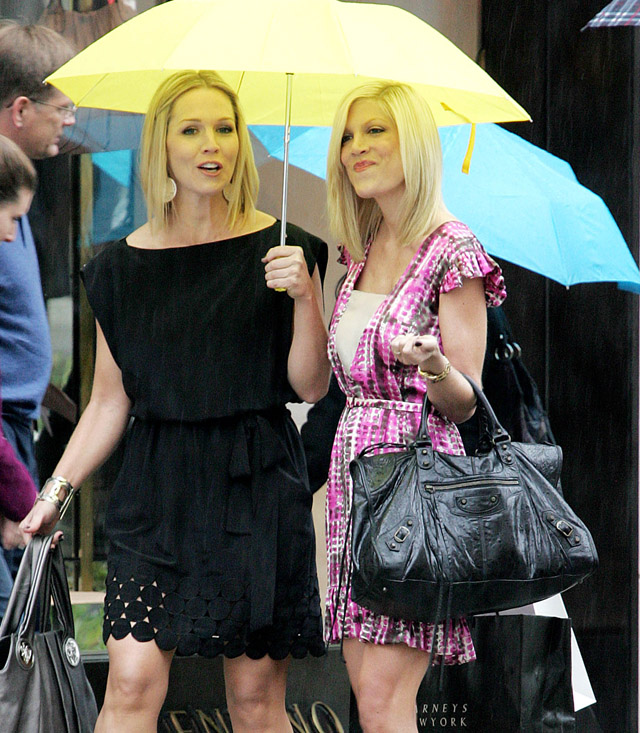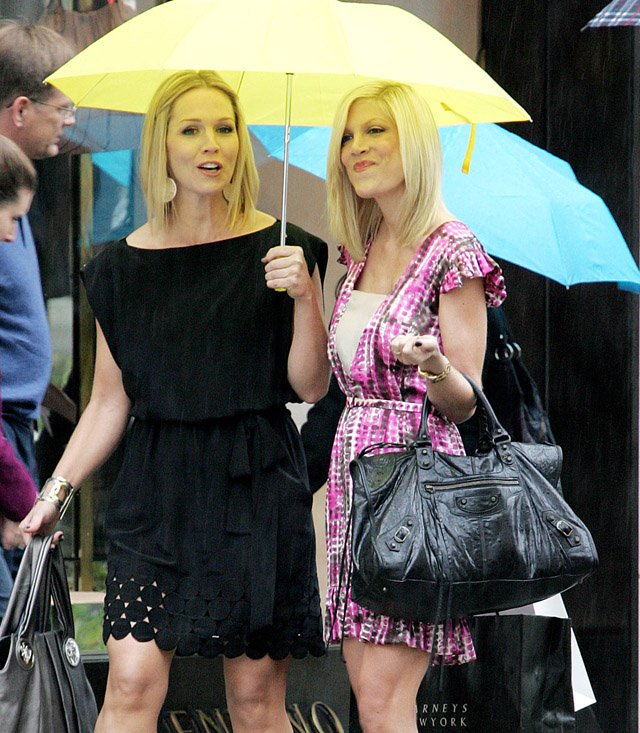 Greedy for even more space in a classic black look? So's Gisele Bundchen. Her B Bag is the Balenciaga Weekender. Pick up your own for $1845 via Neiman Marcus.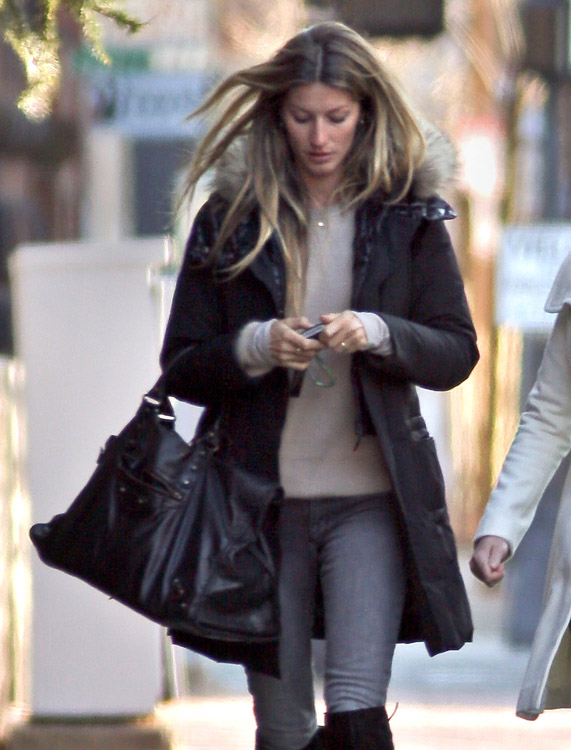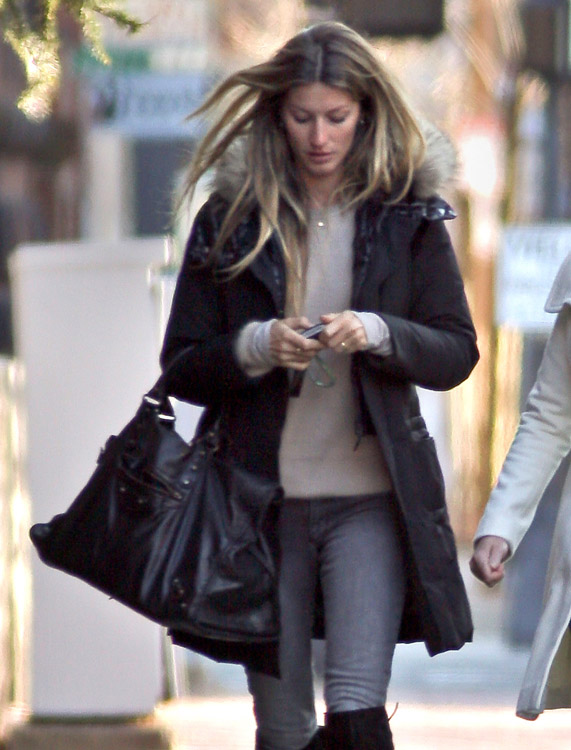 Ashlee Simpson had the same idea as Gisele when picking her Balenciaga Weekender for travel.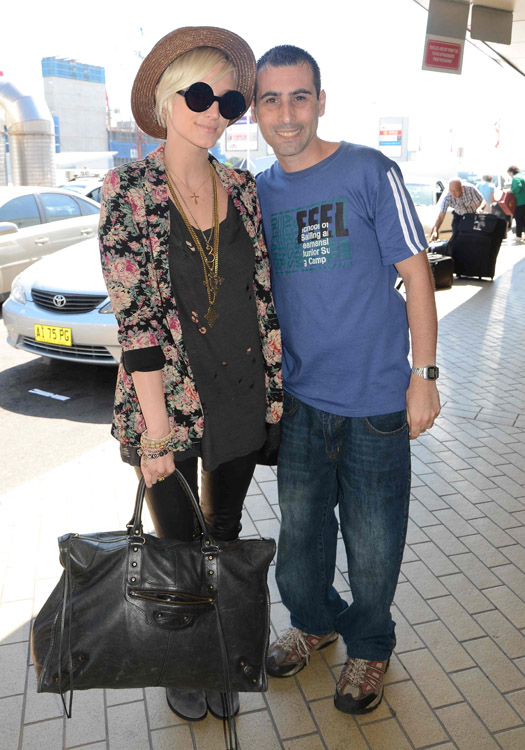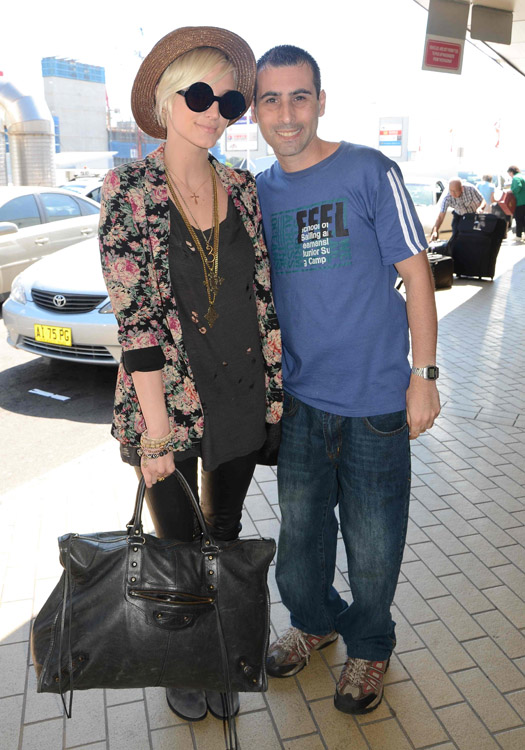 Balenciaga's black bags don't just stop at the classic styles, though. Giant hardware, in gold and silver, proved quite popular for years. Balenciaga doesn't make the biggest kind of giant hardware anymore, seen here on Vanessa Hudgens' Balenciaga Giant Gold Hardware City Bag, but you can pick up a smaller version in rose gold for $1895 via Neiman Marcus.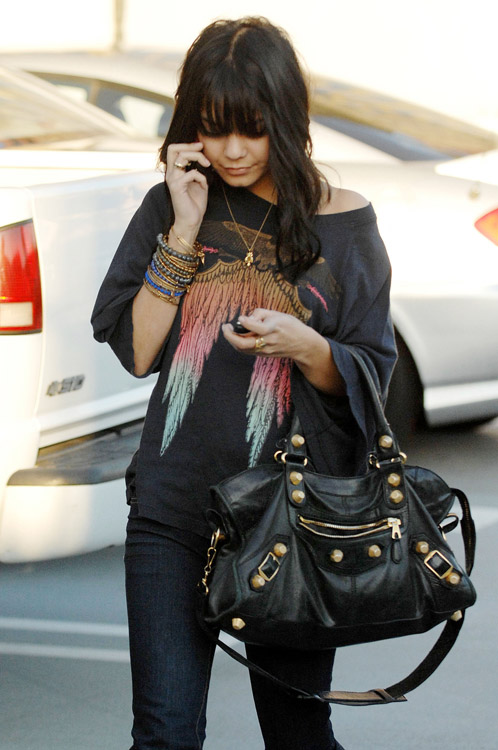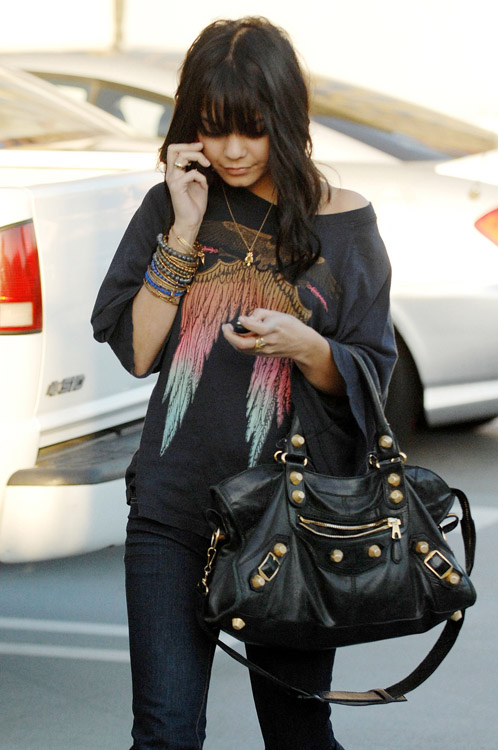 Here's proof positive that Balenciaga's fanbase extends beyond those who are just traditionally famous: porn star Jenna Jameson has the exact same bag as Vanessa Hudgens.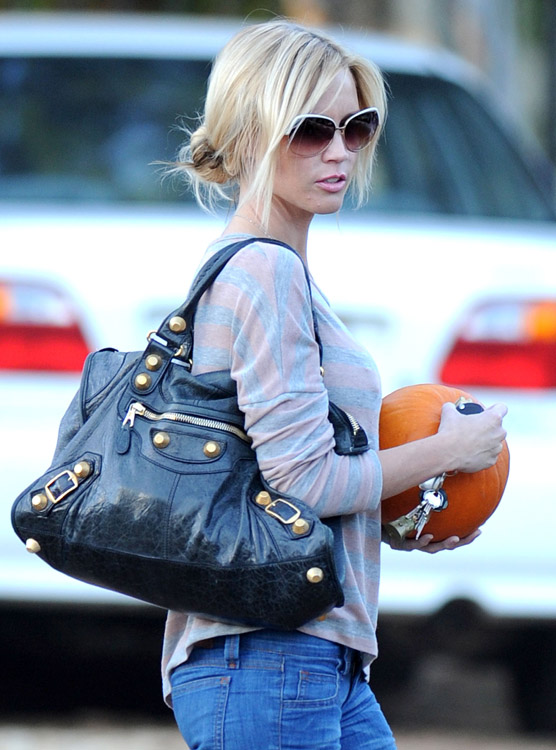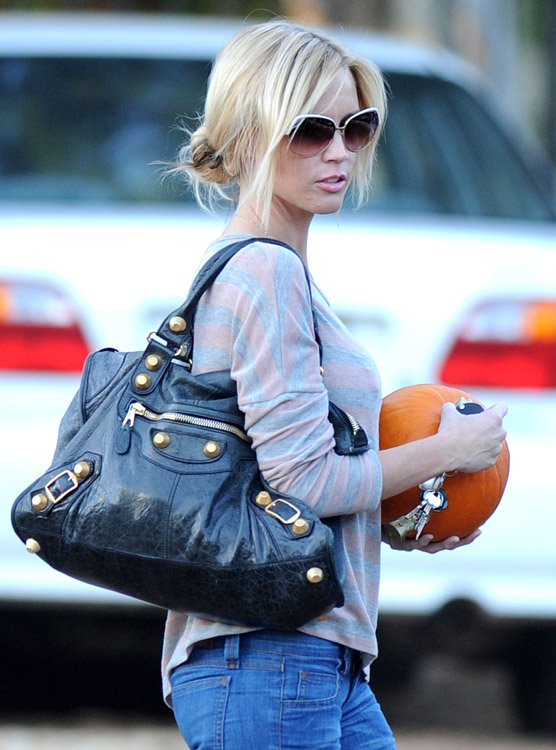 Dig the big hardware but want a more subtle look? Lauren Conrad chose the Balenciaga Town Bag with Mini Giant Hardware, which fits the bill perfectly. $1795 via Neiman Marcus.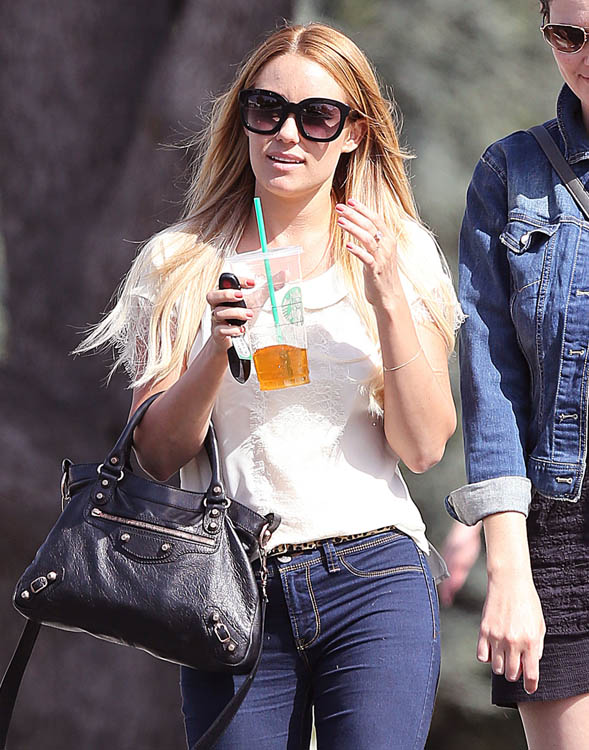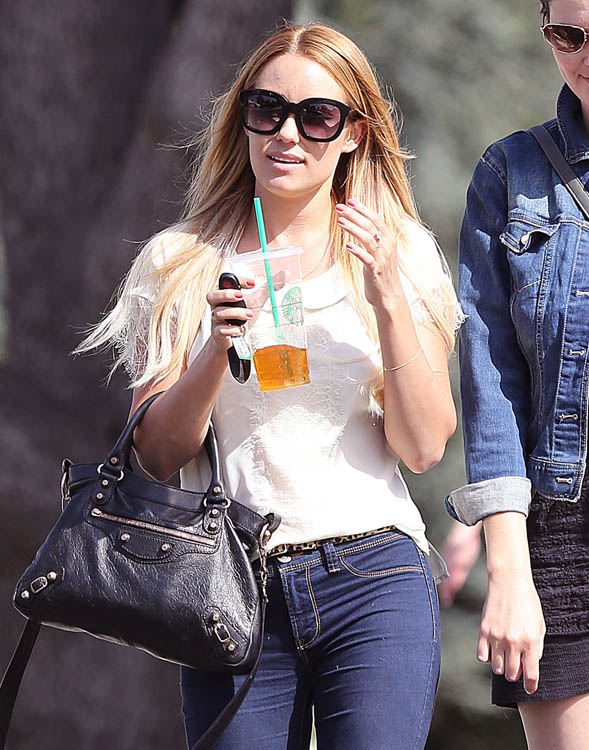 Shortly after introducing Giant Hardware, Balenciaga also introduced Giant Covered Hardware – instead of bare metal, the signature studs were covered with the same leather as the rest of the bag, as you can see on Hilary Duff's Balenciaga Giant Covered City Bag.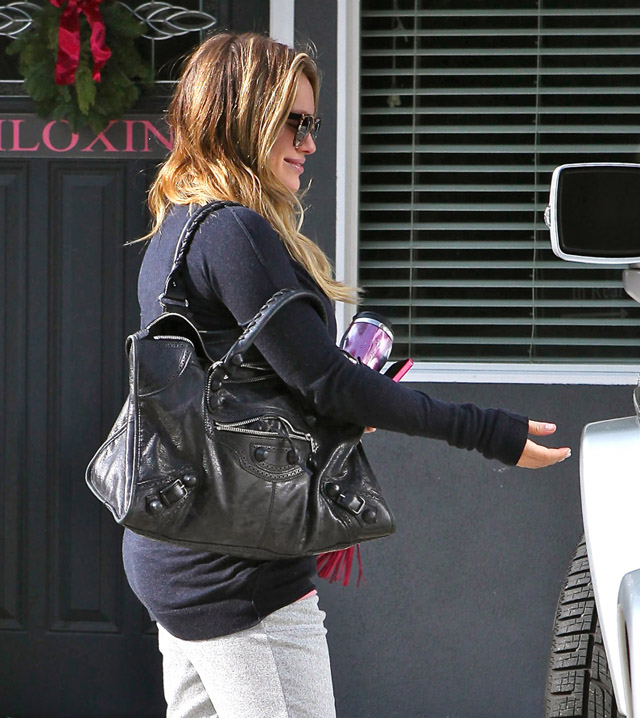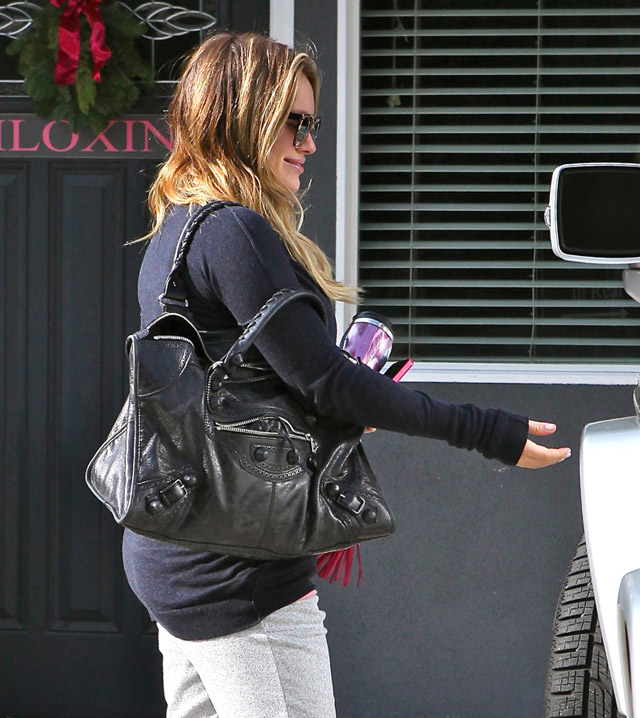 We've shown you a lot of Balenciaga satchels, but the brand does tons of shoulder bags too. Check out Famke Janssen's…well, it looks like a Balenciaga Day Bag with a super long strap, which I don't think is made anymore. Regular Day Bags (my favorite Balenciaga choice) will run you $1145 via Neiman Marcus.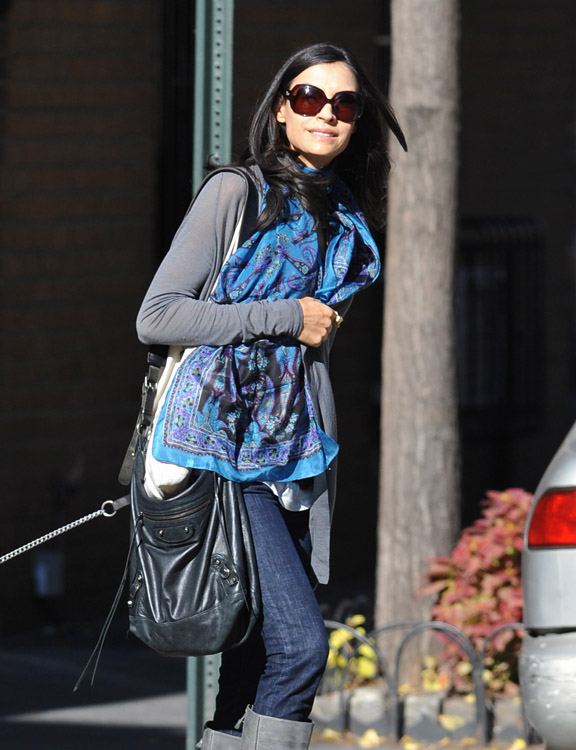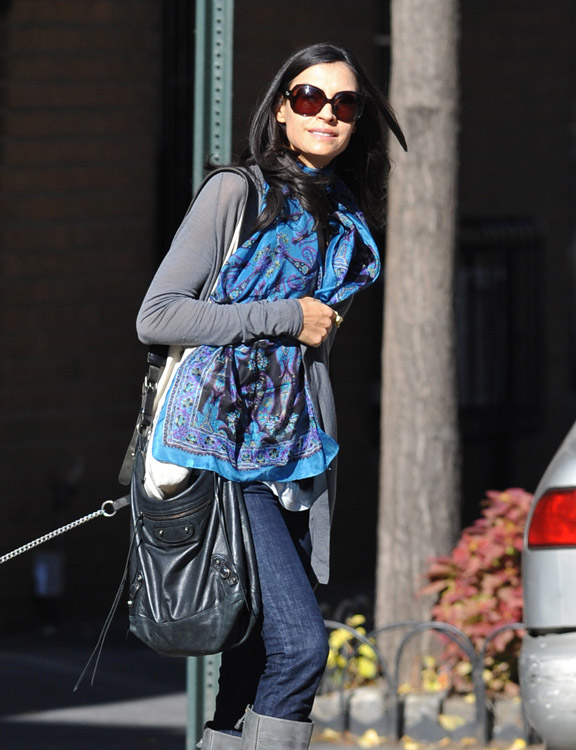 Sometimes Balenciaga does its classic hardware in materials other than weathered brass. For a recent line of suede motorcycle bags like the one Kim Kardashian is carrying in this photo, Balenciaga chose shiny silver. Buy a suede version of your own for $1545 via Neiman Marcus.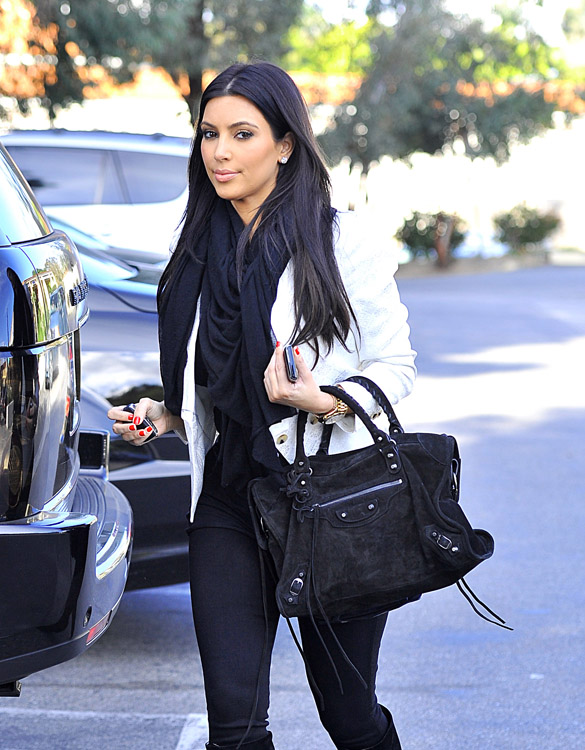 In general, the Kardashians are big Balenciaga fans. Here's Kourtney Kardashian with her Balenciaga Classic Arena Square Tote, which is no longer made.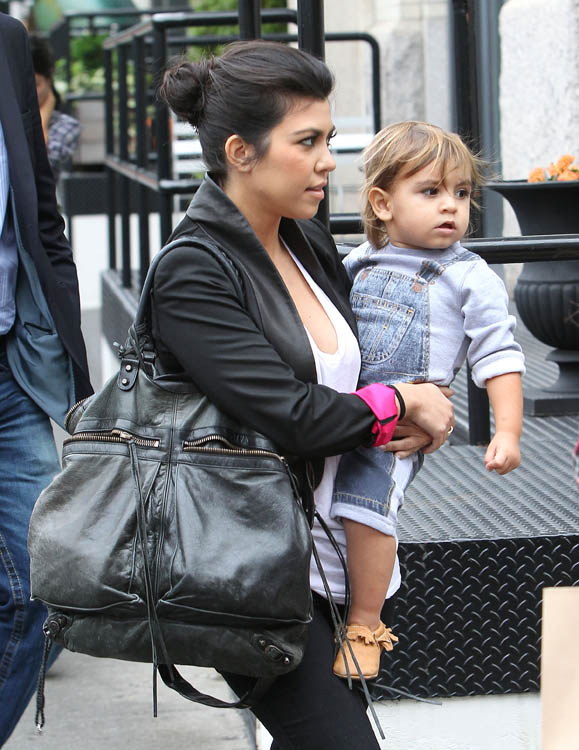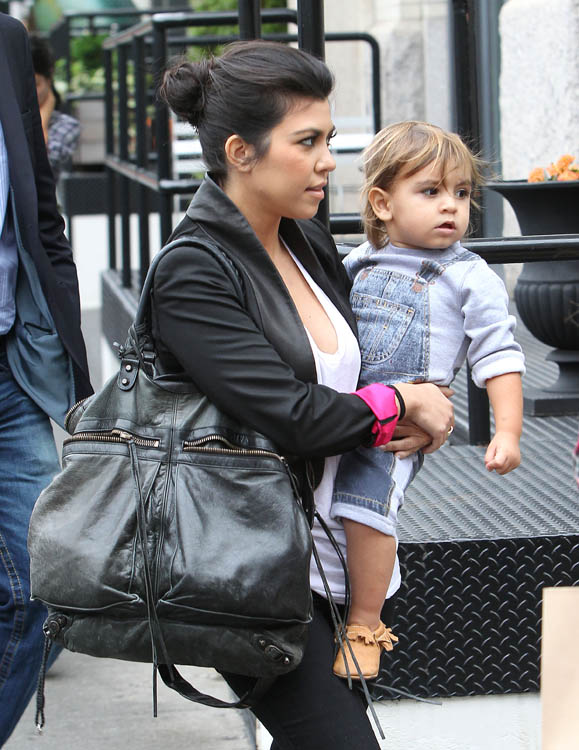 To round out the Kardashian siblings, we have Khloe Kardashian carrying a Balenciaga Giant City with what appears to be rose gold hardware. Pick up a similar design for $1895 via Neiman Marcus.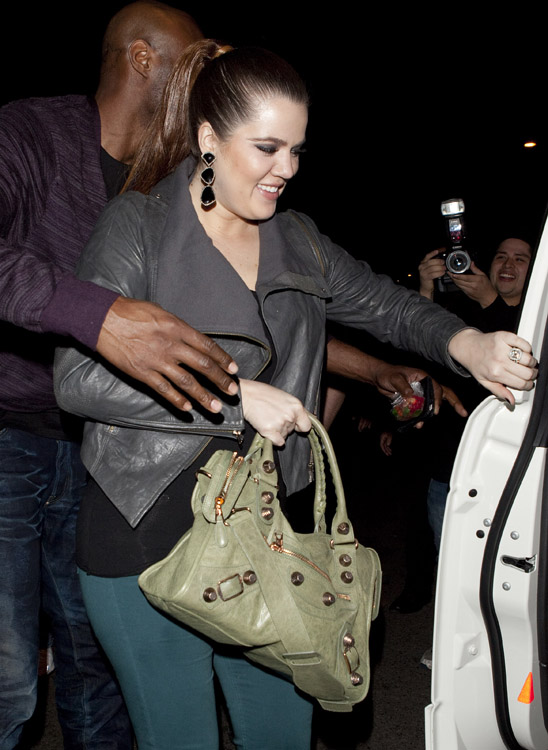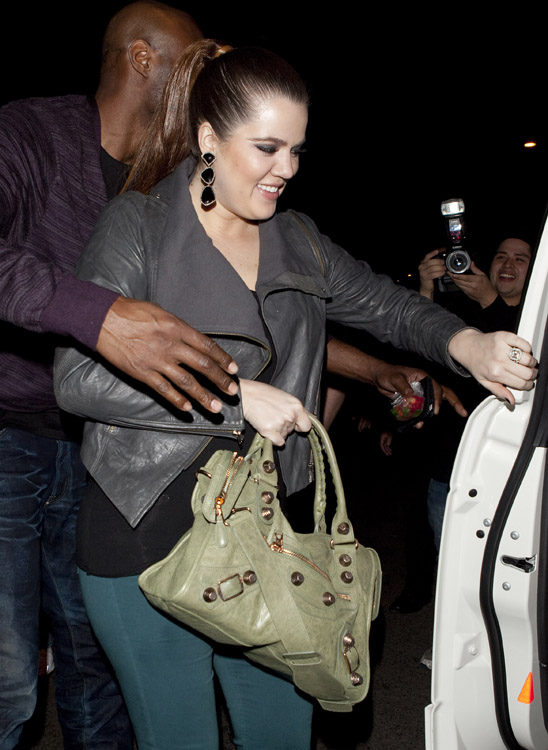 Don't let you focus get pulled by Nicole Scherzinger's bright caftan – concentrate instead on her Balenciaga City Bag.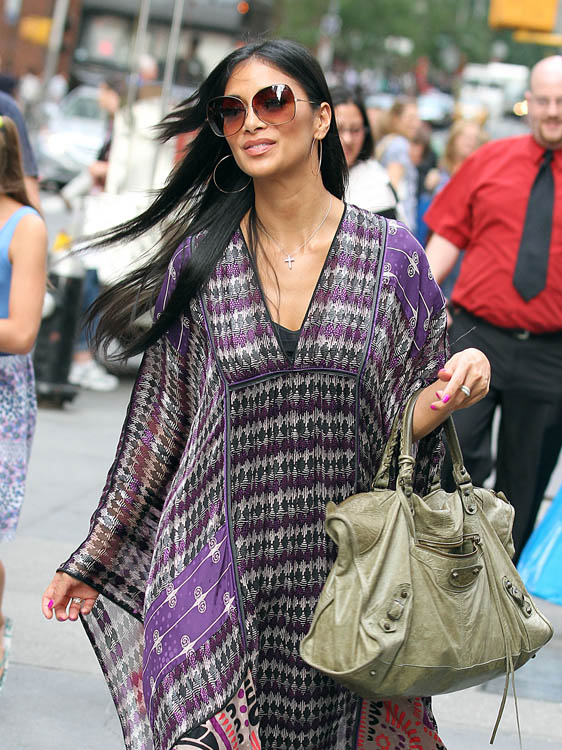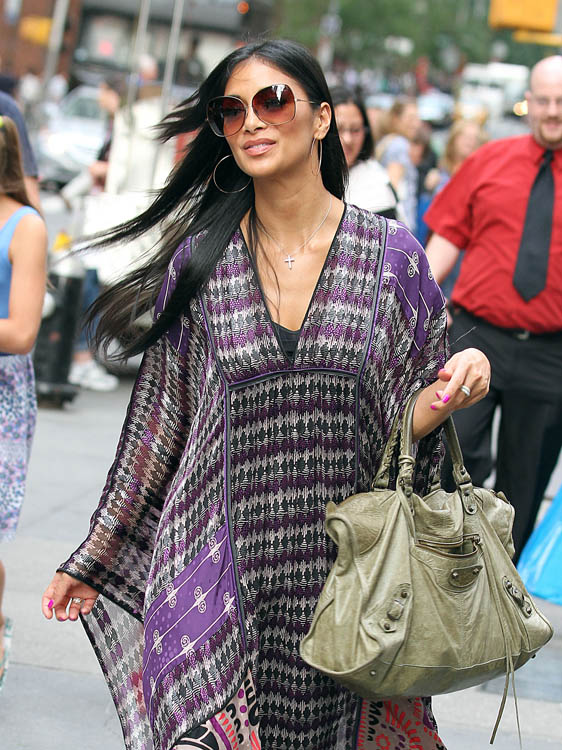 Color choice is very important to Balenciaga fangirls, and it looks like Khloe Kardashian, Nicole Scherzinger and Hilary Duff were on the same page with their sage green bags – Hilary's is a Balenciaga Work Bag with classic hardware. Pick up the same bag in a different color for $1695.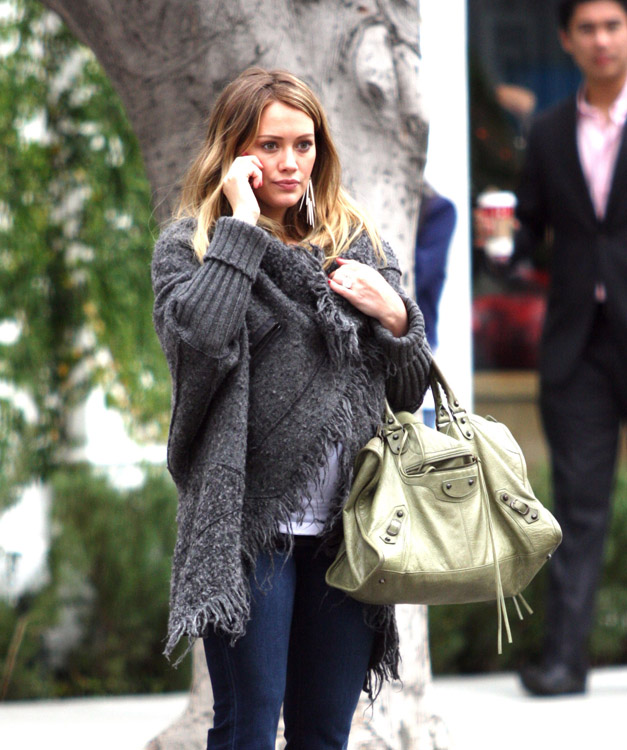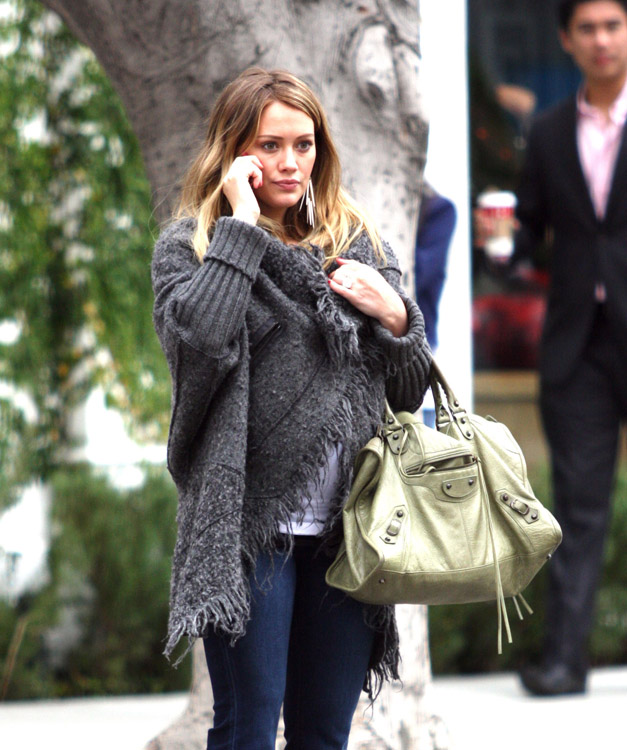 The classic Work Bag has a lot of celebrity fans, actually. Among them are Stephanie Pratt…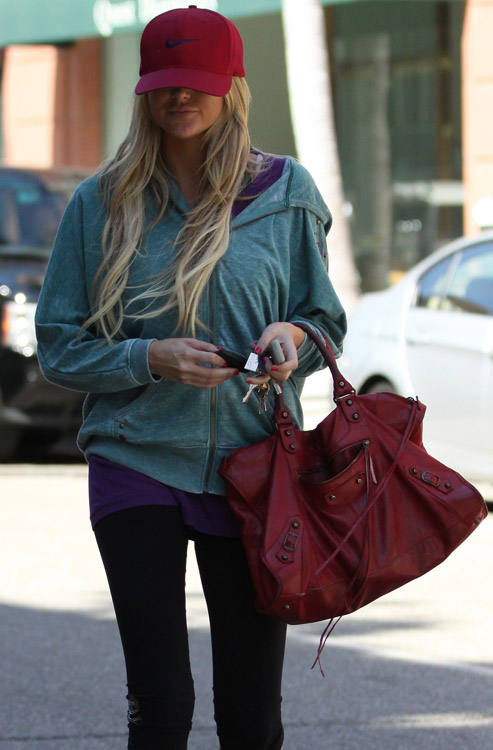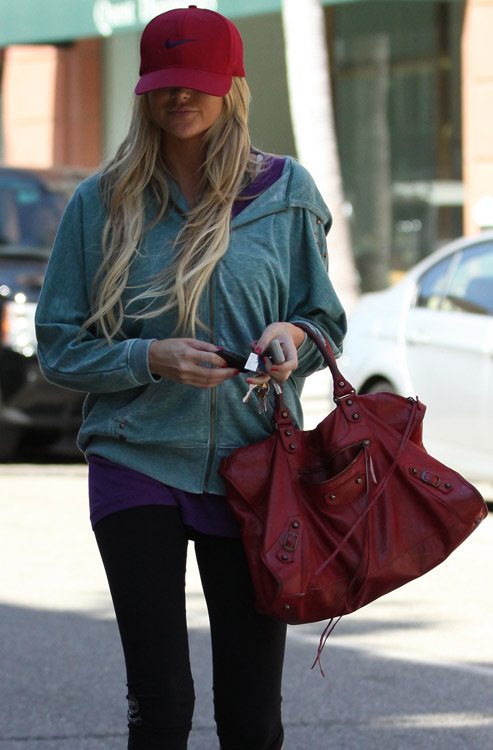 …Trish Cyrus, mom of Miley Cyrus (who prefers the Balenciaga Pompon Bag, $1945 via Barneys)… Check out Miley's full collection in her Many Bags feature!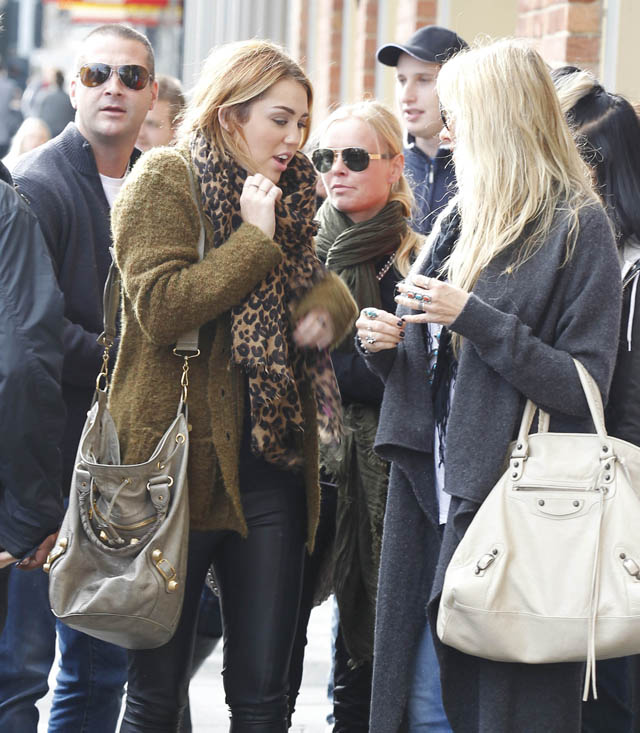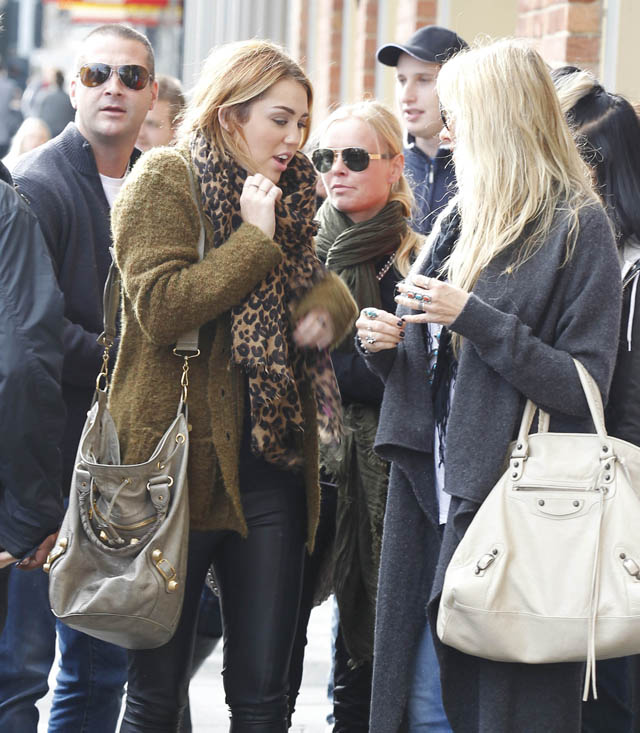 …and Petra Ecclestone, who has a neon blue lizard version of the Work Bag. (That she carried it with a crocodile Hermes Birkin, natch.)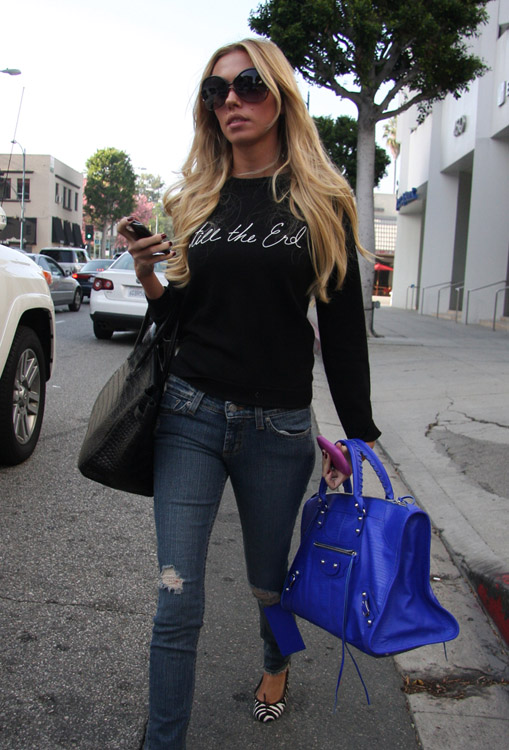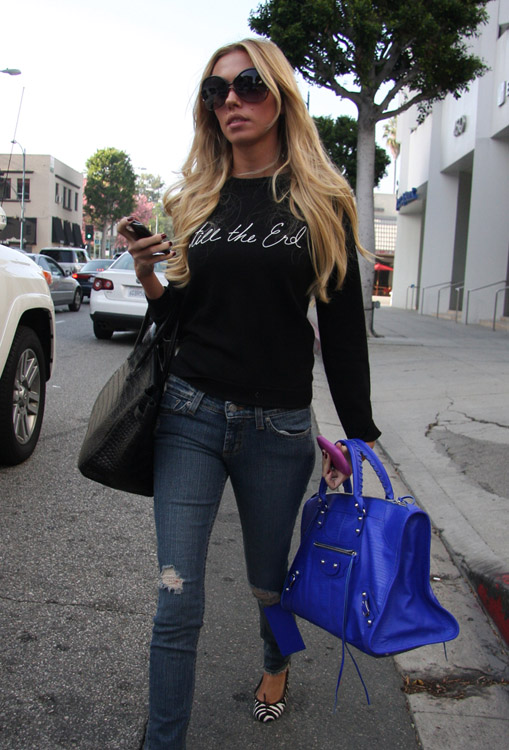 Nicky Hilton (the superior Hilton, if you ask me) made a slightly more neutral Balenciaga choice – her Balenciaga City Bag in ivory is chic and summery. The same bag can be yours for $1545 via Neiman Marcus.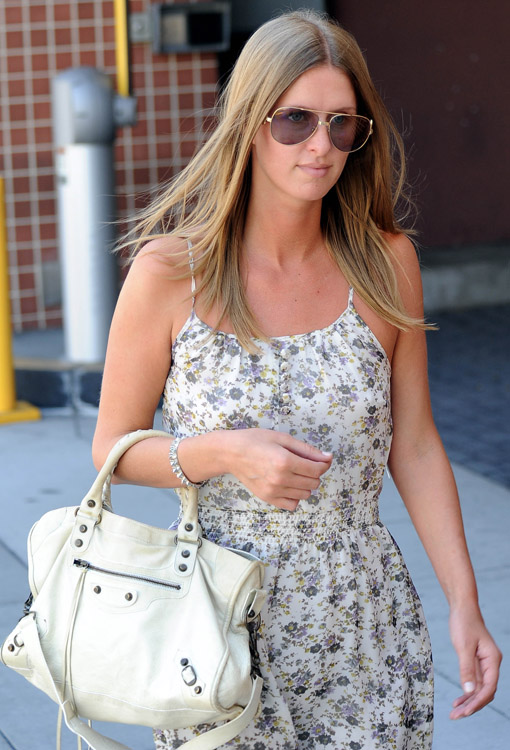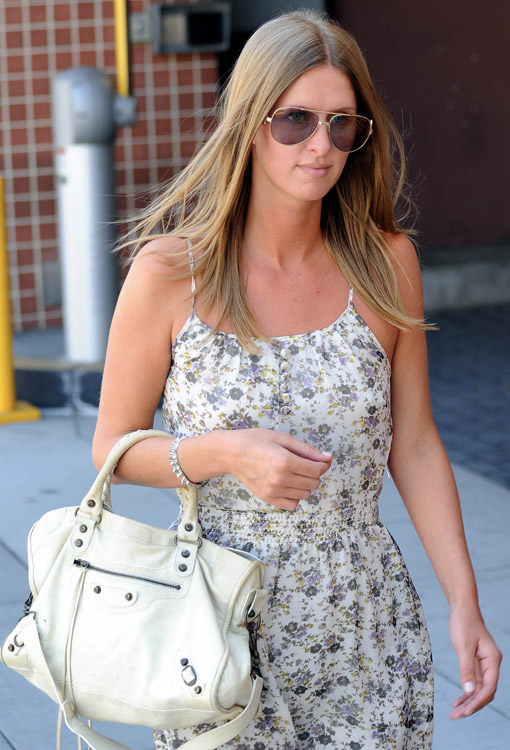 Someone should tell Nicole Richie that a stark white Balenciaga Weekender Bag probably isn't the best camouflage if you're hoping to avoid attention. Pick up your own (not quite as white) version via Neiman Marcus for $1845.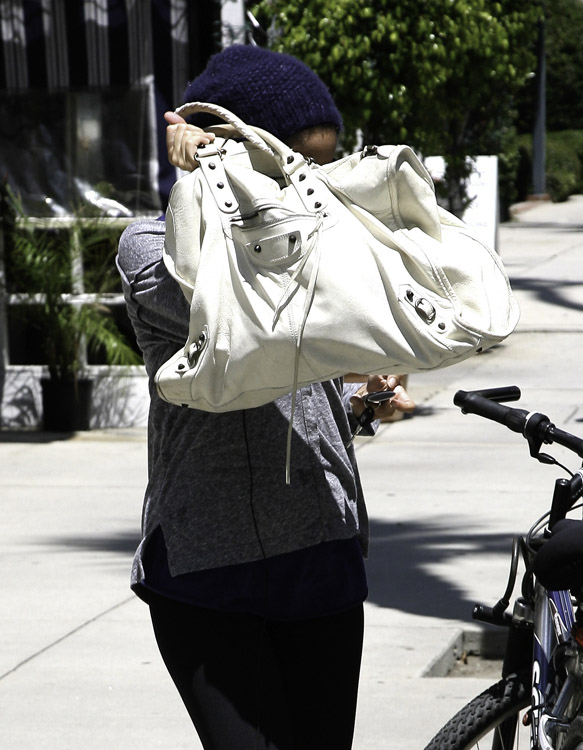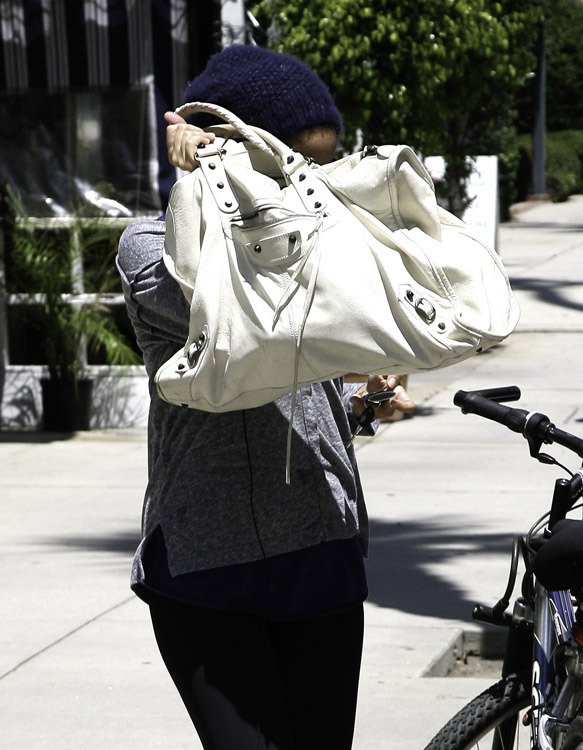 When not coming from the gym, though, Nicole is a bit more bold. After all, who would want to hide while carrying this awesome Balenciaga Damask Stripe City?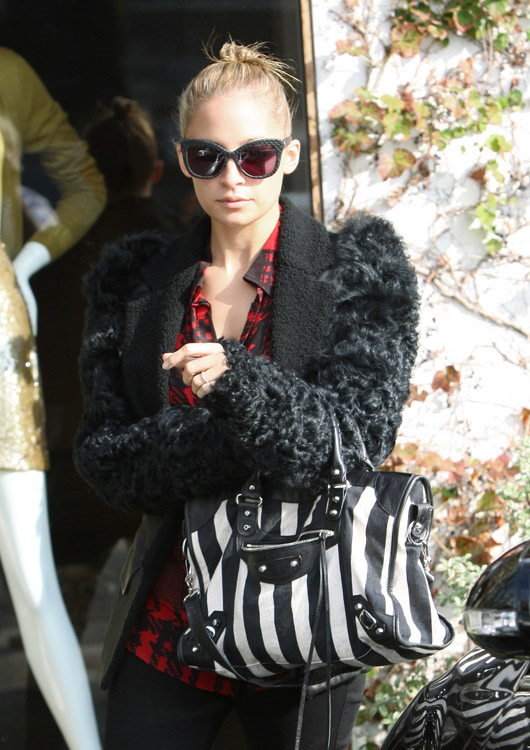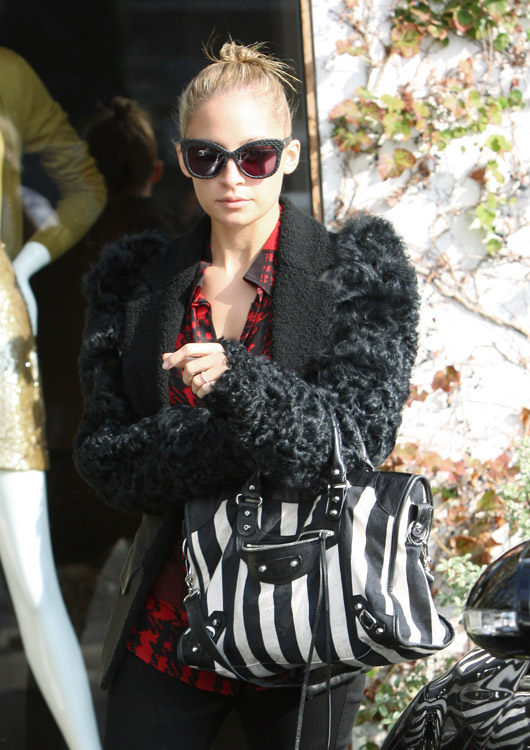 Whitney Port also likes her Balenciaga bags bold – this colorblocked Balenciaga Day Bag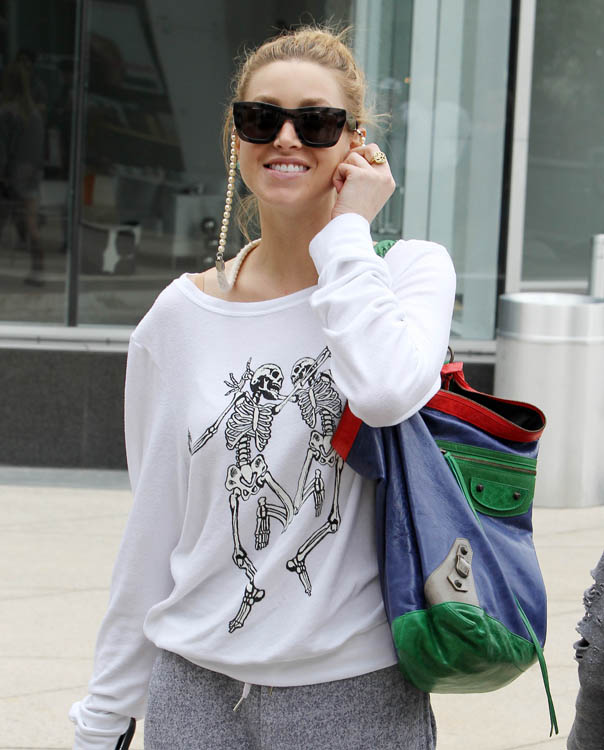 Claudia Schiffer's Balenciaga Patchwork Work Bag (it appears to be a work, anyway) is also…bold. That might be a generous term for it, actually. But Schiffer's a supermodel, so of course, she can pull it off.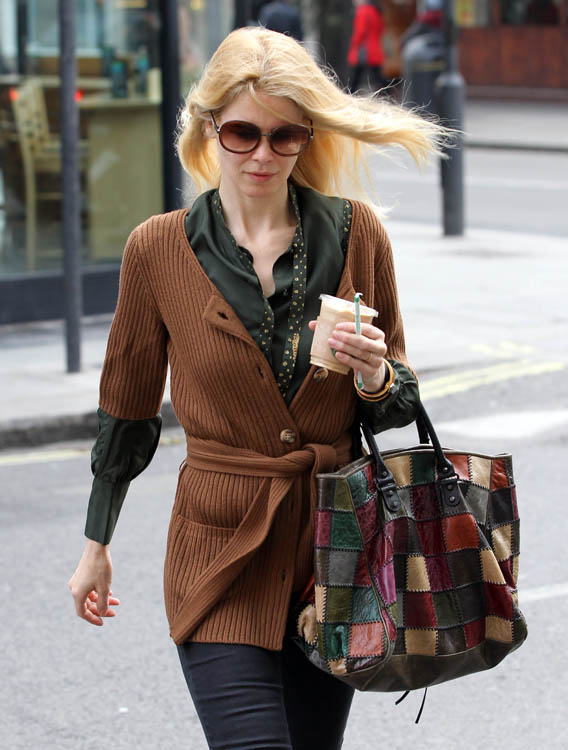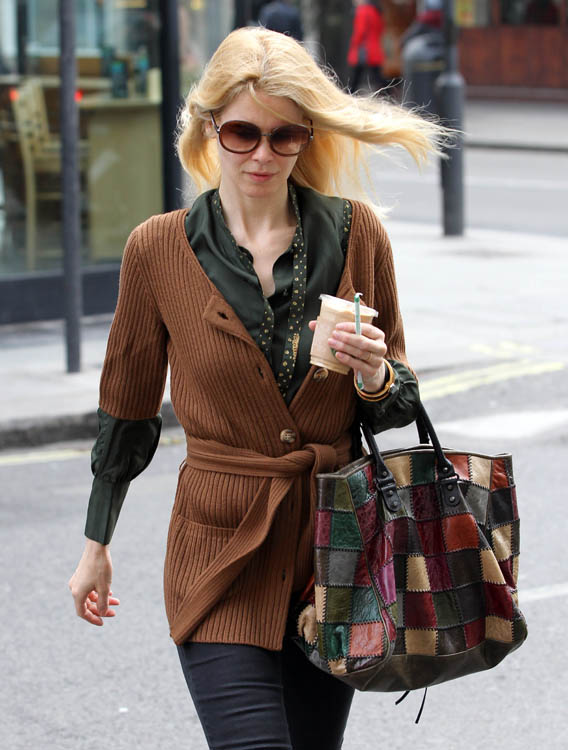 Some supermodels still go for neutrals, though. Case in point, Christy Brinkley and her Balenciaga Work Bag. Or maybe it's a weekender! Hard to tell from this angle.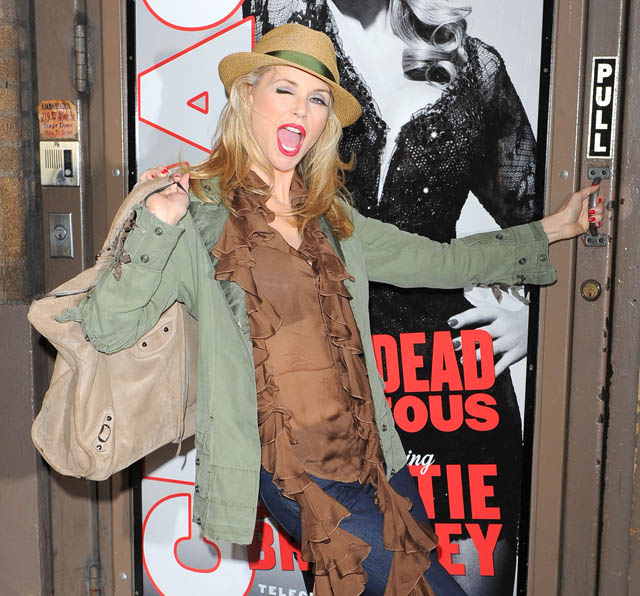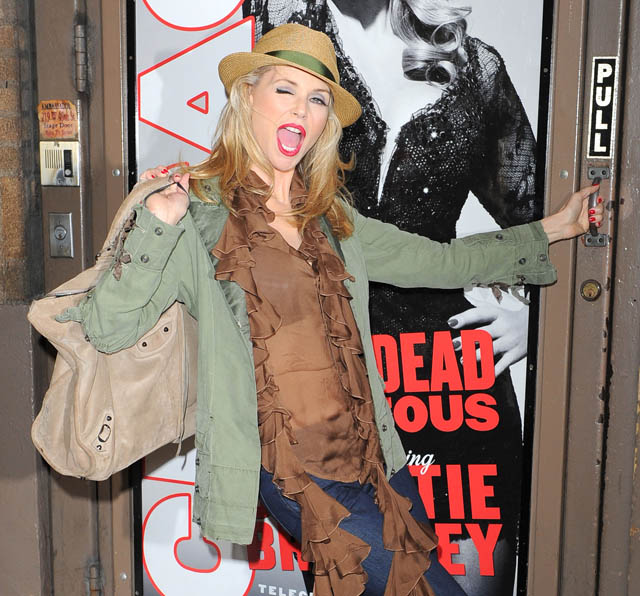 Anna Kournikova is an athlete instead of a model (at least nominally) and she also supports neutrality. Her choice? The throwback Balenciaga First Bag. Pick up your own at Neiman Marcus for $1395.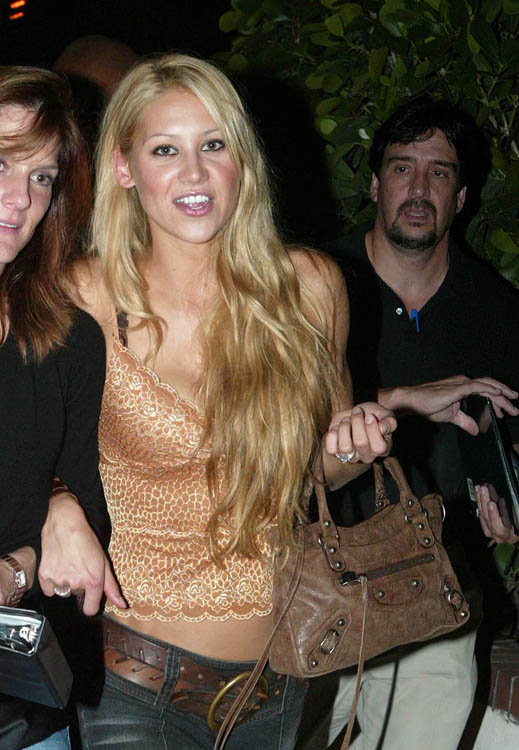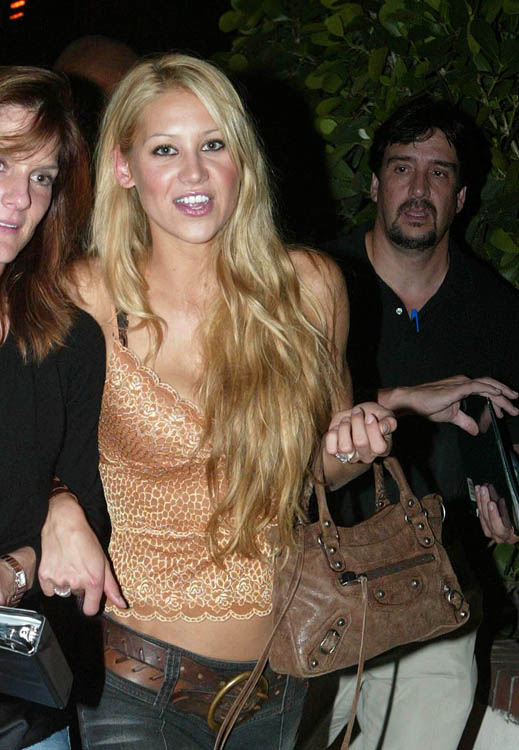 Danica Patrick, another quasi-athlete, also prefers neutrals – her Balenciaga of choice is a dusty pink suede Balenciaga Velo Bag. Grab a leather version for $1545 at Neiman Marcus.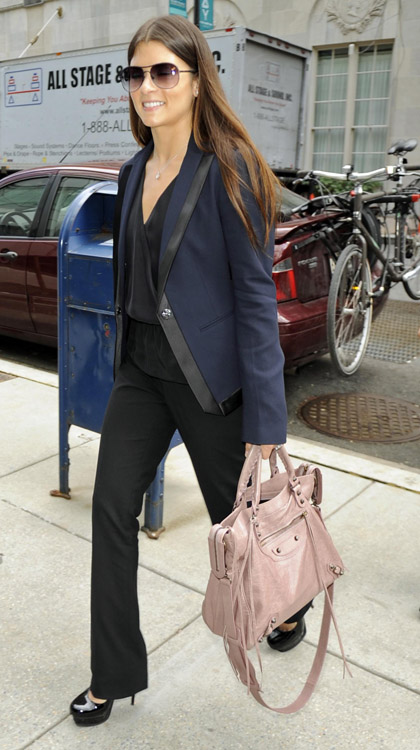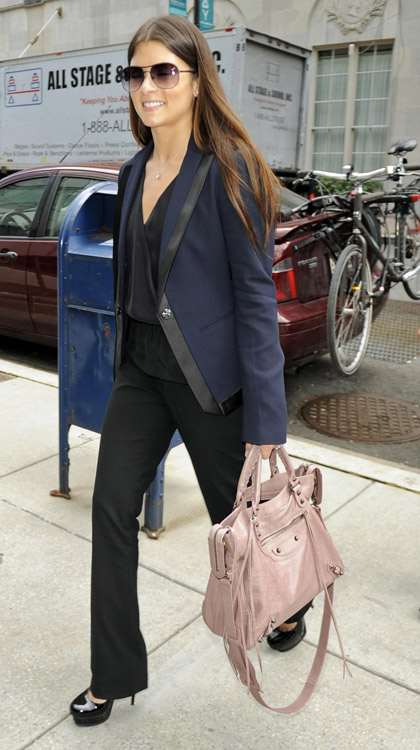 Actress Emma Roberts, on the other hand, chose a light blue Balenciaga Neo Folk Messenger. The dark blue version is $1175 via Neiman Marcus. (Of course, we already covered Emma's Balenciaga!)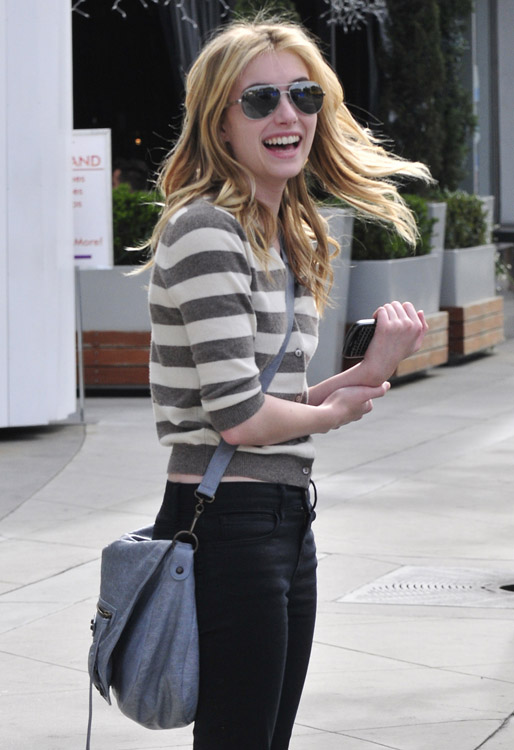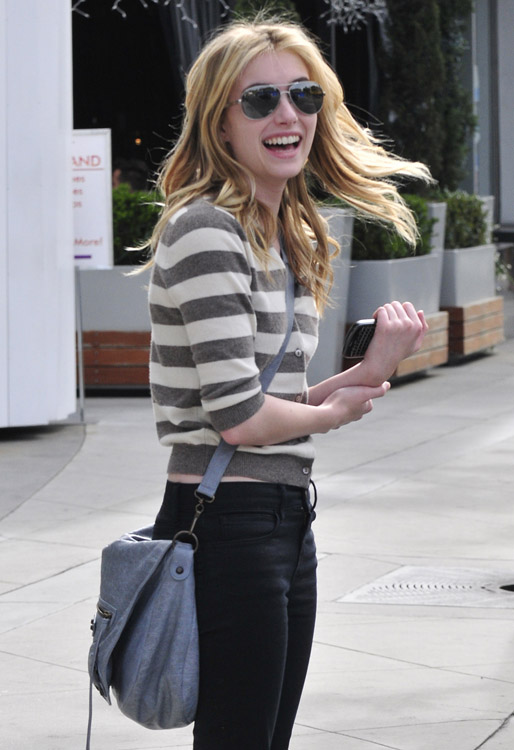 Like Nicole Richie before her, Ashley Tisdale also uses a Balenciaga Weekender Bag for the gym.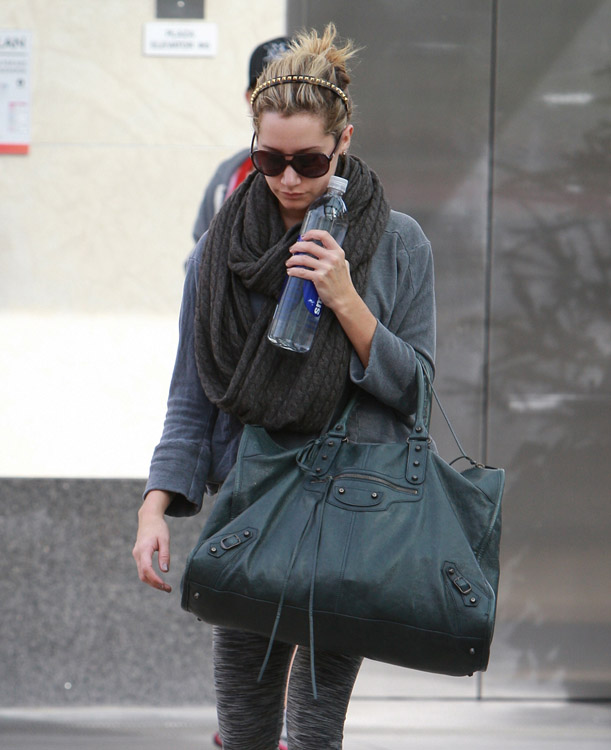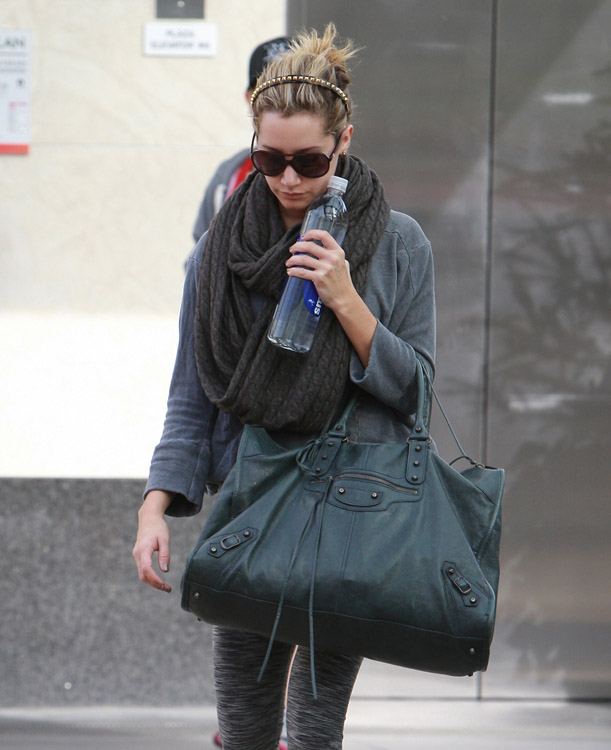 Perhaps most unexpectedly of all, we have Alanis Morissette in an electric green Balenciaga Papier Tote. Want to see more of her awesome collection? We've got you covered. Pick up Alanis' tote for $1445.