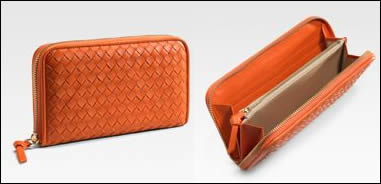 Our home is a four level condo. Right when you walk in we have shelving for our shoes, mail, boxes, car keys, and my handbag. But I keep the majority of my handbags in our closet and keep the one I am using downstairs. The hundreds of stairs has seriously impeded on my switching out bags, because really, who would want to walk down three flights of stairs only to realize they did not bring the right bag down? This leaves me running out of the house with only my wallet. And my wallet has doubled over as a clutch many times. My LV Zip Around Wallet easily includes all of my credit cards, cash, phone, and car keys. It is the wallet equivalent of Mary Poppins bags. Love it. My wallet is constantly used, thrown in every bag, including my Hermes Kelly Long (which totally made our LV SA laugh!). And I love this wallet, but it is starting to get dirty and starting to look at me oh-so-tiredly. Does it need to be replaced?
If I were to replace my wallet it would be for another large zip-around wallet. These wallets are my best friend. Easy to use, spacious, and can be carried out of the house on their own. Of course I have a soft spot for Bottega Veneta Bags and there is a certain zip-around wallet that I may cheat on my LV wallet with. Very similar to my LV Wallet, only the Bottega Veneta Woven Zip Wallet is designed with richly woven leather. I expect the leather to get dirty with how often my hand would grab it, but I also expect the leather to continue becoming softer and softer with each use. There is the zip-around closure that offers ultimate expandability. The inside is what is the most important. I would have to check this wallet out in person to see if it would suit my needs. The BV Wallet has a center zip compartment, two billfold sections and eight credit card slots. Measurements are 7¾"L X 4½"H X 1″D and this wallet is available in burned-orange and ash. Buy through Saks for $660.
Should I cheat on my LV wallet?