When The Pouch made its way to unexpected stardom, it became an entire movement within the bag world. The Pouch was The Bag to have, and its large size without a shoulder strap made it seem atypical in the world of must-have bags. But #NewBottega found its legs with this design, simple in theory while stunning in execution, and the oversized clutch with just the right amount of texture and leather gathering at the frame top solidified its place in handbag history.
Soon after its release, a couple more sizes were added – namely the Mini (formerly known as The Pouch 20) and the Charm (which is no longer on Bottega's site). The allure of The Pouch is its extreme oversized nature, this is a bag meant to make an impact, but many still found it a bit too large and cumbersome to carry. If you didn't want to condense the size too much but didn't love the dimensions of the original, Bottega Veneta now has what may be the perfect size for you (and for me, I am oddly feeling the itch), introducing: The Bottega Veneta Teen Pouch.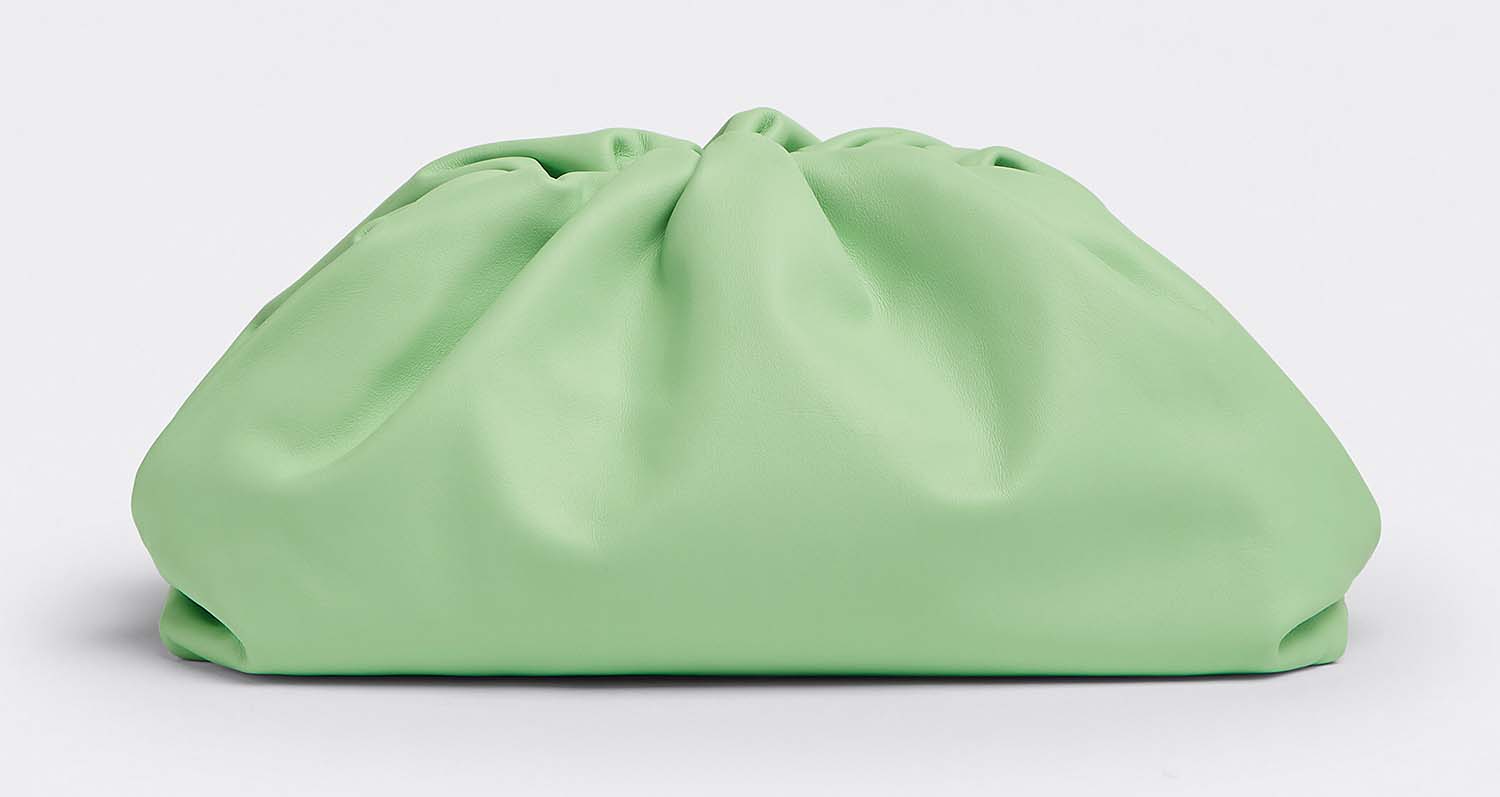 Guys, I don't need a new bag, I really don't. But I can't shake this intense want for this specific bag (especially in this perfect creamy mint green hue BV calls Wasabi). I don't get this feeling all the time anymore, so when a bag truly speaks to me, I know it means I feel strongly about it, and I feel strongly about this very bag. I was just talking to my friend yesterday who obsessed over The Pouch for years now and finally got one this year for Christmas. I told her it was right for her, she has wanted it for as long as the bag has been out. I am guessing that got my mind fixated on The Pouch a bit, but I always thought the dimensions were a bit too large for me (I don't know why as I always say being taller means I like a bigger bag), but this slightly smaller version seems perfect.
Just like its big sister, the Bottega Veneta Teen Pouch features a single interior compartment with a magnetic frame closure. The calfskin used on Bottega Veneta's bags truly delights and the interior is lined in calfskin as well.
Here is the difference in the bags' dimensions:
The Teen Pouch is 16 cm (6.3″) H x 31 cm (12.2″) W x 13 cm (5.1″) D. In comparison, the original Pouch is 18 cm (7.1″) H x 40 cm (15.7″) W x 18 (7.1″) cm.
This makes the Teen Pouch still ample large to carry your necessities but brings it down by a few centimeters in each dimension to allow the bag to be a little more manageable. Compared to The Pouch, the price differs by a mere $250, which may suggest opting for the larger, more expensive version. Yet, I feel like this smaller, more versatile Teen Pouch may make more sense for you. I am going to look to get both sizes together in person to share a size comparison and review for you, but until then, I think I need (ha) this new bag.