I suppose it could be argued that more subtle or more luxurious brands exist on the high-end mass market, but few brands garner such a large following as Bottega Veneta while still holding the attention of such a large audience. If you're wondering about the source of that success, look no further than the Bottega Veneta Roma Accordion Tote.
At first glance, this design might seem unremarkable, but I can't help but be impressed by the restraint Bottega shows in bags like these, season after season. The company may release a gimmicky bag here and there, but it's always supported by tons of luxurious everyday bags that a woman could carry well beyond the immediate season.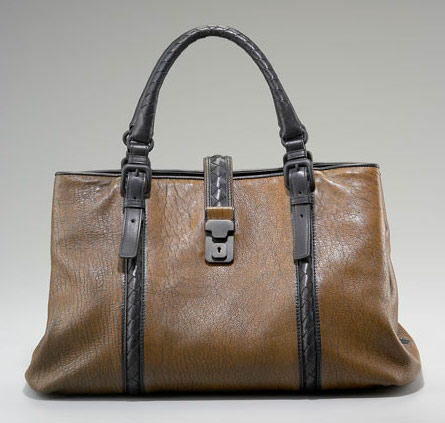 Regular readers know that it takes an act of god to get me feeling enthusiastic about a brown handbag, but the details are what make this design shine. Not only is the black woven trim my favorite part, but the matte hardware in particular. Why don't more brands make bags with matte hardware? That's a serious question, and I'd like an answer. If matte nail polish and matte black football helmets are both awesome (AND THEY ARE.), then why hasn't fashion stepped it up when it comes to such a fierce finish? It's the kind of subtle detail that can make a bag and it's one of the things that makes this one. Buy through Neiman Marcus for $2680.