Ah, my love of Bottega Veneta leather runs deep. So deep that I spent a good hour talking with Vlad and our friend at BV about every possible home item from Bottega Veneta I would use in my English Manor. Yes, an English Manor, which sounds entirely cool and fits nicely into my dream world.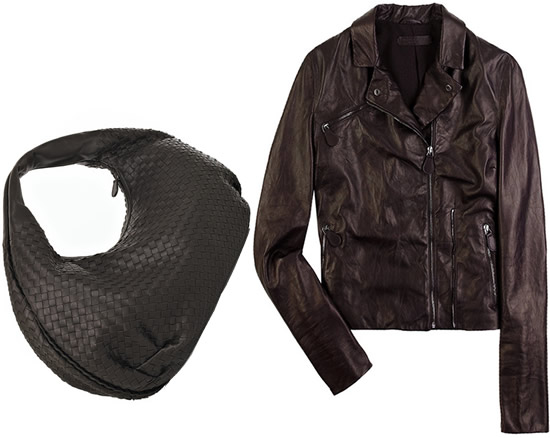 Until the day that my home is draped in Bottega Veneta leather from head-to-toe comes, I will attempt to focus on the handbags. Ok, I can't. Did you see this amazing Bottega Veneta Leather Motocross Jacket? Lusciously soft deep purple leather is found on this jacket. The jacket is refined and sophisticated while being totally cool. A versatile leather jacket can be dressed up or dressed down as it truly is an integral part of our wardrobe. There is no one better to turn to for a leather jacket than Bottega Veneta via NAP for $4,650.
One of the main reasons I love BV is because of the timeless appeal. I want to hug the Bottega Veneta Intrecciato Shoulder Bag while sporting the jacket. That is how much I am digging this duo. We already told you the history of Intrecciato leather, this truly is a Bottega Veneta staple. The shape and style of this bag will transcend all ages and for all time. Buy via NAP for $2,380.
Do you think my English Manor will be large enough to house my never-ending handbag closet?