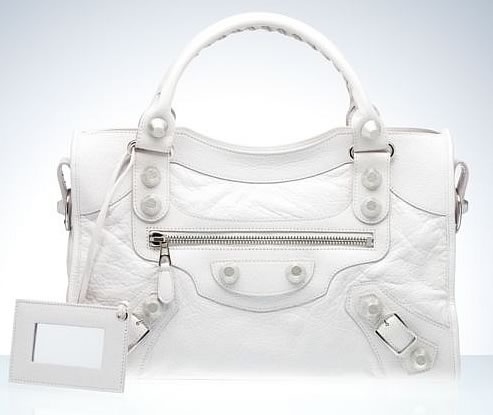 When people think of Balenciaga they automatically think of the array of colors the house is known to produce. I can never keep up with our Balenciaga forum members, who are color geniuses by the way, discussing their favorite colors and leathers from the brand.
The color shown above is actually called Nacre and is part of the current season collection. I am quite picky about white bags, for obvious reasons. White attracts dirt from the moment it is removed from its packaging. On top of that, I prefer a clean/sleek design when opting for a white bag. Crisp and white go together like peanut butter and jelly in my vocabulary, which is why I prefer sophistication and elegance when it comes to a white handbag.
The Balenciaga color hunt is never ending, but I don't think white is in the cards for me. Would you buy a white Balenciaga bag?
Buy via Balenciaga for $1,795.