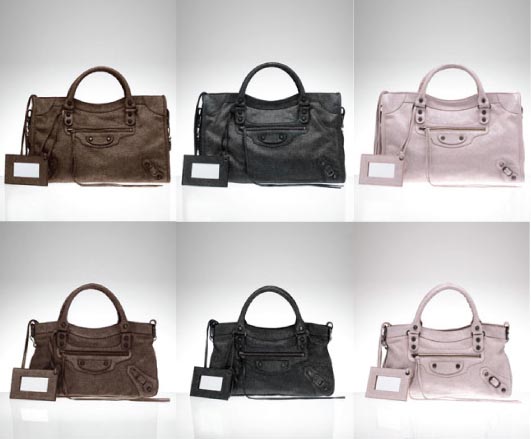 Can you believe that it's already been 10 years since Balenciaga started making their iconic motorcycle bags? It seems like it was just yesterday, but these bags have been a fashion must-have for a full decade.
To celebrate the design's anniversary, Balenciaga and Neiman Marcus have teamed up to carry a limited edition collection of six exclusive motorcycle bags. The three Firsts and three Cities will come in cracquele-finish calfskin in Noir, Bronze or Bois de Rose (pale pink), but perhaps the most exciting parts of the bag are on the inside…
It has a patterned lining!
This might not seem all that spectacular to the average handbag fan, but if you've owned as many Bal bags as I have over the years, you know that they all have one thing in common – black cotton lining. To the best of my knowledge (which is, admittedly, not complete), Balenciaga has never done a pattern inside of any of their motorcycle bags, and I'm almost tempted to grab one of these for just that reason.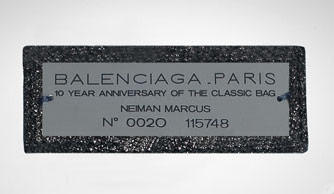 All of the bags will also have a very cool tag explaining why they're so special. Regular Balenciaga bags sell out quickly, so I'm sure that these limited edition bags will be gone in no time – if you want one, best to hop on it now. The collection also includes three pairs of ballet flats, but the bags, of course, are the thing to have.