Hi Megs,

Just read on your post for Mimi on $2k for a work and day bag. I hope you can give me an advice too .

I am about to give birth to our first child (a baby girl) and I am looking for a big, everyday bag that can serve as a diaper bag as well. I do not want an obvious or real diaper bag, instead I would like a chic, trendy bag that can be an everyday bag too. I would like it to be light and easy to carry. I do not have much budget for this one, something less than $1000 will be really great. Do you have any recommendations? Thank you so much.

Widi
Widi –
I think I can help you out! First of all, congratulations on the baby girl! You must be thrilled. You need to be a chic and stylish mom that still carries a bag that is practical. My focus for you will be a large bag, most likely a tote or messenger, that will have structure and pockets for you to store all the necessities that motherhood brings. Another main concern is that you will need as many hands as you can get with an infant, three would be preferable but we need that you have your two hands free. So the goal is to find a light-weight, large, pocket/storage friendly tote or messenger. This can be done! I will give you a list of viable options and we can go from there!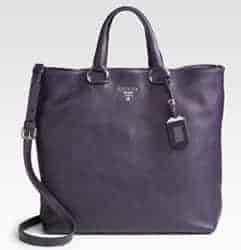 Prada Vitello Daino Tote | $1,095 via Saks
You will see me continue to suggest a messenger style, and this Prada bag is altogether simple but practical. There is a detachable adjustable crossbody strap, a large interior with a zip pocket, and an exterior front zip pocket.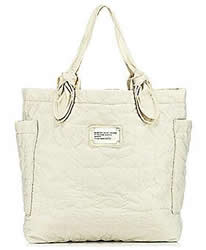 Marc by Marc Jacobs Pretty Nylon Little Tate | $158 via eLuxury
This nylon tote is available in cream and pink. There are a few reasons I like it. First, it is nylon. Nylon is easy to clean and even if you don't want to spill or make a mess, it is inevitable. This tote will also be very light weight and has two outside side pockets (I am thinking a bottle can fit in it!) and an interior cell phone pocket, patch pocket, and zipped pocket. The price is far below your budget, which is always nice too.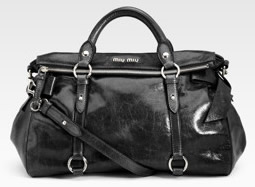 Miu Miu Bow Convertible Satchel | $1,195 via Saks
We are a bit over budget here, but this bag is sturdy and practical. Amanda raved about this bag before, and I can see why. I love the removable cross-body shoulder strap, it will come in handy.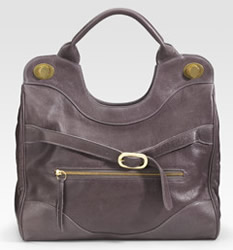 Foley & Corinna Jet Set Jr. Tote | $528 via Saks
I like this bag for a few reasons. It does not scream out diaper bag, but it is urban chic. There are double top handles and a large exterior, 10″ zip pocket, and two interior pockets. Overall dimensions are 15″W X 15″H X 5″D. Not sure if it would be big enough, but it is worth a look.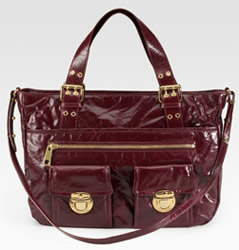 Marc Jacobs Classic Stella Messenger Bag | $1025 via Saks
I know, so many of the bags I am recommending are Marc Jacobs or Marc by Marc. The fact of the matter is the price is right and the practicality and usability is there. This bag features double top handles along with an optional shoulder strap. Again, you will need all the hands you can get. Why I really love this bag is the pockets; double front buckle pockets, front outside zip pocket, and inside cell phone pockets. I would definitely opt for dark plum.
Most of the handbags I picked are rather similar and similar in the color range. I would definitely opt for neutrals that can last for a while so that you get as much use out of the bag as possible. Don't completely shoot down the option of a designated diaper bag though, some of only look like a diaper bag when you open them up. Most of all congratulations and good luck with your little girl on her way!!