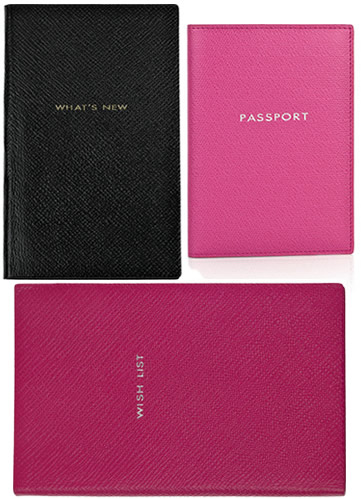 Smythson continues to be an amazing brand to look to for travel accessories and everyday handbags alike. We have already shared our love of Smythson travel accessories and now we will bring you more of our favorite accessories from a brand we cover far too little.

When I was in school, one of my favorite parts of the year was back-to-school shopping. I obsess over new notebooks, agendas, pens, tabs, highlighters, etc. Color coding and lists are my specialty. If I had discovered Smythson earlier, my back to school money would have gone to every kind of leather notebooks and covers from Smythson.
Net-A-Porter just nabbed a group of Smythson exclusives. My favorites are the pink leather Passport cover, pink Wish List notebook, and black What's New notebook. For those of you who love your notebooks, covers, and lists, make sure to check out the exclusive set of accessories and travel goods from Smythson at Net-A-Porter here.