10 posts tagged with
kanye west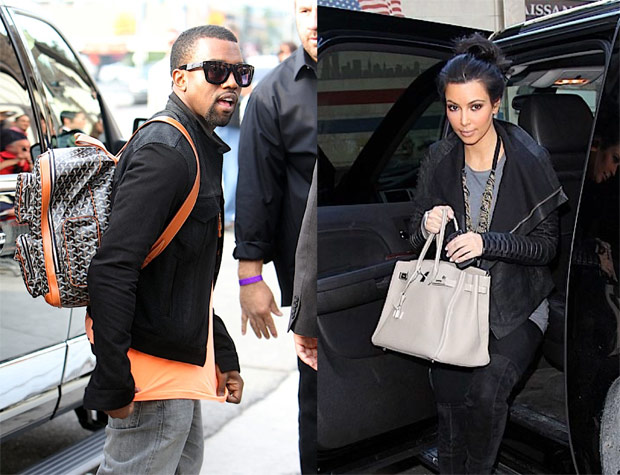 As I'm sure you've all heard by now, Kim Kardashian and Kanye West are an item. Somehow, the two biggest publicity hounds in the entire entertainment industry have come together to make tabloid magic, although whether this pairing is true love or all business remains to be seen. (Take an educated guess and see where you find yourself.) The greatest news of all, though, is that Kanye is going to be featured on the upcoming season of Keeping Up with the Kardashians – that sound you just heard was E! executives involuntarily gasping with glee.
It's well known in these parts that I'm a bit skeptical of Kim (although awed at her ability to make money), but I'm an unabashed Kanye fangirl. The more ridiculous he becomes, the more Yeezy I want in my life, which means that his "relationship" (scarequotes necessary, obvi) with Kim is a truly fortunate turn of events for me. If you're a bag lover, it's also oddly fortunate for you – Kim's collection is legendary even among those who despise her, and Kanye has the best collection of man bags I've ever seen on a celebrity. But whose bag game is tighter? Let's examine the evidence after the jump.
[poll id="92″] (more…)
It seems as though Kanye West's recent advent to Twitter has been mighty controversial – some people think he's hysterical, some people think he tweets too much, and still others have yet to get over that whole Taylor Swift thing. I find myself residing firmly in the first group, and the only thing that surprises me in the least about his account is that he hasn't had one all along. Twitter was made for Kanye West.
In between telling us that he jogs in Lanvin and imploring us to check out his "credenza game," Yeezy actually managed to tweet a picture that you guys might be interested in – the vintage Hermes travel bag above. The handle looks a bit worse for the wear, but I'm digging the distressing on the rest of the bag and how aged the leather is. If you have any information on the name of this model or the year it might have been made, let us know in the contents – Kanye, naturally, was short on details.
Last night some members of the Purse Blog team (Megs, Vlad, Intern Joe and myself) had the opportunity to attend an exclusive launch party at the Louis Vuitton store in the Bal Harbor Shops. The event was a little different than what we are used to since the party was for sneakers and not handbags. As many of you know, Kanye West has teamed with Louis Vuitton to create high end designer sneakers. While Megs and I did try and convince Vlad and Joe to snag a pair, I think it is fair to say the sneaks aren't really our cup-o-tea.
True, these shoes are rather unique (although, do they remind any of you of the old school Reebok high-tops?), but I don't think I will be rushing out to buy them any time soon. However, there were plenty of others at the event last night that were walking away with boxes and boxes of these shoes. It may or may not come as a shock to you, but a lot of these shoes are close to sold out! Head over to your local LV store and grab some… if it's your kind of thing.
For the most part, we are all pretty familiar with the fact that designers like to collaborate. I'm totally fine with this. I love seeing how two, three or four creative minds can work together in order to arrive at a final product. As some of you might have heard, singer Kanye West has collaborated with Louis Vuitton for a shoe line. I'm going to go out on a limb and say, I'm not a fan. While I come across images of these shoes, what I am more interested in would without a doubt have to be the Louis Vuitton bags he has in toe. In this image, you see an up close and personal image of a Camouflage Louis Vuitton Bag. Unfortunately, I don't have information on where you can buy it or how much it is, but let's have a little fun here. What do you think? Last week I talked about Heidi's Chanel Manicure, which definitely stirred some debate. So when I came across this bag, I thought it might do the same. For those of you who LOVE all things and everything Louis Vuitton and for those of you who just like to admire any handbag you can, what do you think? You see it now, but do you wish you never had?