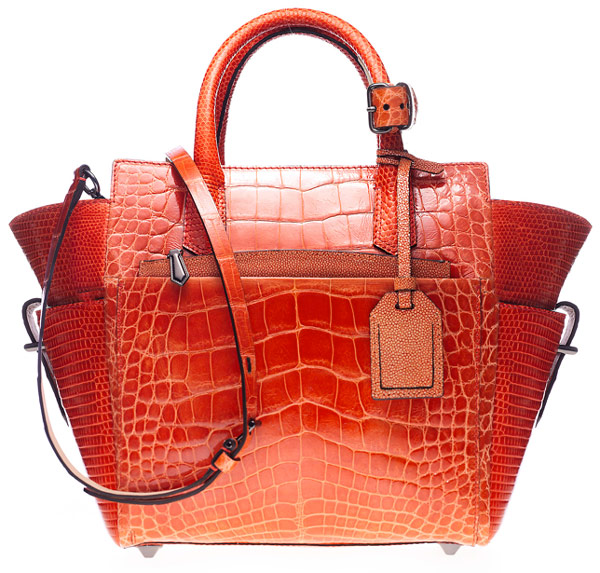 Images via Vogue.com
I keep waiting for Reed Krakoff to hit the sophomore slump with his eponymous line, but he just keeps hitting things out of the park. How well Krakoff, the president of Coach, has done launching the brand gives me very, very little sympathy for other large companies that don't do as well with their bag lines. When you have a clear vision of what you want and you commit the resources and time to doing things the right way, some fantastic pieces can come out of it.
Largely, that's what Reed Krakoff Spring 2012 is. The collection is heavier on exotics than previous seasons have been, but the signature Krakoff tailoring is still there. He chose a very modern color scheme for the collection, and for me, the bright bags are the clear standouts. Don't get me wrong, though; I'd be happy with any of them in my closet. (more…)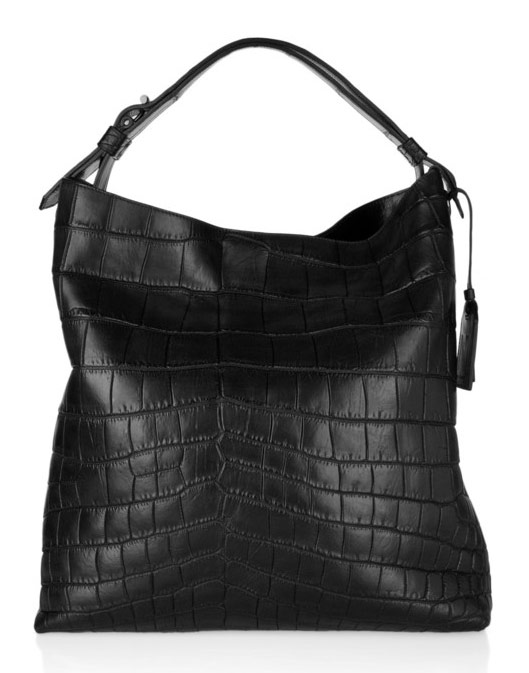 Reed Krakoff Alligator Hobo, $30,000 via Net-a-Porter
A $30,000 price tag always sticks out to me, probably because when I was growing up, that's how much I thought a car cost. Naturally, I've since learned that sometimes cars cost less, and even more bizarrely, sometimes handbags cost more. The Reed Krakoff Alligator Hobo, however, comes in at 30 grand on the nose.
Black alligator seems to be the preferred method of delivery for that many thousands of dollars worth of handbag, if this design and The Row's backpack (which has now been identified as alligator instead of our original guess of crocodile) is any indication. For my money, I'd want something a little more adventurous, but I suppose that versatility is of the essence when one is actually considering spending that much money on a single bag. (more…)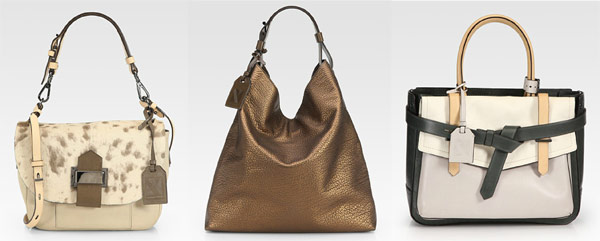 Reed Krakoff Kit Bag, $1390. Reed Krakoff RDK Hobo, $1290. Reed Krakoff Boxer Tote, $990. All via Saks.
Sometimes I feel the need to reiterate this point when I sit down to write yet another post about a brand that I love: Reed Krakoff has never given me a free bag, a discount on a bag or any kind of perk whatsoever in exchange for a post. That kind of thing is rampant in the fashion industry, but neither Megs nor I would ever accept any kind of swag if we were asked to give a brand positive coverage in return, because that's just not how we operate. We have more respect for our readers than that, and we'd never sell you out for a freebie. And it sort of sucks that I even have to say it, but unfortunately, it's not guaranteed in this business.
With that in mind, perhaps Reed Krakoff should be paying me for all the nice things I've said about his company. But alas, he's not. I just really like the bags. Almost all of them, except for a stray stinker here and there, which is a problem for every brand. Saks.com just got a new shipment, and I couldn't pick which one of the bags above to feature, so I thought I'd incude all three. (more…)
Reed Krakoff Leather and Wool Boxer Tote, $990 via Net-a-Porter.
I've heaped a lot of praise on Reed Krakoff recently, and all of it is genuine; every time I see one of the man's bags (and increasingly, his shoes as well), my credit card runs and hides. It just knows. I'm still trying to coax it out from under my bed after laying eyes on the gorgeous Reed Krakoff Boxer Leather and Wool Tote. This shape has become the young brand's signature, and this mixture of textures and shades might just be the best one so far, particularly when you consider the price. (more…)
Just when I was beginning to wonder if Coach president Reed Krakoff could continue to replicate the smashing success that he's had in the very short life of his eponymous label, Reed Krakoff Resort 2012 comes around to prove it to me. Ladies, this line isn't just a flash in the pan.
When I was flipping through the press photos, it was the Reed Krakoff Boxer Bag that you see at left that really proved to me that there's something major here. The design deftly takes the current trends of brights and colorblocking and translates them on the one of the brand's signature pieces without losing the integrity of the Krakoff aesthetic or the excitement of the of-the-moment look. Combining two disparate ideas isn't an easy thing to do, but that's exactly how all of these bags feel: Easy. In the best possible way. More photos after the jump. (more…)
Not only do we continue to love Reed Krakoff designs but also our readers seem to as well. If the larger bags have not met your wants, Reed Krakoff fills out his collection with a new addition. The addition is its mini shoulder bag, a shape with which I am currently having a deep obsession.
(more…)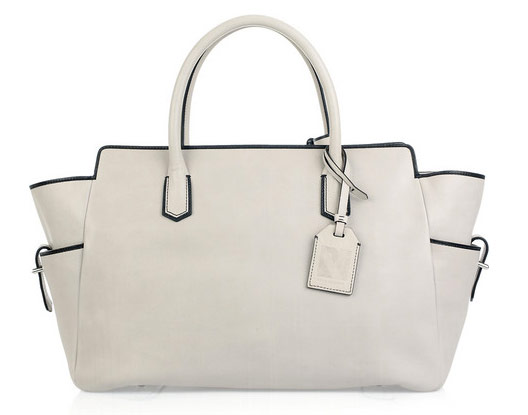 As I say often (and in fact, as I said yesterday), basic bags are a design challenge that we often ignore, but we shouldn't. The problem is that even women who want a more traditional bag don't want to think of their choices as "basic," so taking a simple shape and elevating it to the next level becomes something that almost any designer has to be able to do in order to satisfy his or her customers. And with such a glutted handbag market, doing that while simultaneously standing out in the crowd is difficult. There are plenty of mediocre bags out there to prove it.
The Reed Krakoff 510 Leather Tote, however, is one of the pieces that succeeds. That it pulls off a very Valextra look while maintaining a three-digit price tag is even more impressive; I can't help but think this would be at least a $1300 from almost any other brand. (more…)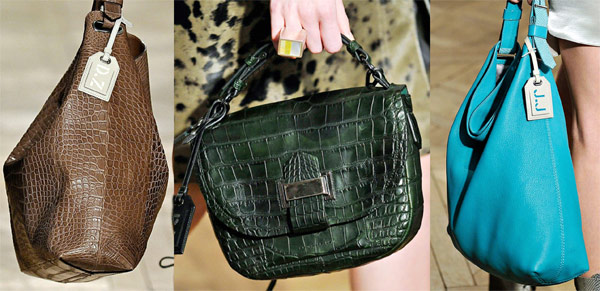 Coach president Reed Krakoff's eponymous line has only been around for a few short season, but already I couldn't wait to see what handbags Reed Krakoff Fall 2011 had in store. The brand's New York runway show didn't reveal the entire line, but it revealed enough to assure Krakoff's nascent fan base that aesthetically, he doesn't intend to fix what isn't broken.
The collection's bags were mostly comprised of neutral leathers of various colors and textures, some of them colliding on the same bag by way of a tan satchel with caramel crocodile accents or or a dove grey handbag with a sandy croc flap. The entirely exotic bags, including a gorgeous black crocodile hobo and a glimmering python satchel, stole most of the show away from simpler offerings, but my personal favorite was the simple leather hobo in bright turquoise with a tonal lizard strap. Thankfully, it'll also probably be the most wallet-friendly of the offerings as well. (more…)
The luxury accessories market is crowded with seasoned competitors all vying for consumer attention (and consumer dollars), which can often make it well nigh impossible for a new handbag line to turn heads, particularly the heads of people whose job it is to look at handbags all day. (Ahem, yours truly.) Somehow, the Reed Krakoff Inside Out Leather and Snakeskin Tote managed to not only make me take a second look, but it made me do so by being inventive in a way that's not only quite unique, but still totally subtle and functional at the same time. When being different usually also means rendering a piece unwearable or unusable to most of the buying public, that's quite a design feat indeed. (more…)
Right as Reed Krakoff bags hit the handbag market, we were obsessed. Krakoff's name is now associated with both being the president of Coach Inc and also launching an independent line that has caught every fashion lover's eye. Our attention was immediately drawn to the Reed Krakoff Boxer bag.
All of the versions sold out quickly once they hit sites like Net-A-Porter. Yet this version of the olive/black combo Boxer II is one of the only versions of this bag I have seen with a discounted price. It is not as if this version is the ugly step-sister, it was actually one of my original favorites. The price has been dropped from $2,250 to $1,350 on ReedKrakoff online now. Snatch up this great deal before it too sells out!
When we discussed Reed Krakoff's Fall 2010 handbag line last week, many of you mentioned that your favorite was one we had omitted: the Reed Krakoff Alligator and Felt Boxer II Tote. The bag's omission was intentional: I think it's beautiful enough to deserve its own post.
When it first appeared on Net-a-Porter two weeks ago, it managed to sell out before I even woke up (which, admittedly, was later than a real adult should be waking up for work), but a second shipment has come in. So, you know, gather up that extra seven grand you have laying around, because this thing doesn't come cheap. (more…)