This is my favorite phase of our exclusive bag design collaboration with Rebecca Minkoff thus far, because in Phase III we get to see the brand new bag designs Rebecca and her team have developed! We have five options to choose from, and we took every single one of your votes into account to create what we think will be the ideal Rebecca Minkoff bag for her PurseForum Minkettes fanbase.
Time is running out to put your vote in before we move to the next and final stage! Don't miss out on this amazing opportunity and give us your vote!
Phase I of of PurseForum + Rebecca Minkoff Exclusive Bag Design Collaboration took the PurseForum readers and voters by storm. The overwhelming number of votes went to the coveted Satchel, which we all know Rebecca Minkoff designs amazingly. Phase II is well underway and this is the phase I have been most excited about.
Have you ever wanted to tell a designer EXACTLY what you want to see in a handbag? How you prefer adjustable straps or tech-friendly pockets or a zipper top? Now is your chance, and I am not sure anyone has been able to say this before. With the help of every reader, customer, and Rebecca Minkoff fan girl, the final bag design will take into account your direct feedback.
Time is running out for an unprecedented opportunity, one in which you can speak to a designer and tell her what you want to see. With your votes and direct input, the finished product may be exactly what you are looking for. How amazing is that?
You have no idea how excited I have been while sitting down with the Rebecca Minkoff team to come up with an opportunity that has never been seen before in the handbag world! We knew we wanted to collaborate on a bag design, but it was super important for us to include Rebecca's very first fan base, the PurseForum Minkettes, in the process. We took it a step further from simply allowing the fans to be part of designing an existing bag, because the finished product will be a brand new shape and style. And since we are taking it back to the original fan base, we are also taking production back to a domestic factory. That means this bag will be made in the USA!!
There will be many phases of voting and you do not want to miss any of them. Your vote is going to help create a bag that will walk the Rebecca Minkoff runway show in February. What are you waiting for?! Vote in Phase I now!
Our community PurseForum is teaming up with Rebecca Minkoff in a project the likes of which handbag lovers have never seen before. Starting tomorrow, Monday the 10th of October, PurseForum.com will launch a three-week collaboration that will not only have fans vote on design elements to create an exclusive Rebecca Minkoff bag, but also allow the fans to be an integral part of the design process. This means the finished product will be a new shape and style from the Rebecca Minkoff team that was designed by way of direct user commentary from PurseForum.com members.
The entire three-week process will be hosted on PurseForm.com, so make sure you are a registered member of tPF so you can partake in the voting and design of this bag, which will walk down the runway in February at New York Fashion Week! You can't tell by this post, but I am seriously jumping out of my seat with excitement over such an amazing project!!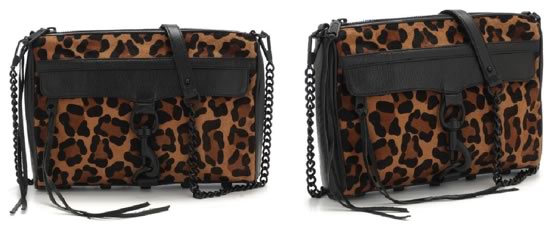 Rebecca Minkoff Chetah M.A.C, $395 via Rebecca Minkoff
Probably one of my favorite bags ever from Rebecca Minkoff is the M.A.C. clutch. Spacious yet compact, the RM team has released this bag in a plethora of designs and materials to give every Minkette the perfect option. From tons of zippers, to metallic snakeskin, to animal prints, I own four Morning After Clutches. I want to make it five by adding the Rebecca Minkoff Cheetah Haircalf M.A.C. to my collection. (more…)
Follow our Instagram photo stream, username: purseblog
One of our favorite designers (and new mommy to a baby boy), Rebecca Minkoff, will be running her first print ad in October's debut issue of Style.com Magazine. Always ahead of the curve, Rebecca Minkoff has decided to turn to her fans to help create the ad by submitting Instagram photos of their Rebecca Minkoff items.
To make sure the RM team sees your entries, simply tag every photo on Instagram that you want to enter with #RebeccaMinkoff between now and October 1. I am already taking photos (shown above) and hope to see many of you participate as well. Some of their favorite entries will be included alongside professional shots of accessories and her Resort 2012 collection.
Also, make sure to follow our photo stream on Instagram, username: purseblog.
Yes, I just used pirate talk in the title of a post. Unlike Amanda, I did not go to journalism school, so my chemistry and psychology professors from college won't be mad at my word choice in the title, however they may still be questioning what I am doing with my life.
What I am doing is telling you about this crazy cool Rebecca Minkoff bag that I saw in the showroom recently and found myself oddly attracted to. Skulls made a major appearance in the fashion world a couple years ago and seem to be making a slight resurgence. The Rebecca Minkoff Skull Knit Tote pairs the rockin' look of skulls with knit in an unlikely but welcomed combination. (more…)
If there's one thing you should note about Rebecca Minkoff Spring 2012, it's how well the handbag maven knows her customers. Her Mercedes-Benz Fashion Week New York runway show seemed to be actively daring "Minkettes" to feature her clothes on their personal style blogs, and if that wasn't clear enough, having Leandra Medine, the ManRepeller herself, walk the runway (and then snap a photo at the end) should have put a very fine point on it.
And that's exactly what Minkoff's clothes are: Fun, trendy duds for girls in their 20s who want to be the most stylish person at the party and maybe get a couple of Tumblr posts out of it. I could imagine these pieces on a lot of the girls that you see hanging out on the steps at Lincoln Center outside of Fashion Week's festivities, and I bet that's exactly the girl who Minkoff would like to dress. (more…)
It warms the cockles of my cold little blogger heart to see contemporary brands expanding into luggage in creative ways. First came the Lulu Guinness suitcases covered with her signature molded lips, and now we have the Rebecca Minkoff Skull Suitcase. I'd like one of each, please.
I'm not much of a crafty girl, but the trompe l'oeil knitted look of the pattern (indeed, other bags in this collection are actually made out of a woven material) provides just enough kitsch to balance out the tough look of a skull and crossbones. Instead of weaving, the bag is made of durable coated canvas that might actually survive a trip through the airport ringer. (more…)
Shop Rebecca Minkoff via RM.com
As the Rebecca Minkoff brand continues to expand, the offerings continue to appeal to a larger crowd. The design aesthetic that I continually find myself drawn to is precisely what Rebecca Minkoff Resort 2012 offered; beautiful prints, flowing clothing, and colors that are both subtle and alluring.
The collection was inspired by the 1970's in St. Tropez, France. The idea behind the prints was to invoke the look sunlight gives as it shines through broken pieces of glass, which results in an array of beautiful, muted hues. Dominant colors of the Resort 2012 collection include azure, sunset, persimmon, and turquoise. (more…)
Right now the Rebecca Minkoff website is hosting a major sale of some of its most coveted bags. If you were not able to attend a sample sale, think of this as a virtual one that you can attend from the comfort of your home computer.
Because Rebecca loves the PurseForum and the PurseForum loves Rebecca, there is an exclusive bag marked down ONLY for tPFers. The highly coveted Rebecca Minkoff Elisha is a classic bag from the designer that is both timeless and effortless. Its roomy interior and casual style makes it the perfect everyday bag. Price is marked down from $550 to $302 via this link only.