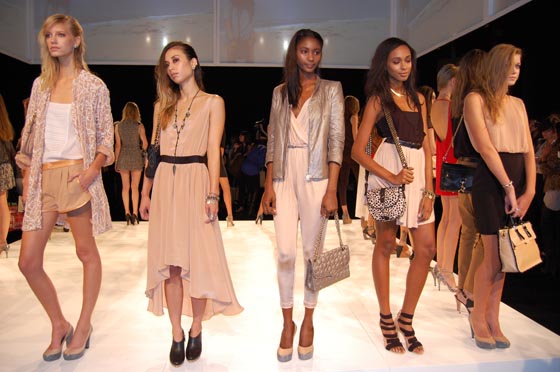 By far one of the best parts of my first week back at school was Fashion Week – I jetted (well, ok, I took the subway) to shows before and after class. But I was highly anticipating the Rebecca Minkoff Spring 2011 show, and now I can say with full confidence that it exceeded my expectations.
Not only did it to showcase the new collection of clothing and handbags, but it marked the unveiling of Rebecca Minkoff's first shoe collection. Plus, famed fashion blogger Rumi Neely of Fashiontoast modeled in the presentation, wearing the Rumi dress inspired by her. You can pre-order the dress and the Quilted Affair bag, which Rumi carried during the presentation, via RebeccaMinkoff.com.
All of the look were lovely – while they were still edgy, they had a ladylike quality to them that was only increased by the elegant bags on display. There was a classic black MAC clutch, but that was only the beginning. There were quilted shoulder bags and clutches, and a black patent-trimmed cream MAB that was so gorgeous that the model herself took a closer look whilst modeling. My favorite bag, though, was a more offbeat white Lust bag with black spots. What can I say – even faced with an amazing red exotic evening clutch, I still adore Dalmatian-styled bags.