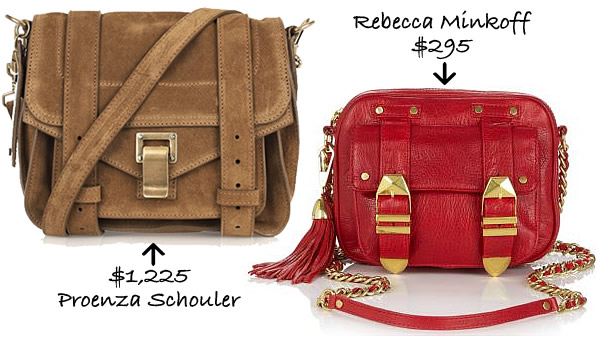 My new obsession: crossbody pouch bags. I seriously have been living in my Rebecca Minkoff BF Pouch bag. I toss my things in there and throw it over my shoulder or wear it crossbody. I love the smaller size, the lack of needing to use my hands to hold the bag, and it seems to work well for my personal style. We told you that Proenza Schouler released a line of crossbody pouch bags, and even when I saw this I was tickled pink. That is right, I just said tickled pink. I still adore the original PS1, but my crossbody smaller pouch obsession runs much deeper right now.
I have the Proenza Schouler Crossbody Pouch along with the bag I am currently carrying from Rebecca Minkoff picked out as my two favorite crossbody bags (with very different prices).
The style of both are similar but do not fall into the too-similar for my liking category. This is when I can really appreciate the two separate designers for what they bring to the table. I have a purple python printed version of the Rebecca Minkoff BF pouch which has been getting compliments left and right. The Proenza Schouler option is more subdued, while remaining perfectly suited for the PS vibe. It all comes down to preference. Which crossbody pouch do you prefer?
Buy the Proenza Schouler via Net-A-Porter for $1,225 and Rebecca Minkoff at Bloomingdale's for $295.