Messenger Bags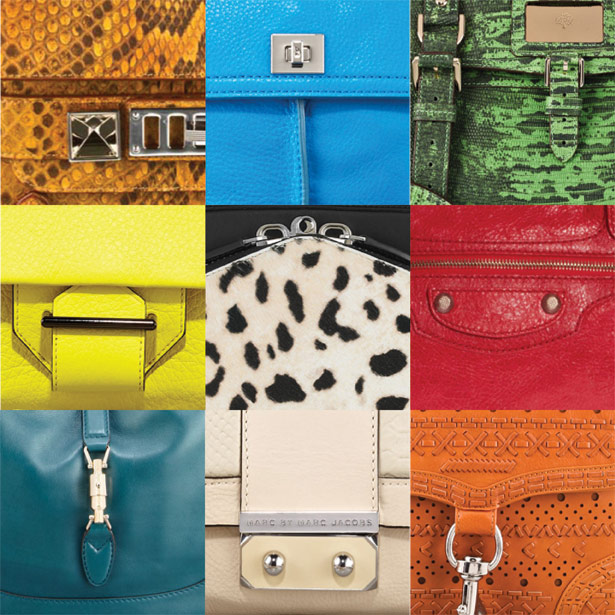 As you may have noticed, we didn't do any posts about "Coachella style" around here. There are a few reasons for that: First, feathers + fringe + denim cutoffs does not = style. You only have to see so many pictures of Vanessa Hudgens in her day to day life before you realize that those sorts of looks don't work when you're not stoned in the middle of the desert, which means that I'm not going to try to force them on you, even if it is an easy post to write. Second, Coachella is an event that only a relative handful of people attend every year; isn't having good summer style overall a much more worthy topic of conversation?
That's why we've created our ode to the best summer bag option of all: the crossbody. Lightweight, completely hands-free and mostly small enough to carry off a bright color or a zany exotic print, you'll be attached at the hip with the Best Crossbody Bags of Spring 2012 (almost literally) after all of the gossip chatter about celebrities at Coachella has long faded. Music festivals come and go, but a great bag is forever (or at least for a season for two). (more…)
Heading to Coachella this weekend? No? Me neither. But maybe one or two of you are lucky enough to make the hipster pilgrimage out to Indio, California for the annual indie music festival that keeps getting less indie by the year. Or maybe you're saving your airline miles for a future summer festival – maybe Bonnaroo in Manchester, Tennessee or Lollapalooza in Chicago? (The latter would be my pick since Lady Gaga is headlining.)
No matter what kind of outdoor events you're attending this summer, from music festivals to baseball games, you're going to need to bring a handbag of some sort. Crossbody bags are undoubtedly your best bet because they're hands-free and convenient, but choosing one to use at an all-day event can be tricky. Too small, and you're trying to stuff way too many things in to it; too big, and it's a burden to carry around for an extended period of time, particularly in summer heat. Luckily, we've done all the legwork for you and found three perfect crossbodies that will satisfy any (ok, almost any) budget. (more…)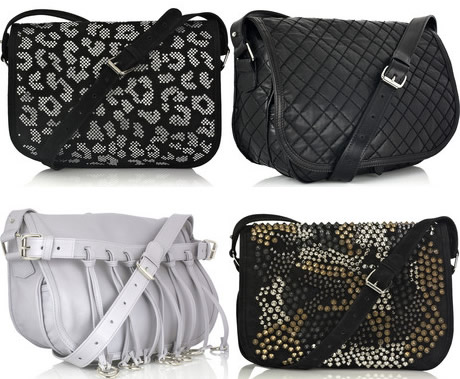 We all waited. When we heard Balmain planned to release a line of handbags we were excited. We wanted for edgy, new, and innovative. And what did we get? Rather boring, uninspired, and expensive messenger bags. We are still hoping Balmain bags will be better next season.
We are simply here to tell you that the four messenger bags Balmain had at Net A Porter are back in stock. Prices range from $1,915 to $3,925.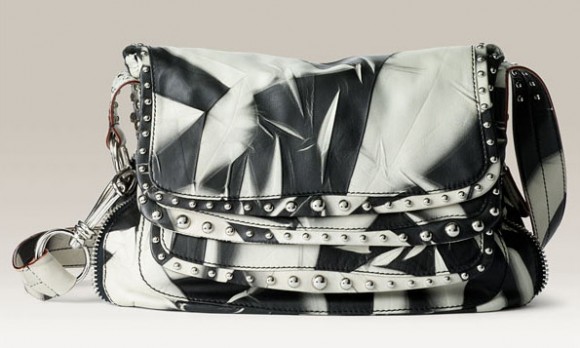 I kind of love this bag, and I fear I may be the only one.
The Donna Karan Chaos Leather Messenger Bag is not something I'd normally embrace. First, I hardly ever like any of the bags from Karan's eponymous line. Second, I usually hate multicolored bags. Third, this bag really shouldn't work. But for some reason, it kind of does. (more…)
thing. As such, MCM saw this as their opportunity to sell us all some more handbags, and their efforts thus far have been…reasonable. They'd probably have more success and gain more new customers with a lower price point, but it seems like a lot of designers overestimate what their "brand" is worth, in terms of dollars per handbag. I'm looking at you, Versace.
So, as we all know, the 80s are a
That being said, I'm not a fan of everything that they've produced this season. Case in point: the MCM Giorno Convertible Bag. (more…)
In Athens, Georgia, the Freshman Apocalypse is nigh. We're the home of the University of Georgia, my alma mater and a school of over 35,000 students, and in two short days, that will include 5,000 brand new freshman. For a town this size, the influx of the new students (in addition to the other returning students that had left for the summer) means we're about the see the sort of chaos and havoc that's only novel when you're one of the people that is helping to create it. Target and Wal-Mart will be completely sold out of…everything, none of the thousands of brand new residents know where anything is or how to drive, and they're all going to be really excited to be out in public without their parents. If you don't hear from me for a few days, it's because I have run off into the woods, mumbling deliriously, in order to escape them.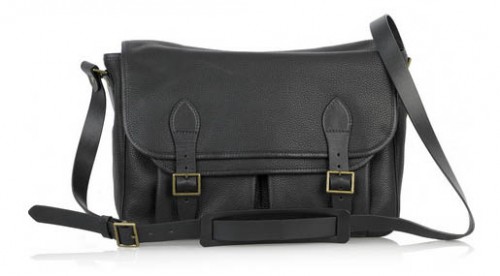 But what this time of year means for most normal humans is that it's time to start gathering together back-to-school wardrobes, either for themselves or for their kids. And the topic of chic and functional school bags is always a topic of discussion on our Forum, and something that I'll talk more about later this week, but for right now, I'd just like to show a little love to the A.P.C. Black Leather Satchel. This crossbody bag appeals to my inner grad student – it's made of thick, matte leather that, when combined with the traditional shape and double buckle closures, has "vintage book satchel" written all over it. The proportions are a bit shrunken to look more appropriate on a female body, but it still looks easily large enough to carry the laptop, bottle of water and cosmetics pouch that normally populated my school bags (journalism school? Rather light on textbook usage). Buy through Net-a-Porter for $420.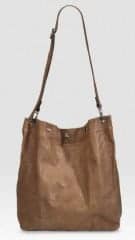 It appears as though a major designer is finally getting real about what the economic downturn might mean to their handbag business, and not in any small way. The Burberry Leather Messenger Bag is part of a line of several bags that the brand has put out this season with price tags dramatically lower than their normal leather offerings would be. This one, for example, is priced at staggeringly low (for a brand like Burberry) $375.
And although the bag may be fairly simple in design, it doesn't seem like an afterthought to me. The finish of the leather reminds me of the crinkly bags that Prada has released this season, except this bag is slightly more matte and the shoulder strap allows it to be worn as a very chic oversized shoulder bag or across the body. Good design doesn't necessarily mean extra complications, and based on this line from Burberry, it also doesn't mean exorbitant prices. This may not be the most exciting bag that any of us have ever seen, but I think the price point is cause to celebrate indeed. Buy through Saks for $375.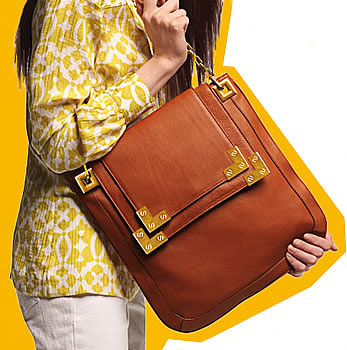 As many of you know, today we launched Bag That Style, a site devoted to celebrity handbags and style. Vlad pulled an all-nighter and consumed a double digit copious amount of red bull. I drifted off to sleep around 4:30. And at 4:30 a.m. the tv fills with infomercials and odd repeats of shows no one watches. I sat in bed with my laptop and Deadliest Catch on. And with that little amount of sleep, the waves from the TV began to make me feel sea-sick. So this is an FYI that updates today may make little to no sense.
Tory Burch became known for her ballet flats and in the past year has designed her way into the handbag world. While some of her bags sport the signature logo, I prefer her bags that don't. They are clean, pretty, and perfectly usable. Saks and I are loving the Tory Burch Liam Messenger Bag with its pebbled leather body and chain strap. The chain strap has a leather top, which will not allow the chain to dig into your shoulder, always a plus. The bag itself is hip and young, with a double foldover flap. I have no idea if getting in and out of the bag is easy, but I like how the bag looks. There is one slip pocket under the flap and an inner zip and two open pockets. Buy through Saks for $495.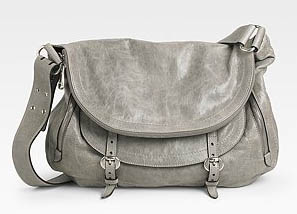 I resisted the whole long-strap thing for a while. It seems to be popular lately – a regular-sized bag with a much longer strap than it would have had a season or two ago. Messenger bags still give me horrible mental images of the horrible, boob-squishing thing I used to carry in high school, and perhaps I have a prejudice as a result. You know what's helping me work through my mental block, though?
The Alexander McQueen Flapper Messenger Bag. In all fairness, in the pictures, it looks like the strap isn't really long enough to be anything but a shoulder bag, and it also says it's adjustable, meaning I could probably FORCE it to be a shoulder bag. And after seeing Megs' pics of her beautiful Diane von Furstenberg Stephanie Slouchy Hobo, I'm starting to take long-strapped shoulder bags more seriously. They are truly casual in every way, and give a bit of hippie chic to a regular summer dress. The leather on this McQueen bag looks divine, and although grey is more of a fall color, this particular grey is light enough to be spring-appropriate. The lines are nice and clean, and I've never had a McQueen bag before…at the very least, he's got me thinking very seriously about this trend.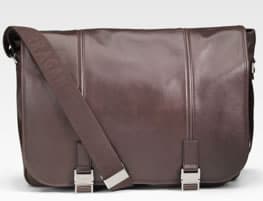 In our past two Gossip Girl discussions, we've had at least one poster ask about the messenger that Dan sports in the series – it's vintage-looking, non-bulky, and actually pretty chic (for a manbag). And truth be told, I have no idea what it is or where it came from. Even on an enormous website like Zappos that carries hundreds of brands, only a handful of results appear when looking for a brown leather messenger (and most of them are for women). Perhaps society is trying to discourage our male counterparts from sporting man purses, or maybe brown just isn't a big color for men this season. Honestly, I have no idea – I didn't expect my search to be nearly so futile. I did find one bag that I thought Mr. Dan Humphrey might like, even though it's obviously not the one that he has in the series: the Salvatore Ferragamo Nomad Messenger Bag. Its details are understated, its leather looks worn and saddle-like, and the silver buckles are just simple enough to not make you question the wearer's sexuality (not that a manbag should make you do that in the first place). Brooklyn-dwelling teenager Dan would have to sell his sister Jenny into white slavery to afford it, though: it's a bit steep, but buy through Saks for $1,900.