Just when we all thought that Marc Jacobs couldn't possibly find something new to do with the Stam, we all get proven wrong. Let's look back for a moment: we've seen Stams in python, jersey, patent, Swarovski crystals, leather both flat and quilted, and ostrich. We've seen both gold 80s chains and demure silver box chains. Baby Stams, big Stams, hobo Stams and east/west Stams. Crap, at this point, there might as well be green eggs and Stams. (more…)
Now that summer is knocking on our doors, it is time to bring out our bright and bold colors in full force. I have pulled out my yellow Botkier Morgan for our vacation we are going on today and bringing a bright green Line Pelle clutch as well. Forget the Marc Jacobs handbag line, go to Marc by Marc Jacobs for colors! From clutches to totes to shoulder bags to shoes, Marc by Marc Jacobs infuses fun and vibrant colors for the spring and summer season. They have the ever popular Dr. Q line, remember how much everyone loved the Doctor bag?, along with many other options. Shop Marc by Marc Jacobs at Net A Porter.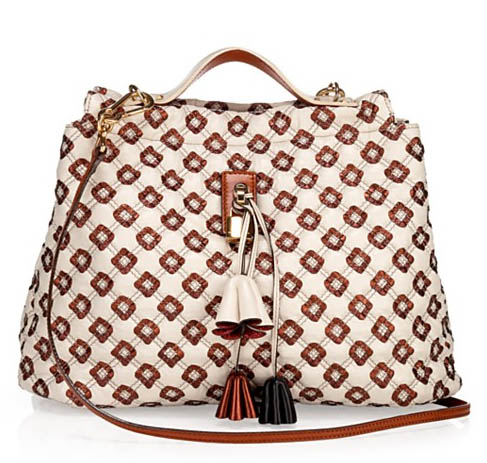 Yep, we're going back here again.
Sorry.
Honestly, though, I think these bags are worth a little more discussion, and not only because I've had a drinks this afternoon (trying to get the creative juices flowing, ahem. Also, because I just paid my taxes. And it hurt). So, we're going to talk about them a little bit more. Starting with the Marc Jacobs Robert Leslie Bag.
(more…)
I find myself sitting on the fence over the Marc Jacobs Quilted Multi-Buckle Hobo. I sorta like it – we haven't seen this kind of buckling mixed with the signature MJ quilting before, and it's kind of an interesting addition.
If you zoom in, though, the way that the buckles are attached is kind of awkward. Having 3 separate buckled straps would probably have looked better instead of the oddly notched setup that they went with, but perhaps I'm nitpicking. Also, the shape of the bag's body is good, but does the handle look a bit like a tacked-on afterthought to anyone else? It looks like they couldn't decide if the bag should be a tote or a hobo, so they made the body in a shape that could be turned in to either, and decide it would be a hobo at the last minute. Normally, I like the handle structure of a hobo to flow a bit better with the shape of a bag, but I guess we can't always get what we want. Buy through eLuxury for $1195.
Girls, I know I'm not going to be popular for this one. I'm probably not going to gain any respect from any of you for my opinion on the Marc Jacobs Iconic Glitter Robert. Am I ok with that? I think so. And I'm going to have to be ok with it, because I can't seem to do anything but smile every time I look at this bag.
Is it practical in any way? No, it probably weighs a ton and it's ginormous. Would I buy it? Highly unlikely, particularly for that price. Do I have anything to wear it with (or to)? No, not that I can think of. So why do I like it so much? That's what I'm trying to figure out. I have always liked the concept of these bags; purses, in reality, are nothing but big pockets that we carry around with us, and having the front pocket of a bag be another purse is a cute play on the normal construction that we all know so well. I particularly like this version because of the combination of materials – the back bag is leather, the front bag is suede, and it's then covered in Swarovski crystals. A surprising number of you guys liked the Marc Jacobs Jeweled Stam that we talked about previously, and I like the black version with grey crystals even more. This is probably one of those bags that functions better as a concept than something to actually use, but I continue to applaud Marc Jacobs for doing something innovative with these. Buy through eLuxury for $2650.
Another day, another Marc Jacobs bag that I like. I swear I'm not on his payroll (although Marc, if you're out there and you'd like me to be on your payroll, I'm not above a little conflict of interest), I just tend to really like his bags and his line is one of the largest out there, meaning there's constantly something new to write about from him. And now, we've got the Marc Jacobs Alyona Patent leather Satchel.
First, I'll say this – I like red. It's always been my favorite color (which is apparently rare, according to an old graphics professor I had) and it's one of my alma mater's colors. I also really like patent leather in almost all incarnations – we all have questionable aspects to our taste level, and that's one of mine. I don't care how inappropriate it is, make it shiny! With the Alyona, the design is so simple and so free of other unnecessary adornment, that doing such a bright color in such an eye-catching material actually works. At least I think it does, but like I said, I have some taste-level weaknesses. Buy through Saks for $1350.
The gossip mills are churning as news breaks that Marc Jacobs and his ad executive boyfriend, Lorenzo Martone, are engaged. The couple has been together for about a year. The duo is said to go public with their engagement news on Thursday when they arrive in Brazil wearing rings. No information on a wedding date yet.
Congratulations to Marc and Lorenzo from the Purse Blog team! We are looking forward to hearing more!
Alright, I've done it! I've found a bag that not a single one of you will be able to say that Marc Jacobs ripped off from Chanel. Why? Because the Marc Jacobs Amazon Shoulder Bag is far too bizarre to be ripped off from any serious designer. I also think that this will be the first MJ bag in a while without a good bit of "I love it!"/"I hate it!" comment fights – I think you're all going to hate it (if you don't, then comment and prove me wrong!). I'm certainly not a fan. It's just an uninventive small crossbody bag with a layer flap that doesn't match. Not only does the purse not match itself, but it won't match anything else in your wardrobe, either. I'm all for doing odd things when they're done in a way that looks artistic or high-end, and this looks like neither of those things, sadly. It looks more home-sewn and pieced together than anything. Expect it on a sale rack near you very soon. Buy through eLuxury for $2850.
Has anyone noticed that this season, among the multi-thousand dollar bags and over-the-top looks, Marc Jacobs has quietly released several simpler, more classic bags that retail below (and sometimes well below) a thousand dollars? You have to look hard for them because most website don't feature the less expensive, less showy bags, but they're there. Not only do I think it's fantastic that a designer doesn't take themselves so seriously that they can't make something less expensive, but it's nice to see someone ACKNOWLEDGE the current economic climate.
We've talked a bit about it in the comments of a few previous posts, and I think a designer coming out with a small group of lower-priced bags along with their normally high prices is a great way to remain inclusive of their customers whose financial situation may be temporarily suffering. My favorite of these less-expensive bags is the Marc Jacobs The Single Evening Bag. I can't help but think that, in seasons past, this bag would have been in the $775 price range, if not a couple hundred dollars more, but now we've got it for the reasonable price of $575. It comes in a variety of colors, but the metallic pink is so fun and works well for a small evening bag. Plus, it'd spice up any black outfit in a heartbeat and be a great addition to satisfy the current neon trend. I think the lower-priced bags are a great idea, and this is cute no matter the price tag. Buy through Net-a-Porter for $575.
I've been sitting on this bag for a while now, which is odd for me. Usually, when I decide that I want and/or need to write about something, I do it immediately. The screen shot of the bag sits on my desktop for a day, at most. Generally, I feel like my first impression is the one I should go with and that it's the one that most of you guys will identify with (if not always agree). But when it comes to the Marc Jacobs Robert Jennifer Shoulder Bag, I just can't decide which way is up. I'm sure I HAD a first impression of it, but I don't remember what it was, and even if I did, I'm not sure it'd be particularly relevant. This bag is making me wishy-washy in the extreme; it shows great attention to detail, but I'm not sure the overall effect is something that I can get on board with. I do, however, like the shape and size – perfect for that flap bag trend I keep mentioning – and I think it's a great example of how a chain strap doesn't have to be a Chanel ripoff. And I like the IDEA of the multicolored woven leather, but it just seems a little too busy and the colors a little too autumnal for a spring bag. With all the colors, the tassels, the woven chain…it's a little too much all at once. I give it a passing grade overall, but just barely. Buy through eLuxury for $1995.
As many of you who read my Fashion Week posts know, I'm a major Marc Jacobs apologist. In my eyes, he can do almost no wrong and his main personal export is fabulousness. So it's only natural that my huge personal bias towards His Excellency may be clouding my vision when I look at the Marc Jacobs Jeweled Stam Satchel. Because I was doubtful of it at first, but I seem to have somehow convinced myself that it is really fantastic, in a bling-tastic, bedazzled, Liberace sort of way. The bag's quilts are covered in zillions of light blue Swarovski crystals against a backdrop of dark blue suede (may this be the first suede Stam?) with the traditional gold chain for even more shine. I think we all know that MJ is only continuing to make new versions of the Stam to capitalize on its former status as an It-Bag, but my 2005 black leather version is still one of my favorite bags, so I can't hate on those that continue to snap them up. This particular wild-n-sparkly version would have to be for a very specific, very bold customer however, given its assumed ability to completely overpower anything else you're wearing. I give Beyonce two weeks before we see paparazzi photos of her carrying it. Do your thing, girl. Buy through eLuxury for $2350.