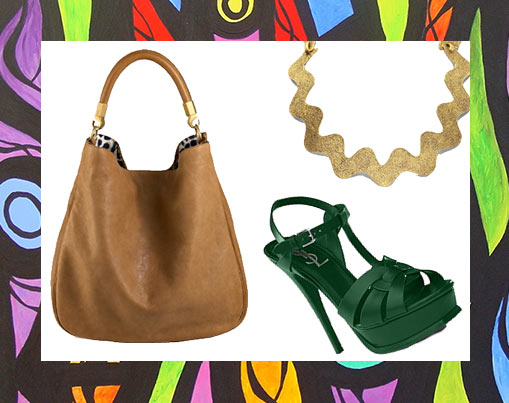 Do you have a bucket list? I never technically sat down to write what I want to do before I die, but I have an ever-growing list of things I would like to do in my life-time (ok, does that make it a bucket list?!). On the list is visit a jungle and go on the zip line through the jungle. If any of you have done it, please do tell me about it in the comments!
Having jungle themed items in no means satiates my wanting to visit the jungle, but I will take leopard print fashion and sexy green shoes any time. My Want It Wednesday this week focuses on Yves Saint Laurent; more specifically a Roady Hobo, Tribute Sandals, and Zig-Zag necklace.
Seriously, just look at these three items. They are amazing, are they not? The YSL Roady, while a simple design, maintains a large following. The hobo shape is nothing out of the ordinary, but YSL knew that and decided to dress up many of the Roady versions to add an extra kick. The clincher on this Yves Saint Laurent Roady comes from the leopard-print lining that peeks through the bag. The outside is made with a gorgeous hue of cognac with goldtone hardware. $1,595 via Saks.
I have a confession. I am not that into jewelry. There are so many options and I just get tired and overwhelmed when I look. Actually, I mostly put a mental block on jewelry because I simply can not afford another obsession, my bags cost me more than enough. But with my YSL Jungle Theme look the Yves Saint Laurent Croquet Zig-Zag Necklace gives a great vibe. The necklace's design is an antique-inspired collar with zig-zags. Not much more to say than I like it. $650 via Saks.
Shoes, glorious shoes! The Yves Saint Laurent Tribute Platform Sandals have been longtime favorites of mine. Look at them, LOOK! They ooze gloriousness and beautifulness (so much so that I make up words like those two). These sandals not only look amazing in green, which is such an unexpected color, but also the green hue screams jungle theme. You know why else these shoes are jungle theme perfect? Because if I wore them I would be literally 6'6″ and that would make me Amazon-like. The crisscrossing bands of leather and buckle T-strap have become icon to these shoes. $760 via Saks.
There you have my jungle themed Want it Wednesday!