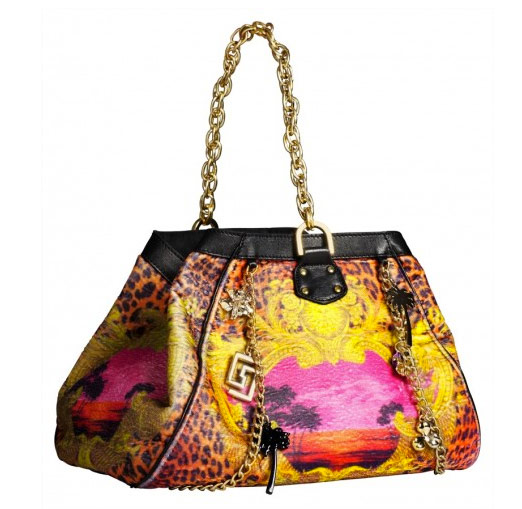 Images via Racked.com
Unless you've been living under a rock, you know that Versace x H&M is the high-low collaboration of the season. Slated to debut at select stores on November 17, the collection includes everything from leather jackets and dresses to a few home goods, which is a first for H&M's designer dabblings. What's relevant to us, of course, is that the partnership has also produced bags.
Unfortunately, like the regular Versace line, the purses are the line's low point. The collection includes a dress and jacket made out of real leather, which could possibly indicate that some of the bags are genuine as well (although I couldn't find anything indicating their fabrication), but the hardware removes any doubt that what you're carrying is from H&M. The rest of the collection has some very fun, colorful pieces, but the handbags just aren't among them. As far as prices go, I could only find the price information for one of them – the small black studded bag, which worked out to about $110 from the British price list on which I found it. Pictures of the rest of the bags are after the jump.
(Also, a side question: Did anyone else glimpse the charm based on the traditional Versace trim out of the corner of their eye and think it was a swastika for a split second? Just me?)