Thank you Valentino, for continuing to bring us beautiful feminine designs. Valentino handbags have become synonymous with floral and bow embellishments. Most of the time I see Valentino do this, they get it right. I was always a fan of the Rose Shopper but it never looked like it would fit as comfortably as I would like my handbag to fit.
But the Valentino Petal Leather Hobo Bag is hands down stunning. We saw Hilary Duff with this bag on Gossip Girl and it caught my attention. Nice, comfortable hobo shape, romantic ruffles: all the makings of a great handbag.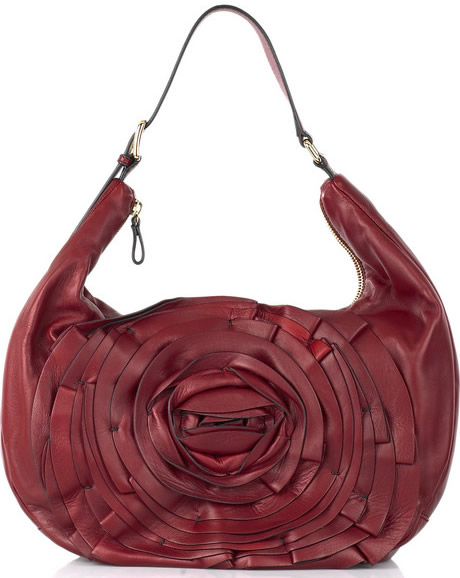 Now I found this bag in crimson leather. Crimson, even the color rolls off your tongue beautifully. The leather on Valentino bags is sumptuous and while the ruffles form a rosette design. Could this bag be anymore romantic? It has all the makings of a timeless ladylike piece. I could imagine passing this bag down for generations and it would ignite a spark in each new owner. There is something about this bag that speaks to me. I can't say that it is not worth the price, but I would have loved to see this bag cost about $1k less. Buy through Net A Porter for $2,395.