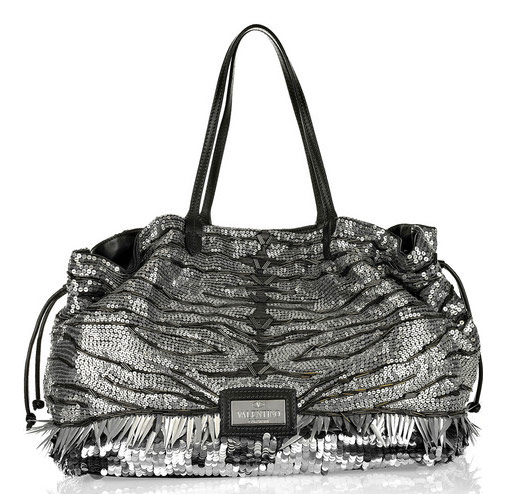 While the staff at Loewe has been working tirelessly to perfect its grocery bag handbags, designers at Valentino have been plying their trade at the opposite end of the spectrum. The Valentino aesthetic has always been feminine, detailed and utterly glamourous, and the brand has chosen to take those ideas to their absurd extreme with the Valentino Glam Zebra Tote. You have to give them points for just calling this bag what it is, even if the name gives me the mental image of a zebra dressed up as a drag queen (which is not an altogether unpleasant image, admittedly).
This bag is what the Fug Girls would refer to as a "scrolldown fug." I'm loving how silly and shiny this bag is until we get all the way down to the bottom quarter, at which point things go seriously awry and the bag seems to grow some very shiny porcupine quills. One the one hand: they're shiny! They fit the motif, whatever it might be! On the other: WTF.
I'm not sure why Valentino thought that silver-and-black sequined leopard print would become monotonous before everyone's eyes got to the bottom of the bag and it needed something to break it up, but for better or worse, that was the decision that was made. If the bag had been entirely covered in sequined zebra, I would be totally on board for this shining example of in-your-face fashion fun. As it is, I'm only three-quarters of the way there. Buy through Net-a-Porter for $3495.