Valentino Green Satin Bow Front Clutch, which is quite a steal at only $396. "That's not a steal!," you say. Ah, but it is, especially when you consider the whopping price tag of $895 on this Valentino Satin Bow Front Clutch.
Ladies, I'd like to be the first to inform you of what I'd call a deal. It's this
Sure, the more expensive version is a lighter, brighter satin and involves a decidedly more rigid and complex, but I actually prefer this darker version. First of all, let's chat about the color. I believe that the color of a bag is a main component of its foundation, and this color certainly passes. The dark, forest green is the perfect shade for the remaining weeks of autumn and will certainly carry you through the winter, spring and summer- believe me when I say this color is striking against a white prairie dress.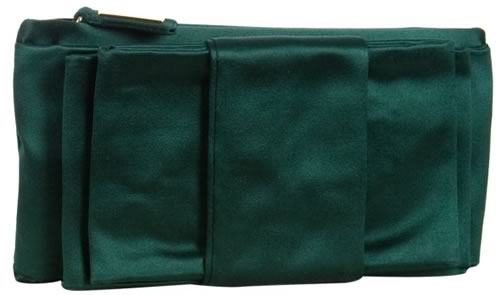 Plus, the simpler construction makes for a clutch that will certainly be easier to grasp, not to mention that the satin remains every bit as lustrous. Due to the simple, flat design of the bow that contrasts many extremely constructed flower Valentino bags, the color and the texture take center stage. Buy through Bluefly for $396.