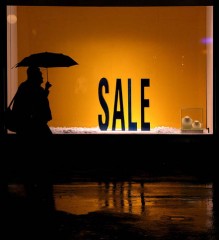 When the going gets tough, the tough get going. Or, in the case of luxury retailers, they plan cocktail parties.
As it turns out, the opening of a temporary Hermes Hamptons store that we told you about a few days ago is not an isolated incident; instead, it's a high-profile part of a larger trend. With fewer people able to afford their products, and some of those that can balking at the idea of conspicuous consumption, stores are having to do more to attract customers than they ever have in past memory.
The most obvious way to increase purchases would be to cut prices, but when a huge part of a brand's image is their prohibitive price points and exclusive reputation, doing things that a big-box retailer like Best Buy would do to to attract customers isn't what's on their mind. Keeping the brand's mystique intact is essential in order for them to keep doing business when the economy picks back up, and destroying the brand's image of exclusivity now would probably be the luxury retail equivalent of throwing the baby out with the bathwater. In order to survive long-term, stores like Saks need you to be willing to still pay full price when things are back to normal and we're not all afraid of losing our jobs.
So instead of blowout sales, some designers have opted instead to try a few gimmicks (let's face it, that's what they are, even if they're fabulous, champagne-drenched gimmicks) to increase foot traffic in their stores. You've seen some evidence of the brands' tactics on this site – trunk shows, designers visiting boutiques, cocktail parties, and charity events – and it seems to be an area to which more and more labels are shifting their marketing dollars. Hermes is sponsoring a tour of Hermes photography through its Chinese stores in addition to opening its first temporary store for vacationers, Jimmy Choo has partnered with various high-profile charities to host events (and encourage orders from donors), and YSL has already tried opening temporary stores for special collections.
And I guess whether or not all of this sounds good to you depends on what your relationship with luxury goods is. I'm not a huge fan of any particular brand over all others, so having cocktails at a boutique would probably only appeal to me for its open bar possibilities. I'd love the opportunity to meet pretty much any high profile designer, but mostly I think I'd shy away from these things. I liked working retail in college and I like blogging now because I'm one of those people that only wants to go shopping when no one else is present. I can't tell you the last time I set foot in a mall on a weekend, but I'm all about some Tuesday morning browsing.
I'm not as antisocial as I sound, I promise, but I just don't see shopping as a social opportunity or a lifestyle choice. Maybe if I had copious amounts of disposable income my attitude would be different, but I still kind of doubt the long-term ability for in-store events to create new revenue opportunities. It's not like the high-rolling customers that are going to be invited to these events have never been to a wine-and-cheese party before, or a charity event, for that matter. Their novelty is bound to wear off eventually, but maybe by the time it does, the economy will have corrected a little bit and we can just go back to buying stuff we want just because we'd like to have it and it can afford it. Although I wouldn't be opposed to making cocktails a permanent fixture of the shopping experience.
P.S. Please consider supporting our small, bag-loving team by clicking our links before shopping or checking out at your favorite online retailers like Amazon, Neiman Marcus, Nordstrom, or any of the listed partners on our shop page. We truly appreciate your support!