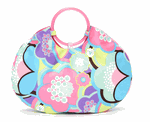 Now, I will be the first to admit that the sight of bright colored and fun looking purses let me know spring is ont he way, and I can not wait! It's time to move from this bitter Winter to Spring, and what better way to enter Spring than with a totally new, hip, fun-loving purse?! Fun is probably the idea behind Fashion Dolls Spring line.
The purses are shaped and colored with the entire mood of Spring in mind. I can't help but look at the bag and think of the sun shining, cute skirts, sunglasses and of course, a new and totally fashionable tote. Fashion Doll has already appeared in Glamour, CosmoGirl, Self, Seventeen, and Good Morning America.
So grab one quick, and be the first of your friends to sport this totally trendy and carefree bag for the upcoming season!