Last week, you guys caught something that we did not, at first glance: Bella Hadid, coming out of an NYC hotel, carrying what was either a "knockoff" or "inspired" Hermès Birkin, depending on how you look at it. When we selected and processed the image, it just looked like a particularly battered old suede Birkin, and that she'd be toting one of those rare bags seemed—Hadid and the other young stars in her social circle tend to stay on the bleeding edge of whatever's going on in fashion, and the first suede Birkin I had personally ever seen recently sold for a record price at auction.
As our eagle-eyed readers (really, what would we do without you?) pointed out, though, a completely different strain of Young, Wealthy Handbag Syndrome was at play here: the bag isn't a Birkin at all, but made to look like Birkin as…a joke? Commentary? Both, sort of?
The bag (called the Travel Bag) is made by a Japanese streetwear upstart called READYMADE, designed by Yuta Hosokawa and manufactured entirely out of military surplus gear—what looked like rumpled suede to us in a cursory glance at the photo of Bella was actually used canvas in Army green. Hosokawa's brand has collaborated with other streetwear brands like BAPE and Fear of God, and in READYMADE's own work, it tends to ape the most iconic designs well known brands. For example, READYMADE also did a riff on North Face's famous puffer jackets, right down to the logo.
Hosokawa says that his brand uses excess military materials in order to make explicitly anti-war commentary with his designs. As far as remaking iconic fashion pieces like the Birkin, I think I get what he's going for here—recasting well-known classics in a new light is a sure attention-getter for his small brand and its high-minded mission, which has only relatively recently become known outside Japan. And it seems to be working quite well; streetwear enthusiasts snap up READYMADE's new drops quickly. The Travel Bag is completely sold out and the brand offers little information on its website, so we haven't been able to determine its original retail price. What we do know, though, is that the bag goes for thousands on the resale market, with its own imitators showing up alongside it.
So now we're back the the subject of Bella, and why someone who is quite closely associated to high fashion would carry one of these bags, which are a sly joke that most casual observers won't get. The short answer is probably, "because her stylist gave it to her to wear with that outfit," but stylists make these decisions for a reason, and Bella's could have just as easily handed her an actual Birkin.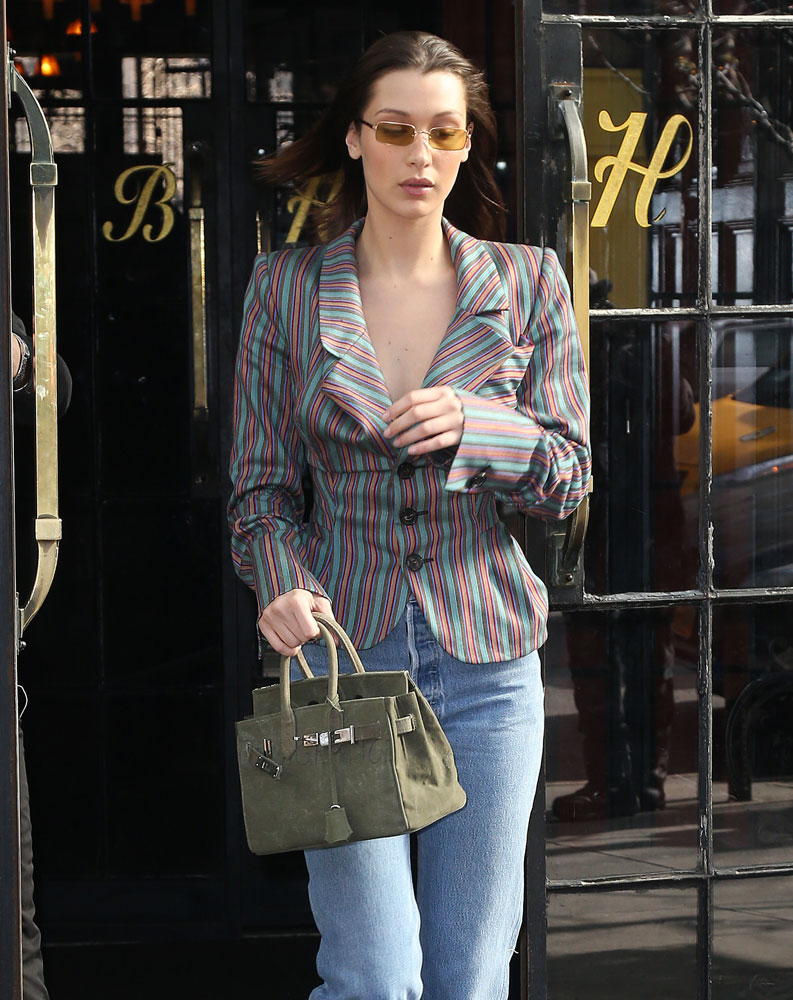 So the full answer, by my estimation, is that the handbag market is finally shifting, just a little bit, in a way that the apparel market has been shifting for the past few years: young shoppers have a different and slightly more self-aware view of luxury, which means they evaluate their potential acquisitions a bit different than older shoppers. Irreverence, irony and political awareness, or at least the performance of those values, can sit alongside displays of wealth or more traditional ideas of good taste, and branding and brand-awareness are best approached playfully instead of with the self-serious tone native to luxury's oldest gatekeepers.
Gucci is the big brand that's anticipated and navigated this coming shift the most skillfully, but it's also a big factor behind the Mansur Gavriel-led indie brand boomlet going on in contemporary accessories. As millennial and younger shoppers become more important to luxury houses as they age, they're all going to have to understand exactly why a mock-Birkin made of old Army fatigues might be appealing to a young fashion star.