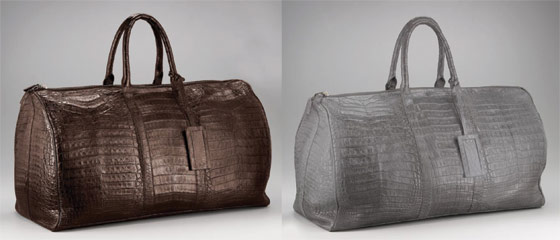 This is a tad embarrassing to admit, considering what I do for a living, but my luggage? It's kind of busted.
I don't travel all that frequently, maybe a couple of times a year at the most, and I generally prefer to use my money on things that I'll enjoy on a regular basis – bags, shoes, clothes, gadgets. Every time I go on a trip, though, I swear that I'll invest in some great luggage for the next one, but then the thought totally leaves my mind as I adjust back to my regular routine.
Now that I'm faced with the prospect of packing for a trip to New York City at the end of the week, I wish that I had remembered to buy some decent luggage. I also wish that I had the extra cash to go out and scoop up the Santiago Gonzalez Crocodile Duffel Bag – but would I choose grey or brown? (Ok, I'd choose grey, that wasn't even difficult.)
Santiago Gonzalez, son of crocodile handbag empresario Nancy Gonzalez, is beginning to make his mark on the luxury accessory world in a way that surely makes his mother proud. The latest addition to the family business is a line of men's bags and small leather goods, all in the same kind of crocodile that we know and love from Nancy.
With this particular duffel, Gonzalez stays faithful to the clean lines and straightforward design that have made his mom's handbags such a hit, and the supersized proportions and neutral colors would surely make any number of fashion-conscious men sit up and pay attention to this bag. My favorite thing about "men's" bags, though, is that they're never just for men – if I had an ultra luxurious destination in mind, this is just the type of carry-on I'd want to bring. And for how much crocodile you get, the price could be a lot worse. Buy through Bergdorf Goodman for $4975.