I've been thinking about luggage ever since we talked about that Jimmy Choo shoe case earlier in the week, and that the Lanvin Amalia Voyage Leather Suitcase should show up on Net-a-Porter right now is nothing short of fortuitous. I maybe have been a bit of a party-pooper when it came to the aforementioned shoe luggage, but I can't help but swoon over all this luscious Lanvin lambskin.
Although the price is high – well over $3000 – when you compare it to other designer luggage, it seems much more palatable. Not that I wouldn't be filled with anxiety by the prospect of taking such beautiful leather through an airport, of course, but if I were the type to spend that much money on a suitcase, perhaps my nerves wouldn't be quite so raw. A fat savings account tends to have a calming effect on most people.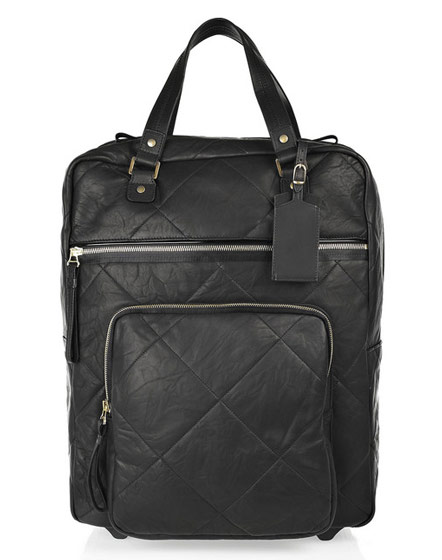 When you consider the $2000 price tag of the Amalia shoulder bags made of the same subtly quilted Lanvin leather, the price of this suitcase makes more sense. Not only does this bag use a lot more of the principle material, but it has a lot more going on – exterior pockets, interior suitcase structure, those little wheelies that mean you don't have to lift it. If the average Lanvin bag did all that, I'd expect them to charge more for it as well. Now I just have to get over my urge to wrap this thing in protective plastic before I stow it in the overhead bin. Buy through Net-a-Porter for $3475.