Valextra is much-lauded as a brand of staid and classic bags that are extremely well-made out of the finest leathers, but…I just don't get it. I can't wrap my head around it.
I know that
It seems like I've seen the Valextra Babila Top Handle everywhere – on celebrities, as one of Barneys.com's much-lauded "obsessions," at the finest stores. But I can't help but find them unbearably plain and dull – the emperor appears to have no clothes.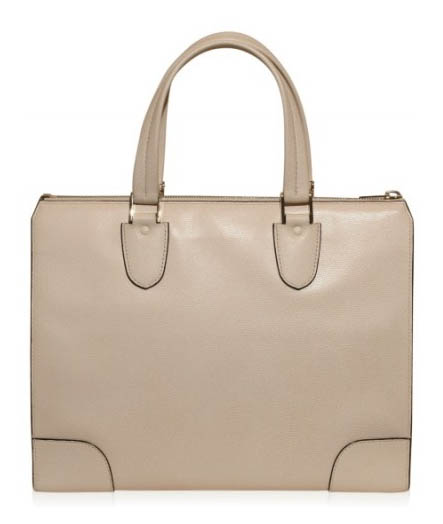 I don't get it. Sure, it's a bag. It's functional and unobtrusive. Its lines are clean. It serves the essential functions of a handbag, and I'm sure it's made with very fine leather. For those prices, I would hope that it's hand-made. Out of unicorn hide. And gold thread. We certainly see bags everyday that are more expensive, but to assign a price upwards of $2000 to a bag that seems to be hardly more complex in design or construction than your average canvas tote? I think they're pressing the bounds of sanity there.
So, like I said, I think the emperor has no clothes. An insider-y, esoteric brand makes it, the fashion establishment tells us it's fabulous, fashionable stars like Angelina Jolie are photographed wearing it….so it MUST be great, right? And worth two grand? I just don't think so. Even if it's the best-constructed version of itself that it could possibly be, out of the finest leather, I just don't think it warrants the price tag. Buy through Luisa Via Roma for $2114.