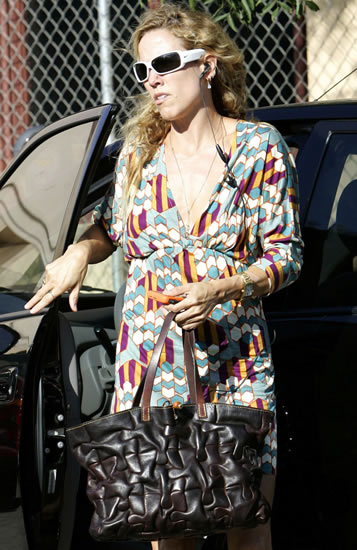 Image courtesy of Flynet Pictures
Sheryl Crow only wants to have a little fun before she dies, so she spends many of her days doing what she loves, going to the recording studio. After fighting breast cancer, Crow is headed back to the studio knowing that cancer will change her music. While not done up head to toe, Crow shows us that she does not always look air-brushed but looks fabulous nonetheless. Toting a Henry Cuir Puzzle Tote, Sheryl Crow asks a photographer to feed her parking meter on her way into the recording studio. This funky tote by Henry Cuir pieces together softly quilted leather to resemble puzzle pieces. If you love this handbag, it is on sale at Barneys for $995. And if you love this tote and love alligator, the Henry Cuir Alligator Puzzle Bag is also available at Barneys for $4500.
More pictures below.