I'll be the first to admit that fashion bloggers are often working with a somewhat limited medium. The industry's recently increased presence on the internet, both in retail and editorial sectors, has given people like me a great deal of material to work with when writing criticism and making sartorial recommendations, but there's just nothing like the real thing.
We make our best educated guesses about what a bag will look and feel like in person based on what we know of the brand's construction standards in the past and the pictures we see on the internet, which are often quite good, depending on the website that they come from. Sometimes, however, a bag just doesn't make sense until you see it in person, for whatever reason. That's exactly what happened yesterday when I saw the Prada Saffiano Printo Tote – I had seen pictures of the bag before and wasn't terribly interested, but in person, it was love at first sight.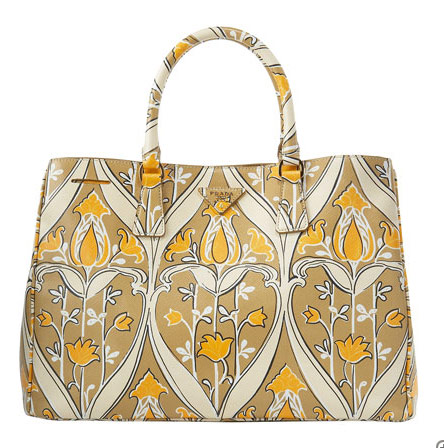 The version that I fell in love with was baby blue, dove grey and white, but for our purposes, this incarnation with have to suffice. All of the patterns used for these bags were found by Prada's designers in the brand's archives, and they've been reinterpreted to adorn the collection that we see today. They have a painted, imperfect effect that only makes the bags look more hand-crafted and luxurious, and the gentle texture of the structured, tough saffiano leather underneath is almost reminiscent of a canvas.
While the pattern may prevent these bags from being carried everyday for most people, for those that have the wardrobes and budgets to accommodate one of Prada's spring prints, please buy one. Something in the back of my mind is telling me that these are going to be highly sought-after classics a few years down the line, and the decision to get one is not something I think you'll regret. Buy through Bergdorf Goodman for $2450.