Nina Ricci Calf Tote.
I don't care how hip or insider-y or snobby the Nina Ricci brand has become since handing of the design help to Olivier Theyskens in 2006, I'm not paying $2,700 for the
Every fashionista has a line of price ridiculousness which they cannot force themselves to cross, and Theyskens has found mine. Everyone needs a functional black leather tote in their lives, that much I'll agree with – it's a wardrobe standard that most people can appreciate, even if fashion (and bags in general) are not a huge part of their lives.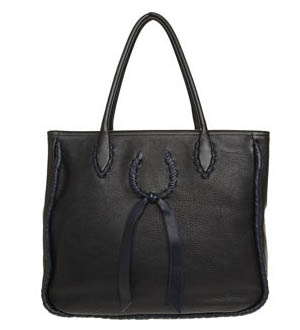 But because of the easy shape and commonly used material, it becomes unjustifiable to pay an astronomically high price for it. And this is easily not the most attractive basic black tote I've ever seen – the shape is really average, and I'm not an enormous fan of the horseshoe-shaped insignia on the front. The wrapped seams are a bit of a nice touch, but not nearly impressive enough to pay nearly three grand for it.