Revived French fashion house Vionnet has made red carpet fans out of such style notables as Carey Mulligan and Leighton Meester, and now its hoping to capitalize on that success by finding a way into your accessories collection via bags like the Vionnet Triple Gusset Shoulder Bag. But for $2000, should we expect a little more?
There's nothing wrong with this bag, per se, but commanding $2000 for a small leather shoulder bag is something that even few well-established accessories brands can do. Should Vionnet have given us more for the money? I certainly think so.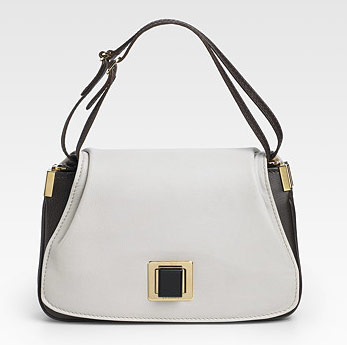 We need only to look at Proenza Schouler to see what a popular handbag can do for a brand trying to break into mainstream consciousness, but there's a wide gulf between the PS1 and what we see here. The PS1 created an entire subgenre of It Bags in its wake, most notably the Mulberry Alexa, whereas this bag looks like an also-ran in the classic, new-minimalist category that Celine has pioneered. A sharp, stylish also-ran, of course, but an also-ran nonetheless. Vionnet's clothes are excellent, so I have no doubt that the brand will improve quickly, but I'll keep my dollars in my wallet until that happens. Buy through Saks for $2080.