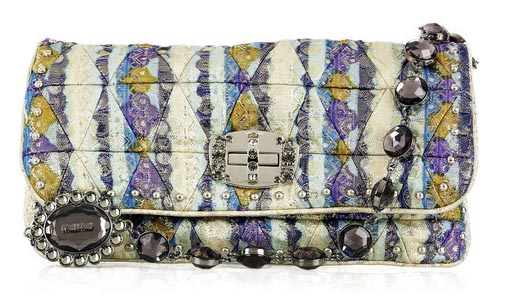 I have a hard time pinning down the Miu Miu handbag aesthetic. Their bags seem to roam freely between minimalist and intricate, taking a pit stop at every level in between. Since "brand cohesion" is probably only something that obtuse fashion people (like moi) ever think/care about, it doesn't necessarily seem to be a bad thing – it certainly brings them attention from a wide swath of stylish girls and women.
The Miu Miu Lurex Jeweled Shoulder Bag is the brand at its most intricate extreme. Based on how successful the bag is, maybe they should spend more time at that end of the spectrum.
This lively clutch-alternative reminds me of the glory days of the early aughts, when brightly patterned Dior Saddle Bags and Fendi Baguettes rules the accessories roost. This bag is like those bags were, except with an elegant, ladylike bent that most of the accessories of that era sorely lacked. This is the Queen's Baguette, if you will.
The lurex/brocade combination is just updated enough to be cool and modern while still an obvious retro reference, and the smokey jewels on the chain are just perfection. I know this clutch probably has too much personality to appeal to everyone, but that just means that there will be more for me. Buy through Net-a-Porter for $950.