Linea Pelle is a brand that we have not covered much but deserves the recognition. Vlad and I had the pleasure of meeting with Andrew Cotton, the VP/Design Director of Linea Pelle, a few months ago in New York City. Andrew shares a love of handbags with me along with a dislike of pictures of himself that are not flattering (we bonded over this, because sometimes the camera dislikes me).
The brand had been on my radar for quite some time, but after meeting with Andrew we struck up a relationship and Vlad and I have been closely reviewing some of the latest and greatest bags from Linea Pelle. The much anticipated Linea Pelle Dylan Croco Shoulder Bag should be placed on your must buy list, right now. This is the bag that we recently reviewed; in Cognac (brown), Yellow, Topaz (orange), Emerald (green), Viola (purple) and Turquoise.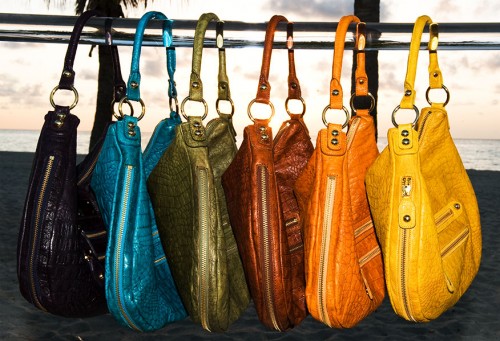 Ask me to choose which color I adore most and I will be at a loss. The yellow would easily work for fall, transition beautifully into Spring, and then be great for summer. The other colors are just as amazing. And while the color debacle has me stumped, the leather and overall look of the bag has me sold. To be quite frank, I was shocked at the leather being so supple, so touchable. The bag fit so beautifully under my shoulder, was light weight, and not too snug. And if you need to seal the deal anymore, talk to my mother. My mom, who does not always jump for joy when she sees a handbag, was OBSESSED with the Linea Pelle Dylan Croco Shoulder Bag. She was at my house when I received the box, and after cutting it open, she sat next to it like a kid under a Christmas tree. She had a bag on each shoulder, looked and me and reminded me of her upcoming birthday. She had a problem too, it was which color to choose. I feel her pain.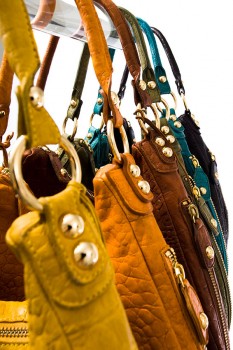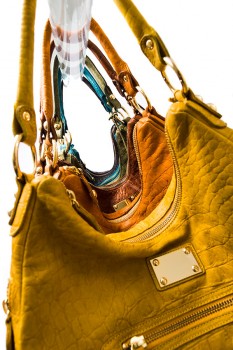 The practicality and usability of these bags are astounding. Like I said before, the washed Italian lambskin is super soft and luxurious. Because of this the croco embossing does not look fake or forced, it flows together ideally. The leather has a rich texture that is stunning! The hardware is sold brass and there are two usable font zipper pockets. Inside there is also a zipper pocket and funky zebra printed silk lining. We put the bags together for a lineup that made me never want to part with the bags. The rainbow of colors, the soft leather, the perfect fit, all have my heart.
These Line Pelle Bags will start shipping in September, so you have a bit of time to decide what color you want. Choose a color, but this is a must have bag, you will not be disappointed. Order through Linea Pelle for $575.