Chanel. I generally hate it when others complain that a bag looks like it's Chanel just because it's quilted or has a chain handle, but I can't help but think that it's an incredibly apt comparison in this case.
If this bag is any indication, Lanvin is continuing their endless mission to morph their bag line into an a slighty hipster-y version of
Not only is the Lanvin Happy Sac Partage Bag bag quilted, but it also has a chain handle, and its a flap bag with a front closure, just like a few other bags we've all seen in the past.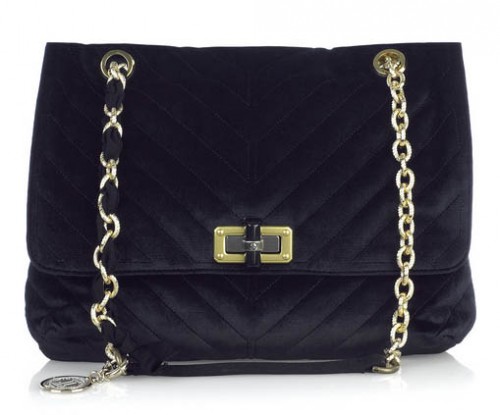 In fairness, this bag is made of navy blue velvet instead of the black leather that Chanel uses time and again. So that's a difference, although Chanel is no stranger to velvet in general. And it's quilted in a chevron pattern instead of the diamond shape we're used to, so that's another one. But on the whole, the feel is just sort of…similar.
Which disappoints me, since Lanvin is one of the most exciting brands that there is right now. They make collection after collection of interesting clothes and shoes, but their bags lag behind the rest of their creations (with a few notable exceptions). I'd rather they made awful things than make boring bags that we've seen done better elsewhere, which is exactly what they seem to be up to lately. To make matters worse, I'm not every going to pay $1500 for a bag made of velvet. Buy through Net-a-Porter for $1500.