Lanvin Amalia Python Shoulder Bag is good enough to absolve the brand of all their Chanel-aping sins.
Alber Elbaz, all is forgiven. I've groused and complained and wrinkled my nose at my fair share of Lanvin bags lately, but the
The combination of simple shape and intricate material, plus a few Lanvin-signature extra, have me absolutely salivating for this bag.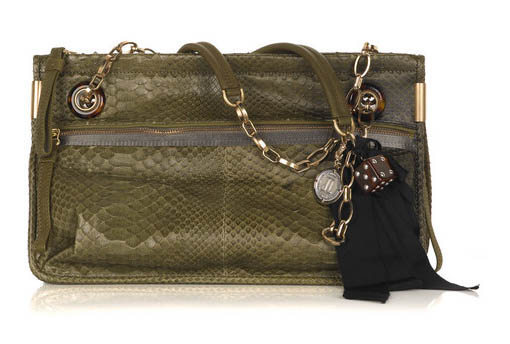 Despite my general distaste for neutral that aren't black or grey, I can't help but adore the Army green color that Lanvin chose here. It reminds me of the jungle, which is reinforced by the luscious, texture-heavy python hide that is the bag's primary material. The combination of the two isn't too "safari" to be chic, but it's just thematic enough to show a solid point of view with a bit of French flare on top.
Oddly, perhaps my favorite part of the bag are the little tchotchkes with which the bag is adorned. I'm normally not one to encourage a designer to hang random crap from their bags, but the little brown die and silver coin sort of work with the brand's winking humor. If anyone can pull it off, it's Lanvin, and they do it quite well here. Buy through Net-a-Porter for $2790.