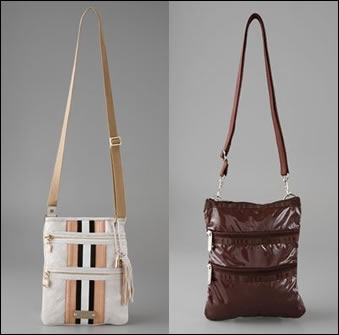 L.A.M.B. vs. LeSportsac
Am I seeing double? As previously mentioned, today we are featuring handbags which look almost like carbon copies of one another. Sure, during any given season there are several bags that might have a similar shape or design. However, there certainly are a few bags out there that don't just have similar features, they seem to be almost outright replicas. Now, I'm not talking about one designer bringing back a newer version of a handbag from seasons passed, I'm talking about different designers, same season and… same bag? This leads me to comparing the L.A.M.B. Music Dub Bag and the LeSportsac Kasey Mini Messenger Bag. We all know that Stella and LeSportsac have collaborated recently (on a painfully hideous deer backpack design), but these bags are almost an exact copy!
The L.A.M.B. Music Dub Bag is a leather handbag with 2 zipper pockets and vertical striped banding on the front. The back of the bag has a patch pocket and the handbag sports gold hardware and a tassel for a little extra flare. The inside of the bag is lined and a magnetic closure will keep your items where they should be – inside. You can buy through Shop Bop for $345.00.
So, you say you like the Music Dub Bag but you would prefer patent leather. Fear not, the LeSportsac Mini Messenger Bag could be the one. This bag has 3 zippers instead of 2, like the Music Dub Bag, but other than that (and the material), to me, the bags are identical. Well, ok, one more thing, the price. If you are looking to save a bit but really enjoy the look and feel of this design, you should be glad to hear you can buy this bag through Shop Bop for $34.00.
To recap, differences include: material, 2 vs. 3 zippers and price; similarities include: EVERYTHING ELSE! Ok, so the question remains, which would you choose?