Have I told you all about my love of gray handbags? It is an amazing shade (can we even technically label it a color?. Not black, not white, but a tone between the two that is easy to wear and matches everything. Some gray tones are superior to others, and this Donna Karan bag has perfected an ash-gray color that I am completely drawn to. Actually, this bag suits me for many reasons.
Let me introduce you to the Donna Karan Bandito Bag. With an appealing slouch, the Bandito has a drawstring top with ruched paneling. But can I tell you more about every aspect of why I love it?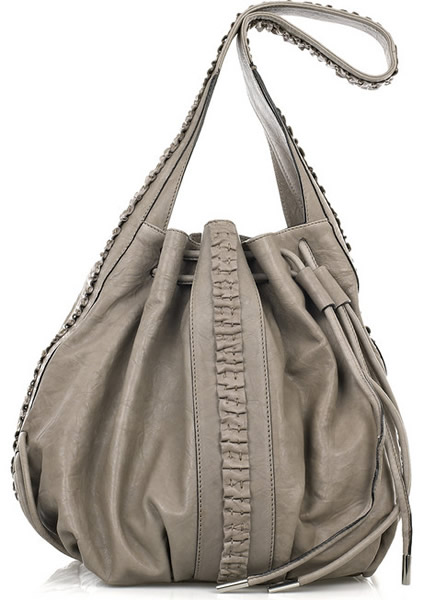 Donna Karan proves to be environmentally conscious and uses North African lambskin which they call their "organic leather". The animals are from a chemical-free family farm, so that the leather contains no harmful substances. The lambskin is then exclusively tanned in Italy using only natural vegetable oils. This process turns the leathers allergen-free and makes the leathers recyclable. So much for the environmental and quality treatment aspect.
Then we have the look of the bag, which plays into my love of gray handbags. I also love a good slouchy everyday bag. I look at the Bandito and immediately see myself throwing it over my shoulder and popping out of the house. It makes you want to be on the move. Actually, it is somewhat haunting – because I see it so vividly on my body that I feel like I must buy it.
The single shoulder strap works well with this design; the look is completed with a drawstring top closure. You can see wrinkling in the leather and shading, which results from a deliberate process. After the leather is first washed, each skin is individually wrinkled by hand and then vegetable oils are added and the leather is lightly tumbled to add the light-to-dark shading (the so-called "high-low" effect). It is a stunning effect that makes the bag come to life.
Another aspect that I adore is the price. I would have assumed, after learning about the meticulous treatment process, that this bag's price tag would be exorbitant. But it is not. Quite doable, actually.
The price is $1,295 at Net A Porter.