If you're a longtime reader of this blog, you may or may not remember (and if you don't, I certainly don't blame you) that I have never been an overwhelming fan of Derek Lam's handbags. Lam's clothes tend to be great and wearable, but when it comes time for accessories, his thing has never been my thing, so to speak. Finally, though, I've found a bag of his that I like without reservation or qualification: the Derek Lam Eiko Shoulder Bag.
Minimalism gets boring quickly when combined with neutral, noncommittal shades of beige and cream, but Lam's decision to turn up the volume with an in-your-face shade of orange-red shows just how statement-making and bold the trend can be. In some ways, this bag reminds me a lot of Raf Simmons' Jil Sander Spring 2011 collection: a familiar shape made modern by bright, saturated color.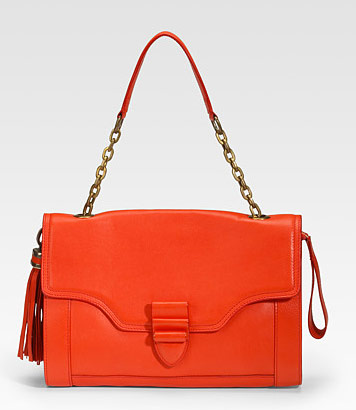 Part of this bag's beauty is its simplicity, both outside and inside. The pared-down flap exterior gives way to a slender interior lined in light fabric, with enough room for everyday essentials…and that's it. The bag doesn't employ any gimmicks or tricks (unless you count minimalism as a gimmick), but instead merely fulfills its role as a bright, functional fashion piece to the best of its considerable ability. Buy through Saks for $1090.