beyond over the whole hippie trend. It's one subculture that I wish would have stayed in the past, and I don't think it has much to add to fashion conversation today. Most of the pieces that contain hippie elements don't seem high-end to me, they just seem derivative and stale.
I am so
Sadly, "derivative" is the most apt word that I can think of to describe the Twelth St. by Cynthia Vincent Outlaw Clutch. If the Native Americans would like to reclaim the visual elements of their culture from fashionistas and hipsters, I would really appreciate it. Something tells me that they're probably not all that jazzed about having rich, skinny urban dwellers rip off their culture while they struggle to survive, either.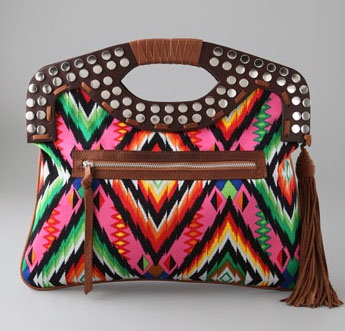 The whole thing just seems so…distasteful. The actual culture that this style comes from is dying (and the culture's participants still face a lot of racism in some parts of the country), and fashion items like this clutch co-opt it without the culture itself gaining any kind of benefit. Perhaps my indignation is a bit much, but the bag is so costume-like and unoriginal that it just makes me plain ol' unhappy. Buy through ShopBop for $295.