Tory Burch was able to capture the essence of what a simple yet elegant satchel should look like. The bag might seem a little minimalistic, but sometimes that is just what you need.
Now, this is a lovely satchel. While all handbags can definitely be hit or miss, I sometimes have a harder time with satchels because designers take them all over the place – borderline hobo, borderline tote and even borderline combination of the two. Yet, here,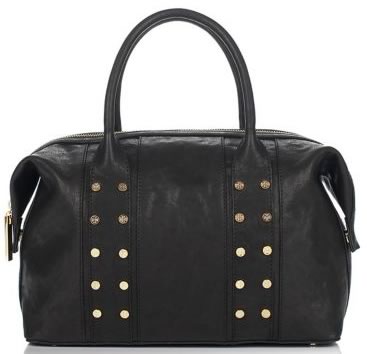 The Tory Burch Military Studded Leather Satchel is a perfect option for a bag that might seem a bit simple. With the stud trend we are all familiar with, it is refreshing to see just a splash of studs instead of an overwhelming amount. At first I wasn't exactly sure why the name of the bag had the word "military" in it, but upon further investigation I can see why. The way the studs are placed along the bag give just a slight military-inspired feel to this vintage satchel. Since there isn't an overwhelming amount of studs, you can carry this to work with your work appropriate attire or pair it with a killer night-on-the-town outfit and this bag works too. The gold-tone hardware is perfect with the black leather buy adding just a hint of pizazz. Buy through Bloomingdale's for $475.