Bloomingdale's is carrying Doc Martens. Late 70s and 80s references are everywhere.
The current trends in the fashion world are really obvious. Punk and industrial are the words on everyone's lips, I've almost run out of things to say about matte black leather bags, and suddenly
So what do you do if those things really don't jibe with your personal style? What if you need or want something a bit more conservative, but still on-trend and chic? You buy the Tory Burch Courtney Mini Bag, obviously.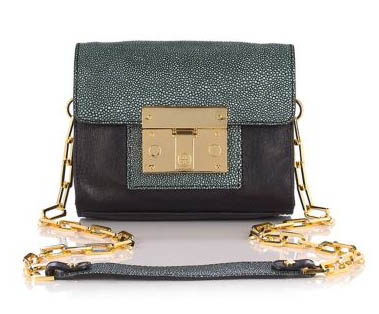 The bag is on-trend without looking like a part of a costume or something that can only be worn by teenage It Girls or Russian models. The string ray-embossed gunmetal trim provides a bit of a counterpoint to the staid black (or is it navy? I'm second-guessing myself) leather of the bag's body, but the combination is neutral enough that it won't clash with any outfit that a one-color bag wouldn't have clashed with on its own.
My one gripe is the hardware – with such a slick, ladylike bag in black and gunmetal, I would have much preferred silver to gold. Buy through Bloomingdale's for $395.